Red Sox
A quality Red Sox rotation has revealed itself, and it's time to run with it
The Red Sox do miss old friends Michael Wacha and Nate Eovaldi, but they've got the rotation of the future in place.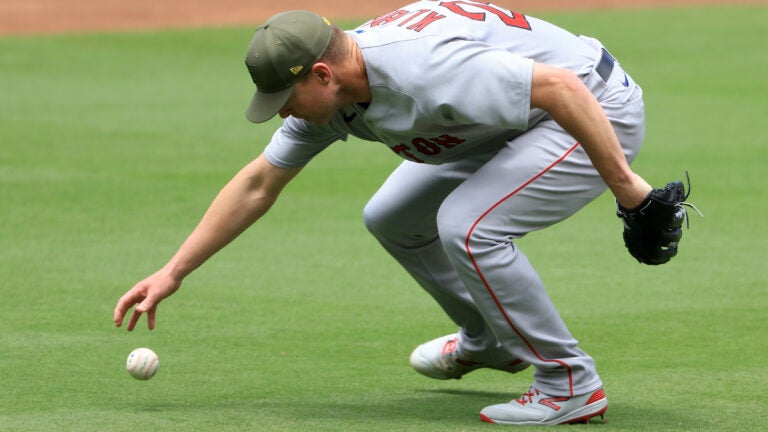 COMMENTARY
Xander Bogaerts went 0 for 11 this weekend at Petco Park, and his Padres looked every bit the offenseless mess they've been even in winning Sunday's series finale. The Red Sox won the other two behind new face of the franchise Rafael Devers and renewed face of the rotation Chris Sale, and sit five games clear of the big spenders after seven-odd weeks.
Good enough. Certainly better than what followed it on Sunday.
But after Michael Wacha did what Bogaerts didn't, let's muse a little bit about the rotation that got away, and whether we should care all that much.
The six shutout innings the departed righty threw at the Red Sox dropped his May ERA to 0.36 — that's one earned run in four starts and 25 innings. It's a run as easy to miss as Wacha's changeup, which got whiffs on essentially half (10 of 22) of Boston's swings at it.
The fastball's down to 92 miles per hour, but batters have done little with it. The changeup's still always coming, but it remains one of the better ones in the game. A year after he went 11-2 with a 3.32 ERA despite a bottom quarter strikeout rate and a batting average on balls in play well below league average, Wacha again might be the best pitcher on his staff.
How? Beats me. Beats baseball, too, which literally didn't buy Wacha's 2022 in Boston. He sat in free agency until mid-February, and the four-year deal he got from San Diego was to some degree another prove-it one: $7.5 million between salary and signing bonus this year, and then either a two-year club option at $16M per or a three-year player option at a shade more than $6M each.
And yet, here he sits among the following:
Nate Eovaldi — His shutout streak ended Wednesday at 29 2/3 innings, but Eovaldi sits squarely in the mix among the best in the American League. A 2.83 ERA with 61 strikeouts against 10 walks in 60-plus innings means unlike teammate Jacob deGrom, he's playing to the high-level free-agent deal he signed.
Eduardo Rodriguez — If expected ERA is your thing (or even if it isn't), Eovaldi sits sixth, one spot behind the Tigers' ace. The strikeout rate's a little lower, and the walk rate's a little higher, but E-Rod's 2.06 ERA is fourth-best in the AL because he's drawing some of the weakest contact in baseball. Teammates rave about his command, both of himself and the zone, a happy turnaround after he disappeared last summer for personal reasons.
Rich Hill — At 43, Milton's own is continuing to handle his business, throwing six shutout innings in Detroit last week and with only one really ugly start in his nine with Pittsburgh. The Pirates are in a tailspin, but Hill's 3.80 ERA and 4.62 FIP would slot right in the middle of the rotation he left. (Even if his four wins are against Colorado, Cincinnati, Washington, and the Tigers, which isn't exactly AL East-level competition.)
Martin Pérez — Yes, we're stretching, because exactly zero people saw Pérez turning into an All-Star last season in Texas. Regardless, even his reversion closer to his mean has him with a reasonable 4.01 ERA despite the worst hit rate (11.1 per nine innings) among ERA-qualified pitchers.
This, of course, leads us to Corey Kluber, the arm largely here in their place and the one whose useful time in the rotation feels at an end.
Facing the aforementioned mess of a lineup that the Padres are at the moment, Kluber walked three of the first five men he faced Sunday, gifting San Diego a run without a hit before hung a lollipop that scored everyone else he put on base.
"Command was off. That's something that's not him," manager Alex Cora told reporters after Kluber gave him the same 2 1/3 innings that ex-starter Nick Pivetta did in relief. "We've been battling with this early in the season. It's something we've tried to correct, but today, the walks put him in a bad spot."
Cora essentially committed to a six-man rotation for the rest of the west coast trip: Tanner Houck, Brayan Bello, and James Paxton against the Angels, and Sale, the returning Garrett Whitlock, and Kluber at Arizona.
It has the feel of a last, last chance for the 37-year-old in Boston, here on a one-year, $10 million contract after years of dalliances.
"I think that there's probably some getting in my own way, trying to make too many adjustments," Kluber told reporters. "And then you try a balancing act of finding the right one. I think it boils down to doing a better job of figuring out how to do it."
So, to the perpetual question at hand. How badly did the Red Sox screw this all up? Am I allowed to say not enough for it to really matter?
At least not yet.
They've lost six of Kluber's nine starts, with Sunday the third time he's failed to finish the fifth. It hasn't worked, and it seems unlikely to. But it has not, surprisingly, derailed anything. These Red Sox are outperforming thanks to their offense and an overperforming bullpen, and they're right in the mediocre mix as the American League begins to coalesce a little bit.
Last week, they resisted the urge to ping-pong Houck or Bello as they've done previously and instead bounced Pivetta, a pitcher whose ceiling is clear. Want to give Kluber one last shot? Sure.
Beyond him, they have at hand the rotation they were likely thinking about when they let all those above names go. It's time to run with it.
Sale, Paxton, Bello, Houck, Whitlock. Mix in some of the depth names, be they Kutter Crawford or Josh Winckowski, if you'd like. But this is what they wanted. They've come to a place where it makes sense, both in a best choice for their present and a best choice for their future.
As with most plans like this, they're probably going to get a little more credit for things working out than they deserve. And yes, they'd probably be a couple games better with a little more outlay by Bloom and the front office this winter.
No matter. This is the plan they chose, and it's high time to see what it can really do.
After all, wasn't that the point in choosing it?
Sign up for Red Sox updates⚾
Get breaking news and analysis delivered to your inbox during baseball season.