Red Sox
Welcome to Red Sox season, everyone, home of a mildly pleasant surprise
There's a lot to enjoy about the 2023 Red Sox, but we'll find out whether or not they're fit to play in October in the coming weeks.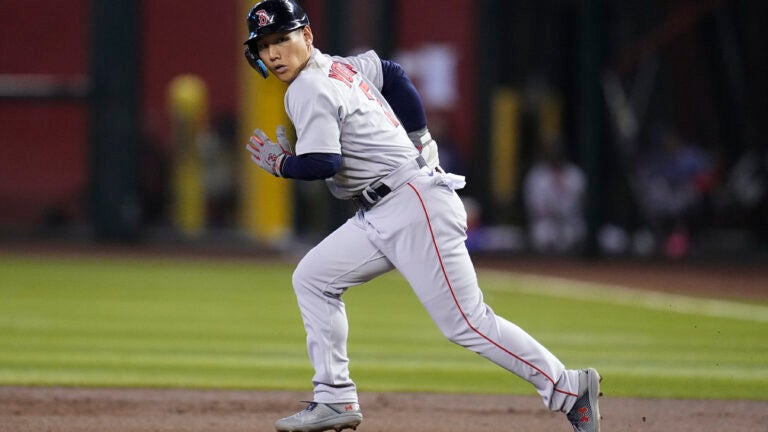 COMMENTARY
So, yeah. It's Red Sox season now.
You can roll your eyes at that; I rolled them writing it. But here we are just after Memorial Day weekend. Being spared two more weeks of muttering some version of Charles Barkley's righteous halftime dissection is good for our collective hypertension, but the healthy is often hard to commit to.
Speaking strictly about their defeats, the Celtics were the least likable Boston team in a very long time. A group whose ouster Monday flabbergasted so many, but hardly felt out of character to those of us who knew them.
Thankfully, these Red Sox offer no nasty expectations of success, and annoyances of their own flavor. Sitting 9.5 games out of first in the AL East after Tampa Bay got one-hit on Monday, I am struck that Boston's 86-win pace (28-25, .528) is on the high side of my preseason hopes.
Not a great feeling when focused on, but they have been a pleasant surprise to all but the super pessimists. The Red Sox play for Alex Cora. They play an enjoyable brand of their sport. They have shown some level of adaptability, Saturday's win coming on a bases-loaded bunt as the pitching retired 25 of the final 26 Arizona hitters.
We didn't get a lot of those days in April.
That one-run recovery was Boston's only come-from-behind win in its last 18 games — a stretch in which they've lost 11, worst in the AL outside of Oakland. Little harder to find comebacks the way the Sox were when your pitching isn't putting you multiple runs down in the first inning, but that resilience didn't disappear.
They are not the Rays, but they have shown a similar ability to surmount injuries, plugging in replacements for replacements and still keeping their heads above water. They are not the Orioles, but the young talent they do have at or near the top is getting its chance to shine — Tanner Houck and Garrett Whitlock are taking to it better than Triston Casas (.200/.317/.371 for the season) and Jarren Duran (3 of 31, 15 strikeouts for the road trip) are of late.
They could be the Blue Jays, though — a roller-coaster ride which opened 18-9, with Matt Chapman and Yusei Kikuchi two of the best players in the AL, then went through five series sweeps in May to sit just behind the Sox in division. (Toronto's a 2022 Sox-like 6-15 in the East.)
Could they be the Yankees? New York being so close in the standings, just 3.5 games ahead after it won in Seattle Monday, feels more a function of the Yankees being slowed by injuries. (And sticky-stuff suspensions.) The Sox host Tampa this weekend and visit the Bronx the next . . . it's striking to see all three are about the same team against better-than-.500 teams.
Rays — 19-14
Red Sox — 19-16
Yankees — 19-19
And yet, consider how different they look thinking about the start of All-Star voting this week. The Red Sox will have one, but it might just be because the rules say they must.
Rafael Devers? His .500 slugging is second among qualified American League third basemen, but he's hitting .242 and his fWAR is tied for sixth. The aforementioned Chapman is first despite hitting .188 in May, but excluding the incumbency bias Devers has, Tampa's Isaac Paredes and Texas's Josh Jung feel like better candidates.
Alex Verdugo and Masataka Yoshida? Verdugo's been Boston's best all-around player, and he could certainly be the one-from-every-team call. But he's also only tied for eighth in fWAR among AL outfielders, behind no doubters Aaron Judge, Randy Arozarena, Yordan Alvarez, and Mike Trout, plus Baltimore's Cedric Mullins.
Yoshida's batting .303 and exceeding most expectations, but he's another step down, tied for 15th in fWAR. Combined with Red Sox fans historically not getting out the vote at near the rate of their peers . . . they'll hopefully be other years.
They're obviously not getting any pitchers to Seattle barring something odd happening, but I was mildly surprised to see Chris Sale's worked his way to 16th in fWAR among AL starters. Not bad for a guy whose ERA was 8.22 a month ago Monday.
The Reds, 24-29 and only a half-game farther from a playoff spot than Boston because the National League is a gulag, offer a nice welcome present to anyone only now tuning back in to baseball. Then comes a measuring stick series with the Rays, a visit to underachieving Cleveland, and a pair of Yankees sets sandwiching one with dreadful Colorado.
It's a nice sample of teams the Red Sox should show their class against, such as it is, and a sample of the ones who'll ultimately decide what they're doing in October.
Tuesday's about the one-mile mark if the season was a 5K. The Red Sox are in it now. They've broken a sweat. They're judging their limitations. Now, it's about putting in the steps.
With a New England TV schedule suddenly bereft of other options.
Sign up for Red Sox updates⚾
Get breaking news and analysis delivered to your inbox during baseball season.