Red Sox
'I'm not asking you, Siri': Red Sox announcer Joe Castiglione had a funny moment with iPhone during Saturday's game vs. Rays
When Castiglione said Rays outfielder Jose Siri was up at the plate, his iPhone responded.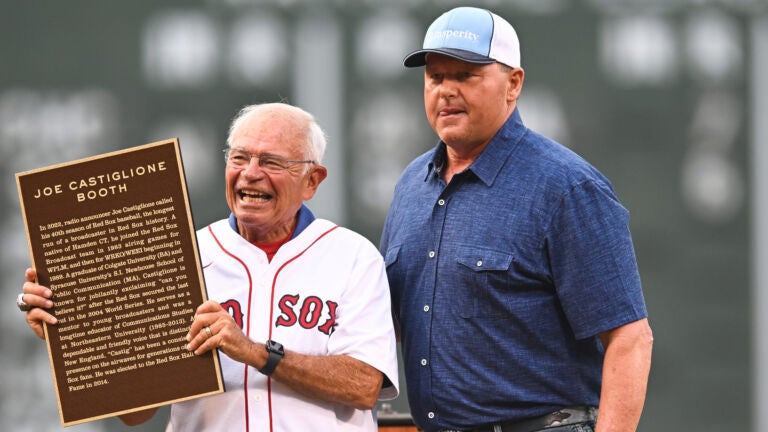 Joe Castiglione's iPhone thought it was its time to shine in the second game of the Red Sox' doubleheader against the Rays on Saturday.
The Red Sox' radio announcer received a bit of a surprise when he said that Rays outfielder Jose Siri was stepping to the plate. Castiglione normally says who's up at bat, but once he said "Siri," his iPhone thought it was calling on it to do something.
"So first and second, still only one out, for Jose Siri," Castiglione began before you could hear the Siri on his iPhone say something back to him.
It wasn't clear what Siri on Castiglione's iPhone said, but it was caught by everyone in the WEEI booth as there was noticeable laughter.
"Wait a minute, did you hear that?" Will Flemming, who was Castiglione's broadcast partner on Saturday, asked.
"I don't know where that came from," Castiglione initially said, confused about what happened.
"It was Siri! It was Siri," Castiglione said with a laugh. "It came through on the iPhone. Siri's at the plate. I'm not asking you, Siri. Not this Siri, that Siri."
Castiglione, who has called games for the Red Sox since 1983, was praised for the way he handled the situation on Twitter.
"This is great. Joe Castig is the best," Boston Globe Red Sox reporter Pete Abraham tweeted.
Castiglione's broadcast partner also had fun with the moment.
"An all-time moment," Flemming wrote on Twitter. "Who has a better laugh than Joe?"
The Rays ended up winning the second game of Saturday's doubleheader. But Castiglione's moment with Siri at least brought a good chuckle to many Red Sox fans.
Sign up for Red Sox updates⚾
Get breaking news and analysis delivered to your inbox during baseball season.