Red Sox
Watch: Red Sox give up Little League 'home run' against Rays
The Red Sox were sloppy on the field in the sixth inning, giving the Rays two runs in a 6-2 loss.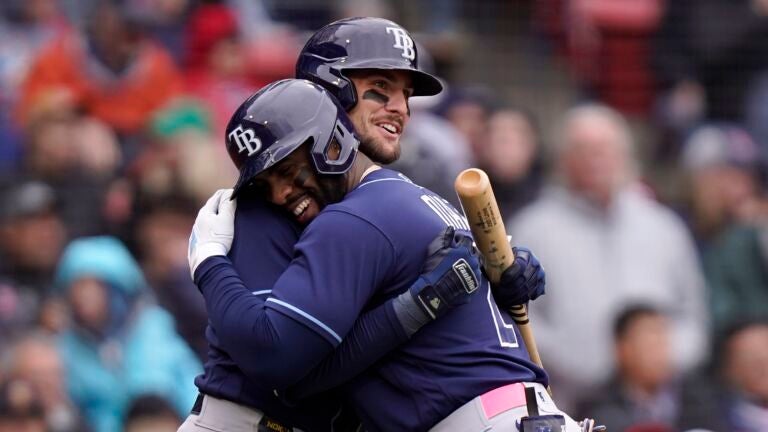 It's not every day that you see a hitter round the bases without hitting the ball out of the ballpark on a play that wasn't an inside-the-park home run.
The Red Sox were on the wrong end of such a play Sunday against the Rays. Trailing 4-2 at the top of the sixth inning, the Red Sox were a strike away from getting out of the inning before the disastrous play occurred.
Manuel Margot took for second on Corey Kluber's 1-2 pitch to Yandy Díaz. The Rays left-handed hitter made a heads-up hit, hitting the ball toward the spot vacated by Enmanuel Valdez who broke for second base for a possible throw on the steal attempt.
Díaz had an easy single, and with Margot getting a head start, he had an RBI opportunity on the play. Red Sox right fielder Alex Verdugo threw the ball to Valdez, not realizing that Margot was rounding third and headed for home.
Valdez's throw to the plate was late. With the slow-developing play, Díaz tried to extend his single and reach second base. Red Sox catcher Connor Wong's throw to second was off the mark. Not only did the ball get past shortstop Kiké Hernández at second, it rolled deep into centerfield because centerfielder Jarren Duran lingered in right center following Díaz's hit.
Verdugo made a dash toward the ball, but by the time he got there, Díaz was already rounding third and reached home safely.
The play gave the Rays a 6-2 lead.
The crowd at Fenway Park booed the Red Sox for the play, and manager Alex Cora kept a stoic face, but NESN announcers Dave O'Brien and Kevin Youkilis comments that Cora appeared to be really upset about the play.
Sign up for Red Sox updates⚾
Get breaking news and analysis delivered to your inbox during baseball season.