Red Sox
Watch: Kiké Hernandez, Alex Verdugo rob 2 Rays home runs in back-to-back innings at Fenway Park
The Red Sox defense responded after a porous showing on Sunday against the Rays.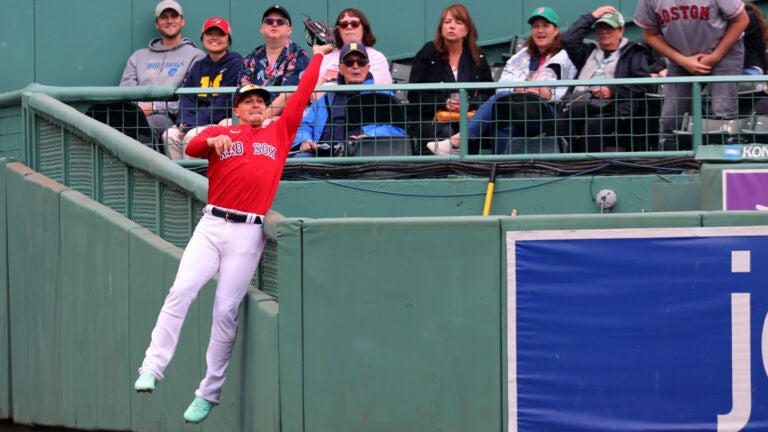 A day after Alex Cora ripped the Red Sox' disastrous defensive showing against the Rays, Kiké Hernandez and Alex Verdugo committed some outfield larceny to take three Tampa runs off the board.
Hernandez, slotted back out to his usual spot in center field, kept Monday's makeup game at Fenway Park scoreless in the top of the second inning. With a runner on first, Luke Raley clobbered a first-pitch slider from Brayan Bello that sailed toward the triangle in center.
But Hernandez timed his catch perfectly, snagging the ball before it landed in the Sox bullpen for a two-run homer.
It was a welcome sight for Hernandez, who has gone through his fair share of defensive struggles this season at shortstop (a league-leading 13 errors). Christian Arroyo's return from the IL on Monday allowed Hernandez to move back out to center.
Not to be outdone, Verdugo bailed out Bello in the following frame. Francisco Mejía nearly golfed a slider just past Pesky's Pole, but Verdugo reached into the stands (and past the arms of a fan) to steal away the potential solo shot.
According to Sports Info Solutions Baseball, there have already been 32 home-run robberies through the first two-plus months of the 2023 season. Monday's marked the fourth and second career home-run robberies for Hernandez and Verdugo, respectively.
Newsletter Signup
Stay up to date on all the latest news from Boston.com