Red Sox
Why can't the Red Sox play defense? Because on the whole, they don't care to.
Nobody looked at the 2023 Red Sox and thought they were going to be any good in the field.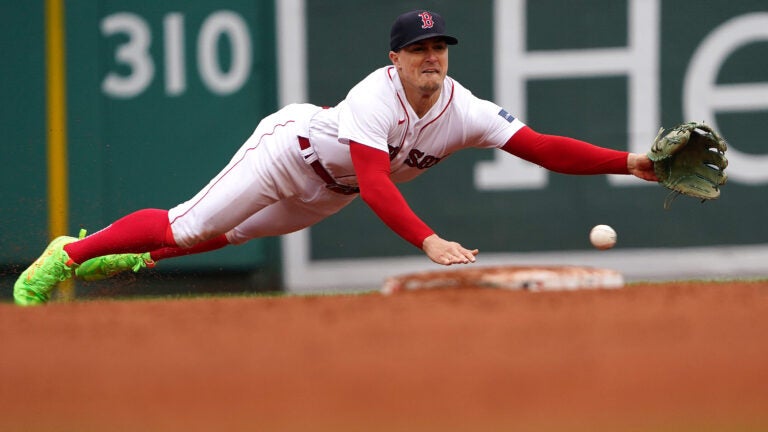 COMMENTARY
You've seen the play by now, whether you want to or not. If you're of a certain age, your mind creates the Mel Allen voiceover, part of another week's package of 'Big League Bloopers' and another VHS production from Major League Baseball Home Video.
It begins, as bad plays sometimes do, with a good one: Tampa's Yandy Díaz executing a picture-perfect hit-and-run, the ball bounding through the hole at second and Manuel Margot racing first to third.
Alex Verdugo was slow to field — he later said he "lost sight of the ball" — and fires to Enmanuel Valdez, stationed near second base. Margot was waved home, and Valdez whips the ball toward the plate with little chance of getting him. The throw offline, catcher Connor Wong fields and immediately heaves back toward second, where a good throw could get the advancing Díaz.
Wong, his momentum headed up the first-base line, misses Kiké Hernández by six feet. The ball goes by him, by Valdez, and by Verdugo, who is somewhat inexplicably closer to center field than center fielder Jarren Duran is.
By the time it's corraled, Díaz is hitting third and scoring the first Little League home run by a Red Sox opponent at Fenway in . . . well, in like 40-something games.
It's the kicker to goose absurdity that didn't need it. Because of Duran's involvement, my brain went to Raimel Tapia's inside-the-park grand slam last July. That, however, was a relatively reasonable bungle because Duran lost the ball in the sky.
I forgot about the far more similar, more recent play. Verdugo was there, corraling a wild Wong throw. Hernández was there, making the vain heave to the plate.
Alex Cora was there too, exasperated enough by a season of things like "Christian Arroyo, first baseman" and "Franchy Cordero, anywhere" to not even mount the reflexive response he offered reporters Sunday.
"We're not a good defensive team right now. The numbers don't lie," Cora said. "I don't like it, man. I don't like it. I've seen that play too many times the last two years. . . ."
"I'm the manager of this team and defensively we're not good. We're not. . . . The difference between [the Rays] and us right now is base running, defense, and throwing strikes."
To the point it's a "dog bites man" story. This team was a defensive pileup by the end of its first homestand. That it doesn't do the little things well — like Duran throwing home on a sac fly three innings before the 'Yakety Sax' hit, giving Díaz a free base that Houck pitched around — doesn't bear mentioning when it also doesn't do the big ones well.
The question feels like it needs to be bigger. As in, have the Red Sox ever been a good defensive team? Per Fangraphs:
| | | |
| --- | --- | --- |
| | Outs Above Average | Rank (of 30 teams) |
| 2022 | Minus-13 | 22nd |
| 2021 | Minus-38 | 29th |
| 2020 | Minus-5 | 20th |
| 2019 | Plus-3 | 12th |
| 2018 | Minus-2 | 16th |
| 2017 | Plus-5 | 13th |
| 2016 | Minus-11 | 23rd |
That's where OAA stops on Fangraphs. By defensive runs saved, the answer to the question is 2014 — they were a plus-51 and fourth in baseball, led by a full season of Jackie Bradley Jr., Dustin Pedroia, Christian Vázquez, and a strong Daniel Nava/Brock Holt platoon in right.
We didn't quite reach the Theo Epstein "run prevention" era, but we got pretty close.
You might remember 2014 as the second last-place finish to sandwich the 2013 title, when Ben Cherington was a major seller at the trade deadline. For all the bad teams in that above list that were also bad defensively, it's a refreshing change of pace.
A bad team that was not saved by being good defensively. And maybe that's the point.
Nobody looked at the 2023 Red Sox and thought they were going to be any good in the field, so it'd be silly for anyone to spin it as such. Their best defenders last year were Vázquez, who finished the year in Houston; Xander Bogaerts, who walked in free agency; and Trevor Story, who had elbow surgery two months before this season and was replaced internally.
Their best defenders this year are both surprises: Verdugo, whose general star turn has come with him rising to the level needed for right field at Fenway, and Rafael Devers, who is reaping the benefits of years spent grinding to prove he can handle third base.
Beyond that, though . . . good grief. Hernández has 13 errors in just 450 innings at short, a full-season rate north of 40. Triston Casas, on top of a .677 OPS, has looked ugly at first base. Masataka Yoshida was not signed for his defense and has shown why. The pitchers, as a whole, are bottom five in DRS.
It is an issue so thorough, and so perennial, blaming Cora for it is secondary. Sure, he plays a part in the problem. But it's not like there's a Tom Emanski video that's going to reveal the defenders within this roster.
They were either built with it as an afterthought, or built with unfathomable incompetence. To believe otherwise, or to believe that something is going to change after the sixth time Cora promised better days were ahead?
I've got a crate of blooper tapes to sell you.
Sign up for Red Sox updates⚾
Get breaking news and analysis delivered to your inbox during baseball season.