Red Sox
Marcelo Mayer, Red Sox top prospect, embracing his latest stop with Portland Sea Dogs
Marcelo Mayer made his home debut with the Sea Dogs at Hadlock Field on Tuesday night.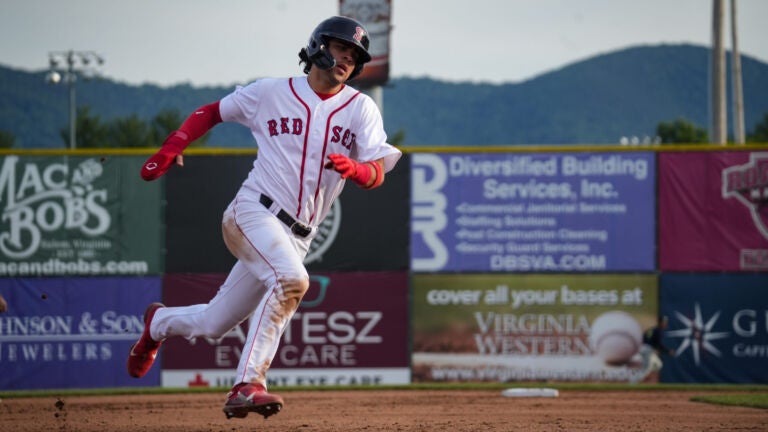 The Mayer family received some great news last week.
After a blistering stretch at the plate with High-A Greenville, Marcelo Mayer earned the call-up to Double-A Portland.
It was an anticipated step forward for the Red Sox' top prospect, but one still well ahead of schedule for the 20-year-old shortstop.
The one complication for the uber-skilled infielder? His parents, Enrique and Myriam, had already flown from San Diego to Greenville to watch their son play. Instead of settling in for a week-plus of games with the Drive, Marcelo needed to make a trek up to Somerset, New Jersey to join the Sea Dogs on the road.
"Packed all my stuff that night," Mayer said of the whirlwind that followed his promotion to Double-A. "And then around 11 in the morning, drove 14 hours to Somerset … "Thankfully my dad was with me. So he drove most of the way."
Such is the life of a young prospect looking to carve a path up the big leagues.
Since Sox spring training wrapped up in March, the odometer in Mayer's car has been about as busy as its owner — carrying him from Florida to South Carolina, New Jersey, and now Maine.
And even though Mayer's ultimate goal is to anchor the Red Sox infield at Fenway Park, MLB.com's fifth-ranked prospect isn't looking past his latest stop with the Sea Dogs.
"I've seen no reason for this kid to change who he is and how he goes about things," Sea Dogs manager Chad Epperson said of Mayer. "We have such a good support system on and off field. He's so focused on what he's doing. I overheard him say, 'I'm not worried about Boston, I'm in Portland right now and this is where I need to be.'"
And on Tuesday night, Mayer made a solid first impression in front of a new set of fans at Hadlock Field.
Mayer's stat line may not pop off the box score following Portland's 6-2 win over the Akron RubberDucks, finishing 0-for-3 at the plate. But Mayer did drive in a run in the bottom of the third with a sacrifice fly out to right field before driving another ball out to deep center in the fifth. As the relay man, he also assisted in a tag-out of Akron's Petey Halpin while trying to stretch out a triple in the fifth.
"His numbers are gonna take care of themselves because he's that good of a ballplayer," Epperson said of Mayer. "His IQ of baseball is off the charts as well. He's really intelligent."
It doesn't take long to see why the Sox were over the moon when Mayer fell to them with the fourth overall pick in the 2021 MLB Draft.
Projected as a potential five-tool player, Mayer's bat speed and smooth swing help him drive the ball with ease, even with just two years of pro ball under his belt. In his last month of High-A action, Mayer batted .321 with seven doubles and six home runs with Greenville.
Even at 6-foot-2 and 188 pounds, Mayer's defensive game is fluid. The Chula Vista, California, native can cover ground in a hurry, gobbling up potential seeing-eye singles and reeling off a nifty double play on Tuesday with second baseman and fellow top prospect Nick Yorke. His speed may not be elite, but he has already swiped three bags in just six games with Portland.
But for Epperson, Mayer's most impressive attribute lies in his ability and willingness to adjust and learn in short order, rather than rely on his high-end talent to lift him out of extended lulls.
Even though Mayer is on the fast track to the big leagues, he's still in relatively uncharted territory. Having turned 20 on Dec. 12, Mayer is the youngest Red Sox draftee to get called up to Double-A since Casey Kelly and Anthony Rizzo both earned the nod back in 2010.
After opening his Double-A career with an 0-for-16 slump in Somerset, Mayer rebounded with a 3-for-4 showing with a double and two RBI on Sunday.
"The guy's got exceptional tools," Epperson said of Mayer. "And he's shown it. I mean, he made some really, really good plays. And he made some really hard plays look easy. He's fun to watch. Everybody knows who he is, right? So they're gonna pitch to him a little — they're gonna bring their A-game every time he steps in the box."
For a blue-chip talent who was playing high-school opponents just two years ago, Mayer has plenty of pressure resting on his shoulders.
Boston isn't expecting their prized prospect to punch his ticket to the show in 2023. But after letting Xander Bogaerts walk in free agency this offseason, the writing is on the wall that Boston envisions Mayer as their franchise shortstop of the future.
But Mayer isn't looking too far ahead, not at this juncture of his young career.
For now, he's keeping his feet grounded in his new home. The to-do list he's penned is simple, and far from sweeping.
His first task up in Maine? Find a dependable new seafood spot in the Old Port neighborhood.
The Highroller Lobster Co. has been the early favorite.
"We went downtown, ate some lobster rolls that were pretty fire," Mayer said of his first evening in Portland. "Good first impression. … I actually had one in Boston when I went to sign and I didn't like it. So I was skeptical about trying it again. But thankfully, I liked this, so now I have a good spot to go."
Next on the list for Mayer? Get better — one at-bat at a time.
"He's got a real tremendous understanding of who he is. … I don't think he's thinking about Fenway Park or Worcester right now," Epperson said. "I think he's thinking about what he's got to do today to prepare for this game. And I honestly believe that's the way he goes about it."
Newsletter Signup
Stay up to date on all the latest news from Boston.com