Red Sox
Chris Murphy shines in emotional big league debut
"I tried to take in the first few seconds, but I had a runner on base and I honestly didn't want him to score."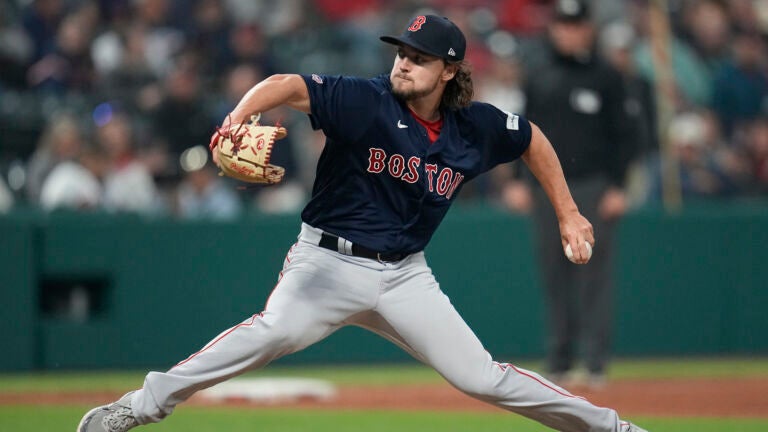 Red Sox manager Alex Cora wasn't afraid to test the composure of Chris Murphy in the pitcher's major league debut.
After the Guardians scored two runs in the bottom of the fifth inning Wednesday, Cora called on the 25-year-old lefty to get the final out and strand José Ramírez on second base.
In the fifth, Murphy did exactly what was needed. The rookie forced Josh Naylor (who came into the at-bat 2-2 in the game) to groundout to shortstop Kiké Hernández.
The pressure of the situation though, changed Murphy's first experience of being on a big league mound.
"Honestly, blacked out a little bit," Murphy said. "I tried to take in the first few seconds. But I had a runner on base and I honestly didn't want him to score. So that's the competitor in me. Wanted to leave that runner there. So that was my first focus."
After recording his first major league out, Murphy impressed the rest of the game.
In the sixth, he struck out the first two batters he faced and got the third to line out.
In the seventh, he allowed the first two baserunners of his career but proceeded to strike out two more and got Ramírezto ground out.
With his reliever cruising, Cora left him in for the eighth. While Murphy gave up a single to the leadoff hitter Naylor, he induced a double play three pitches later and struck out Andrés Giménez to end the inning.
"We stretched him out and I'm glad he can say he's a big leaguer," Cora said. "Everybody knows the story. It was cool to put him in that spot, too. Come in with traffic. The only thing I say, 'Hey, man. You're a big leaguer. Here we go. Have fun.'"
For Murphy, the story of his big league debut goes far beyond his performance on the field.
His parents, his sister, and the mother of his childhood baby sitter Jessica Tovar were all at Progressive Field in Cleveland on Wednesday.
Tovar passed away in 2012 after she was diagnosed with cancer. On his chest, Murphy has a tattoo stating, "I play for Jessica."
Murphy said that "it meant the world" to him that Tovar's mother could be in attendance for the game.
"I knew it was going to be emotional," Murphy said. "I tried to compartmentalize but definitely one of those moments where I felt Jessica out there."
Sign up for Red Sox updates⚾
Get breaking news and analysis delivered to your inbox during baseball season.