Red Sox
Marcelo Mayer is not the only Red Sox prospect turning heads up in Portland
Beyond Marcelo Mayer, the Sea Dogs boast two other top-100-ranked prospects on their roster.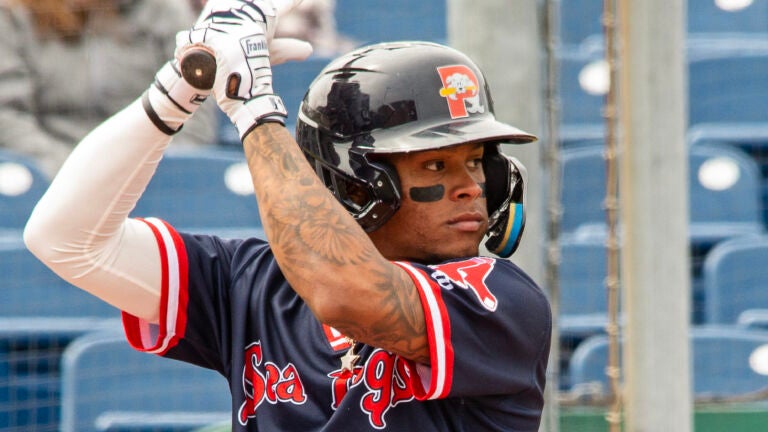 PORTLAND, Maine — Hadlock Field stands just 107 miles away from Fenway Park.
For many top prospects who have risen through the Red Sox organization, the Sea Dogs' ballpark stands as one of the final stops on the way to stardom.
Such a sentiment is validated by the array of jerseys lined atop the suites and press box that anchors the top of the seating section at the 29-year-old stadium.
It's a "who's who" of Red Sox legends.
Betts. Bogaerts. Devers. Ellsbury.
Many talents who routinely peppered the Green Monster at Fenway usually got their first licks in against the similar "Maine Monster" up in Portland.
Marcelo Mayer will look to be the latest in a long line of Red Sox blue-chip prospects to make his mark in Portland en route to his path to the big leagues.
But he may not be the only one in this current Sea Dogs clubhouse.
Mayer, tabbed as MLB.com's No. 5 prospect, may be the headliner on Portland's roster this summer. But the Sea Dogs are also home to another two top-100 prospects in baseball in second baseman Nick Yorke (No. 96, Baseball America) and outfielder Ceddanne Rafaela (No. 83, MLB.com).
"I love those guys in there," Mayer said of his new teammates. "We had a good thing going on in the clubhouse in spring training. So everyone's family. So getting the call up or joining a new club was pretty easy and smooth."
Mayer, who turned a double play with Yorke on Tuesday night against Akron, already has plenty history with the second baseman.
"Cali boy too. So I played against him growing up," Mayer said of Yorke. "So we're pretty cool, pretty tight. … And it's not just him, all of them. Like I said, in spring training, we all hang out.
"We're all together all the time. So it's kind of sad when we break camp, just because we know we're not gonna see each other for a long time. But being able to see those guys again was cool."
Yorke, 21, is in the midst of an impressive bounce-back campaign with the Sea Dogs. The 2020 first-round pick had a fantastic start to his pro career in 2021, slashing .325/.412/.516 with 14 home runs and 62 RBI between Salem and Greenville.
A slew of injuries limited Yorke to just 80 games with Greenville in 2022, with the power-hitting infielder slashing .232/.303/.365.
But with a clean bill of health, Yorke has once again put himself on the radar of MLB prospect evaluators. Entering Wednesday night, Yorke was batting .287 with six home runs and 20 RBI over 44 games with Portland.
If Yorke can continue to push aside the 2022 season as an outlier, the Red Sox could have a very intriguing duo anchoring the middle of their infield in the coming year between him and Mayer.
"To see that this early, we're extremely happy about that because that's probably one of the biggest jumps you make, High A to Double A," Red Sox minor league hitting coordinator Lance Zawadzki told The Boston Globe's Alex Speier of Yorke. "Being able to rebound, being able to make that jump and be doing what he's doing, that's great. He has a chance to be a complete hitter.
"There's huge upside on the power. Obviously, it's still coming. This guy has had a pure ability to hit since we drafted him. I think that was one of the most appealing things when we did get him."
Mayer might have made his home debut with Portland on Tuesday night, but the star of the evening was Boston's fellow top-100 prospect in Rafaela. Rafaela, now in the midst of a 12-game hitting streak, went 3-for-4 at the plate on Tuesday with three steals.
The 22-year-old Rafaela likely already has a path to the majors thanks to his plus defense, be it in center field or at shortstop. But Rafaela has continued to show signs that he can be more than just a utility piece at the next level.
He has torched the basepaths during his first full season with Portland, stealing 25 bases in his first 46 games this year. He set a new Red Sox organization record by swiping six bags in a single game back in May.
But after slugging 33 extra-base hits over 71 games with Portland in 2022, Rafaela is batting .284 with 12 doubles, four home runs and 31 RBI over 46 games in 2023. Since the start of June, Rafaela is batting .455 with two doubles, one home run, five runs scored and five RBI.
Signed by Boston as an international free agent out of Curaçao in 2017, Rafaela could make a push for a promotion up to Triple-A Worcester later this summer.
Of course, most eyes will still be fixated on Mayer, who slugged his first Double-A home run on Wednesday night in his second game at Hadlock Field.
So far, he's fit in well on a Sea Dogs team already anchored with plenty of high-end talent.
"Very laid back," Sea Dogs manager Chad Epperson said of Mayer's approach. "Our team motto is' loose and loaded.' And that's kind of what he is. He fits that profile just right. You know, I mean, he's very loose, but he's ready to play every single day."
Sign up for Red Sox updates⚾
Get breaking news and analysis delivered to your inbox during baseball season.