Red Sox
Yankees pitcher says Red Sox 'haven't been who they really are the last couple years'
"It doesn't feel like what we have with Tampa now, or with Toronto now."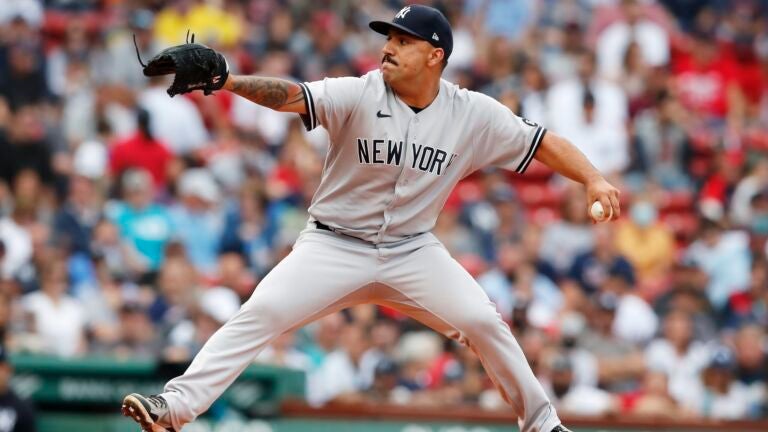 The Red Sox and Yankees have met twice in the postseason over the past five MLB seasons, with Boston emerging victorious in both the 2018 ALDS and the 2021 AL Wild Card Game.
Still, even with those recent playoff bouts and the years of bad blood between the historic franchises, the Red Sox-Yankees rivalry has been toned down significantly over the last few years.
Ahead of the Red Sox and Yankees' first matchup this season on Friday, FOX Sports' Jake Mintz wanted to assess whether or not baseball's top feud had mellowed out as of late.
Yankees pitcher Nestor Cortes was candid when it came to where Boston sits in New York's pecking order of divisional foes.
"It doesn't feel like what we have with Tampa now, or with Toronto now," Cortes said. "You could argue that [the Red Sox] haven't been who they really are the last couple years."
It's hard to disagree with Cortes' blunt assessment of Boston. After winning the 2018 World Series, the Red Sox finished fifth in the AL East two out of the last three seasons. As of Thursday afternoon, the Sox remain in fifth place in the division with a 31-31 record.
The Yankees are currently 36-26 and sit in third in the AL East. And while you can make the case that this current Bronx core has underachieved given that they haven't advanced to the World Series since 2009, New York has been consistent in the standings.
New York has posted at least 90 wins in each of the last four full MLB seasons, including a pair of 100-win campaigns in 2018 and 2019.
"I can't speak to the hatred 15, 20 years ago, but I would say there's not much of that now," Yankees ace Gerrit Cole told FOX Sports. "We want to beat them just as badly as we want to beat Baltimore. And even though it is more unique in the sense of the history, I'm not sure how much we carry that baggage with us."
Of course, Boston still holds the last laugh in terms of recent hardware. The Red Sox have won four championships starting in 2004, while New York has their one title over that same stretch in 2009.
Perhaps Cortes' comments will spark what has been a pretty quiet chapter in this rivalry during this weekend set in The Bronx.
Newsletter Signup
Stay up to date on all the latest news from Boston.com