Red Sox
The Red Sox took a stand. If only it was one that made them more watchable.
Two notable storylines from Thursday: Alex Verdugo's benching, and the controversial decision to pitch Matt Dermody during Pride Month.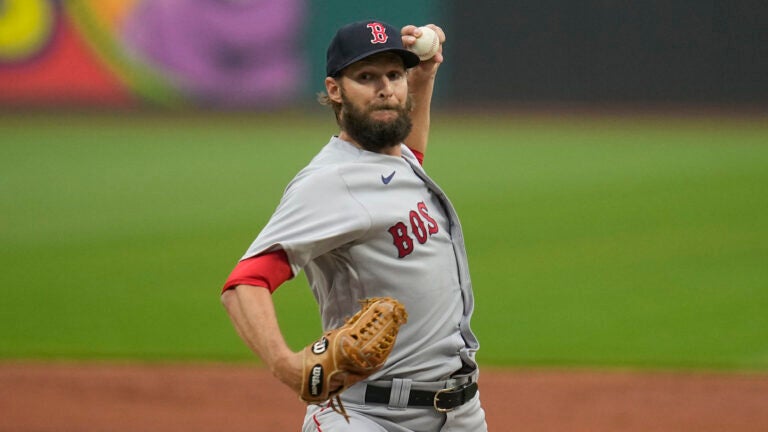 COMMENTARY
Every day, we can all decide what we will and won't stand for. We can draw lines in the sand. We can make statements, in action or omission. Most aren't important, because most are fungible — the humans and the lines.
The Red Sox are neither, which made Thursday notable. The Red Sox drew a clear, definitive line on Thursday. They made clear there are things they'll allow, but there are others they absolutely will not.
They benched Alex Verdugo because he didn't really run to second base in Wednesday's loss in Cleveland.
"Dugie as a player this year, you know, there's not too many things that we can question," manager Alex Cora told reporters. "Defensively, he's one of the best in the big leagues. Offensively, he's been solid. Even baserunning, which is one of the things that he needed to get better, he's doing a good job.
"Obviously where we're at, and I'm not using him as an example because we have to be better in a lot of aspects, but [Wednesday], I felt like, you know what, that's not acceptable. And he knows it, so I took him out of the game and then today he's not starting."
A bit of a word salad, the perfect side when the entrée is this play. Hardly the most memorable gaffe of these 12 losses in 17 games which have the Sox back below .500 (31-32) with a dead-even run differential — 316 scored, fifth-best in the majors, and 316 allowed, sixth-worst.
It reminds of the adage that a player doesn't have to worry when their coach is yelling at them, they have to worry when the coach stops bothering. In that ramble about not using Verdugo as an example is the unspoken that all sides know Verdugo is better than that. He responded so well when called out last fall, and when Cora looks around his clubhouse, it's not exactly lousy with superstar potential.
Can Verdugo be a superstar? I don't know. Same as I don't know whether José Ramírez is over that mythical line. The four-time Silver Slugger, and four-time top four in MVP voting, certainly played like it Thursday, taking an utterly forgettable game in front of 20-odd thousand and making it something with his first career three-homer night.
It's not dimmed by the competition, though it probably should be. Ramírez's first two came off Matt Dermody, a 32-year-old making his first major-league start, whose Triple-A pedigree was four solid outings in a row last month. The third was off Corey Kluber, and was the first of eight straight hits off this year's Red Sox rotational scratch ticket.
That Cora left the two-time Cy Young winner in to reset his bullpen heading to New York, and wear 11 hits and seven runs, felt like a last call. (Especially when Cora took mercy and pulled Kluber two outs from the end.) Instead, it was Dermody who was designated for assignment before the Sox left town.
Shocker, that.
Look, you know the story of the "deleted homophobic tweet" by now. I wouldn't want to rehash it even if I hadn't spent most of this week hoping the cloud of burning Canada kept away from my house. The short answer to all of it is the Red Sox thought they could slip him through the way the Bruins thought they could slip Mitchell Miller through.
But therein lies the part I'll never understand, and that I can never explain. Why bother?
The Miller signing was ridiculous, but at least he was a prospect. A reasonably good junior player. A North Dakota commit before his past resurfaced. A draft pick. What exactly made Matt Dermody uniquely qualified for Thursday's opportunity?
You couldn't have gotten four mediocre innings for your mediocre team from anywhere else? You need to fill out your system? I get it. But none of the other dozens of pitchers you employ were more worthy of a big-league taste?
"We're mindful of the optics here," Sox architect Chaim Bloom told MassLive. "But it's more important to us to get the substance right."
"We cannot dictate the religious beliefs or political views of our players and employees," Sox CEO Sam Kennedy told MassLive in a statement, "but we do require they treat people in our organization and ballpark with respect and professionalism."
Respect and professionalism. Just what I was thinking of when, like many fans who bothered to look, I found a tweet from December that Dermody still has liked on his Twitter account. Namely that "[Dr. Anthony] Fauci needs to be indicted, convicted and sentenced to the death penalty for crimes against humanity. Hanging would be appropriate. In prime time on national TV."
I'm not naïve, and I've covered baseball long enough to know the secret behind the words of Sox brass. There are Matt Dermodys in every organization. There are a lot of Anthony Basses — who, as if solely to remind air pollution causes brain damage, has been chosen by the Blue Jays to catch Pride Weekend's ceremonial first pitch. If you started policing views, you'd literally do nothing else.
That's life. Ideally, the clubhouse can be like the military barracks of old, opposing viewpoints forced together and forced to understand a world beyond their own childhoods. I could not help but think, while reading another Dermody liked tweet about the Bible verse stressing the value in beating your kids, back to the recent Washington Post story about fundamentalist Christian families learning public schools may not be the evil their parents told them they were.
And then I got angry because I'd spent four hours trying to say this all delicately, and that I'd just cited a story about fundamentalist Christians in an ostensible Red Sox story without a hint of irony.
As someone who has spent much of this space trying to validate the construction of the 2023 Red Sox, Thursday was a line of sorts — as fungible as any other. This team is three weeks removed from playing any sustained form of watchable baseball. Injuries play a role. Bad breaks are real.
But the defense stinks and the pitching stinks and the offense can't paper over it every night. They arrive in New York looking listless and lost, foundering to find a reason to give themselves and their fans a reason to rally.
On Thursday night, the manager sat down his best all-around player for a borderline lack of hustle. His bosses told him to explain Matt Dermody's place in his clubhouse for them.
There's not subjecting yourselves to the whims of public perception. Then there's ignoring logical criticism for no logical reason, solely because you know you can get away with it.
Shame on them for the latter.
Sign up for Red Sox updates⚾
Get breaking news and analysis delivered to your inbox during baseball season.