Red Sox
'Well executed but better swing': What Rafael Devers, Gerrit Cole said after the Red Sox star took the Yankees ace deep again
Devers hit his seventh home run off Cole in his career on Friday.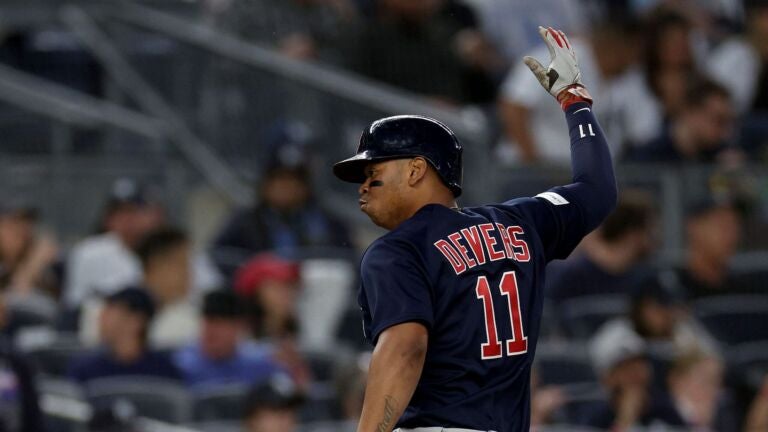 Rafael Devers had another big hit against Gerrit Cole in the Red Sox' 3-2 win over the Yankees on Friday.
The 26-year-old star hit a 405-foot home run to left-center off the Yankees ace's 90 mph changeup in the sixth inning to give the Red Sox a 2-0 lead at the time.
Devers's sixth-inning home run was his seventh off Cole in his career, which is the most any hitter has against the five-time All-Star. He's also now 9-for-33 (.273 batting average) in his career against the right-handed pitcher in 37 plate appearances spanning 13 games.
Cole tipped his cap to Devers after the Red Sox slugger got the best of him again.
"I haven't thought very many times it's been a really bad pitch," Cole told reporters of the changeup he threw to Devers. "Raffy seems to let me know otherwise. So pretty good pitch, well executed, but better swing."
Devers actually recorded a big hit earlier in the game off a changeup from Cole, too. He hit Cole's 91 mph changeup that was low-and-away in the zone to deep right field, falling just short of a home run but hopping over the fence for a ground-rule double. That helped give the Red Sox a 1-0 lead later in the inning when Triston Casas singled Devers home.
On the flip side, Devers appears to be just one of a few hitters to have success against Cole's changeup this season. Outside of Devers, opposing hitters are 5-for-24 (.208 batting average) when they hit Cole's changeup into play. The pitch also has a 35 percent whiff rate this season, which is the best among all of Cole's pitches in 2023, per Statcast.
While Devers might be the hitter that gives Cole the most trouble in the game, he knows not to take the perennial Cy Young candidate lightly.
"He's not an easy pitcher to face, and to be honest, I'm glad I've been able to hit off him," Devers told reporters via Red Sox translator Carlos Villoria Benitez. "He's very good, and he's not an easy pitcher to face."
Devers's outburst on Friday might have been a slump-breaking game for him. Entering Friday, he was hitting .227 with just two home runs in his previous 22 games, failing to hit a home run since his two-homer game against the Padres on May 19.
While it might appear that Devers could be doing something different against Cole, he denied that's the case.
"It's the same routine, the same focus to win against any other pitcher or team," he said. "It just happens that I have good numbers and good hits against him, but it's nothing I change or do anything special when we face the Yankees."
Devers will certainly hope that Friday was the game that got him off the schneid and help the Red Sox turn things back around too as they improved to 32-32 with the win.
Sign up for Red Sox updates⚾
Get breaking news and analysis delivered to your inbox during baseball season.