Red Sox
Why Alex Cora believes Red Sox' Justin Turner could be a future manager
"The thing I like the most is what he brings to the equation in the dugout, in the clubhouse."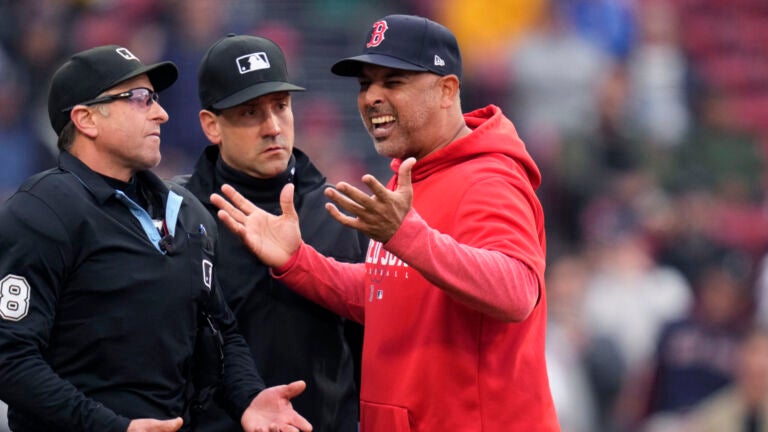 Alex Cora followed a linear path to become the Red Sox manager, jumping into the coaching and management ranks in the Puerto Rico Winter League shortly after hanging up his spikes in 2011.
Five years later, he was back in MLB as Houston's bench coach before taking over the reins of the Red Sox the following year.
Speaking to FOX Sports on Saturday, Cora believes that veteran Justin Turner could follow a similar path en route to a manager gig in the big leagues.
While this current Red Sox squad has no shortage of seasoned players who have logged plenty of reps in the MLB ranks, Cora says Turner has set himself apart as a future coach.
"He's a good baseball player, overall," Cora told FOX Sports' Ken Rosenthal during Saturday's road game against the New York Yankees. "I've seen him since we were teammates with the Mets and the evolution of his swing. But the thing I like the most is what he brings to the equation in the dugout, in the clubhouse.
"He's a great baseball guy. I hate to say this because I hated when people used to say, 'Oh, you're gonna be a big league manager," but I do believe JT, if he wants to, he's gonna run a team and he's gonna be very successful."
Turner, who has spent 15 years in MLB, has earned two All-Star nods and won a World Series with the Dodgers in 2020. The 38-year-old infielder is batting .265 with eight home runs and 27 RBI over 63 games with the Red Sox.
Turner told Alex Speier of The Boston Globe back in May that the Red Sox were one of six teams vying for his services in free agency during the winter. Even though the former Dodger was a key cog for multiple 100-win teams, Turner acknowledged that teams also valued him as a free agent due to his leadership qualities.
"Obviously, every team that I talked to called me wanting to come in and play and do what I do on the field, but the big message was come in and help create a culture in the clubhouse," Turner told Speier. "I kind of heard that from everyone, so a lot of teams that were in were teams that were trying to take the next step. I heard a lot of the same things.
"Everyone made clear as well, like, 'We don't want you to come in and be a cheerleader by any means. We want you to go out there and do your thing.' But the message was also, 'What you can do in our clubhouse and do for our young players is very attractive.'"
Newsletter Signup
Stay up to date on all the latest news from Boston.com