Red Sox
Mookie Betts recalls the last Red Sox-Yankees brawl: 'I'm a lover, not a fighter'
"I think the Red Sox-Yankees rivalry is probably the best in sports."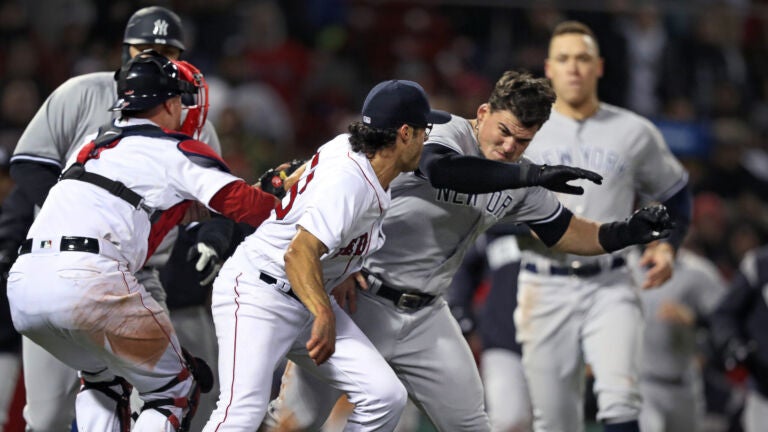 The rivalry between the Red Sox and Yankees has lost some of its fastball over the last few years.
Just don't tell that to former Red Sox star Mookie Betts.
"I think the Red Sox-Yankees rivalry is probably the best in sports," Betts told Yankees OF Aaron Judge during Bleacher Report's "On Base With Mookie Betts" last week. "And I say that because both teams are always good. And this may be fan-driven, but it seems like it's always hostile."
During an hour-long conversation between the former AL MVPs, both Betts and Judge discussed the last brawl between the Sox and Yankees on April 11, 2018.
In the early stages of Boston's eventual World Series run, Joe Kelly penned another memorable chapter in this century-long rivalry when he plunked Tyler Austin a few innings after the New York infielder spiked Brock Holt during a force out at second.
Kelly eventually struck Austin with a 98-mph fastball, prompting Austin to slam his bat in anger. Seconds later, both Kelly and Austin were trading punches near the pitcher's mound as both benches cleared.
It was the first brawl between the Red Sox and Yankees since Jason Varitek and Alex Rodriguez scrapped on July 24, 2004.
As both Kelly and Austin started to square up, Betts remembered heading in from the outfield to join the fracas. But at 5-foot-9 and 180 pounds, Betts wasn't going to start trading blows with New York's outfielders, especially the 6-foot-7, 282-pound Judge.
"I remember when we had our brawl and Joe Kelly hit Tyler Austin, and I'm in right field. I'm like, 'Oh my gosh, here we go," Betts told Judge. "So, everybody runs in. Mind you, y'all had everybody that was 6'5″ and taller on your team."
As Betts made the trek toward the infield, he saw the Yankees bullpen empty behind him and charge into the fray. New York's relievers were also anchored by a number of imposing MLBers, including 6-foot-8 Dellin Betances, 6-foot-4, Aroldis Chapman, and 6-foot-3 Chad Green.
"They were coming, too," Judge said of New York's bullpen corps.
"I slowly walked," Betts added. "I'm a lover, not a fighter. And y'all was too big, man, but that perfectly depicts the Red Sox-Yankees."
Newsletter Signup
Stay up to date on all the latest news from Boston.com