Red Sox
The Red Sox are decidedly average, but their young pitching staff is proving itself more
Brayan Bello, Tanner Houck, and Garrett Whitlock were all impressive in their starts at Yankee Stadium over the weekend.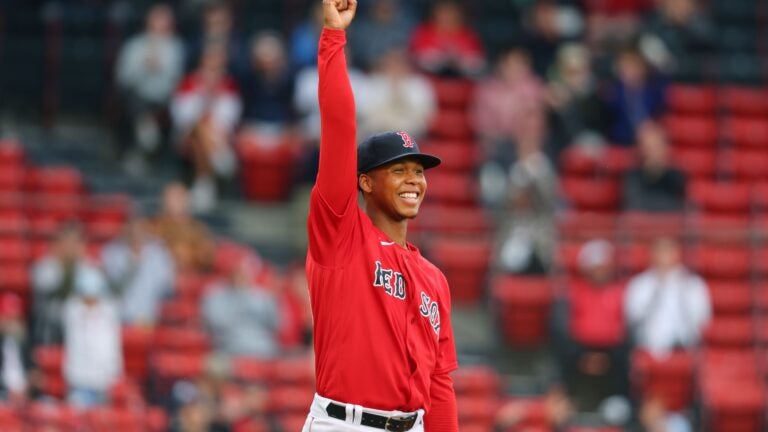 COMMENTARY
If you think you don't like the Yankees, ask one of their fans how they feel about them.
I'm hardly the only person to point this out, but it was striking to read each side of the rivalry shouting the same thing this weekend: We need depth. Without Aaron Judge since injuring his foot in Los Angeles last weekend, New York is averaging three runs per game. It's not hard to believe, given their years-long profile as a homer-or-bust group.
The Yankees split a six-game homestand with the White Sox and Red Sox giving Jake Bauers, Willie Calhoun, and Billy McKinney 55 plate appearances. That trio was your starting New York outfield for Sunday night's 3-2 Boston victory, won when four Sox pitchers held the hosts to three hits — the only damaging one getting a major assist from the second-base bag.
That .201 batting average and .697 OPS from Triston Casas got you down? Anthony Volpe, New York's next-big-thing shortstop, is looking up at both and was out of the starting lineup Sunday for just the sixth time all season. The 22-year-old who nearly walked off Kenley Jansen on Friday pinch-hit and struck out to end the series.
How about Kiké Hernández advancing on somebody else's error, ultimately scoring the tying run in the eighth and knocking in the winner in the 10th?
"It was a big series for us," he told reporters Sunday night. "We were in all three games."
And won two despite totaling just five hits all weekend with a runner on base. Didn't feel like a 24-hit weekend for the Red Sox, did it? That'll happen when only two — Casas's RBI single off Gerrit Cole Friday, and Hernández's 10th-inning single Sunday — came with a runner in scoring position.
In three games, the Red Sox were 2 for 16 (.125) in those RISP spots and 19 for 56 (.339) with the bases empty. Rafael Devers went 4 for 12 with two home runs, but was 0 for 6 with men on base, two of those coming in Saturday's 3-1 loss.
An outstanding weekend of pitching made it forgivable.
"We pitched well the whole weekend," manager Alex Cora told reporters. "So we take that home and hopefully at home, we start hitting the ball the other way, get that feeling back, and have a good week."
Awaiting them are the Rockies, the National League's worst staff by a notable margin. That would seem to bode well, though perception is somewhat unreliable in the day-to-day despite these Red Sox being the decidedly average team most of us thought they'd be.
Consider: They're 33-33 overall, having scored exactly as many runs as they've allowed (323). They're 17-16 at home versus 16-17 on the road. They're 10-11 in the AL East — admittedly, a massive improvement from a year ago. They're 10-10 in one-run games despite winning nearly every night they get through five innings either leading (20-3) or tied (5-2).
If we're going to quibble, two-thirds of their games have been against better than .500 competition, with 55 of their last 96 also against baseball's top half. (Beyond the AL East, 13 combined remain with Texas and Houston.) It's a tough slate that's not really going to get any easier.
Will reinforcements be coming? For a team 14 out in its division and four games adrift of a third wild card? Suffice to say, this appears one way these Red Sox aren't going to be confused with the Yankees, who still haven't won an AL pennant since Judge was in high school.
Regardless, there does appear something to take from wherever this meander of a season leads. That pitching Cora mentioned, which might not be deep enough to get them into October baseball, but certainly has made the most of its opportunities to establish itself.
Cora called Brayan Bello's seven innings on Sunday his best outing yet, and it's a fair read. (If the bases are 2022 sized, he might've thrown seven shutout.) Garrett Whitlock allowed one earned run over 6⅓ innings in Friday's win, giving Corey Kluber credit for helping him "with pitch selection and reading at-bats."
Tanner Houck has lost three straight starts, but he's now a four-pitch pitcher missing as many bats as he ever has, and himself gave up just three hits in six innings Saturday.
Even the worst teams offer silver linings. Andrew Miller's stellar final decade as one of baseball's better middle relievers began in Bobby Valentine's 2012 bullpen. These Sox would need one heck of a tailspin to approach that level of dysfunction, but whatever the young core of the rotation becomes, it will have its seeds with the 2023 team.
Houck's increased mix. Whitlock's longest starts and first sustained success. And Bello, who after his opening hiccup has a 3.08 ERA and .236 batting average against in nine starts, a run which includes Toronto, Atlanta, Tampa Bay, and a night at Yankee Stadium that very quickly could've gone south after that bad break at second base.
"This is who we believe [Bello] is," Hernández told reporters. "This is a kid who came into the league with all the hype in the world and struggled a little bit. It seemed like he got better with each start. . . . He had to basically go through Spring Training during the regular season. The first couple of outings were not what he wanted. He was sent down for a little bit. He came back up with a great attitude. Same story as last year; he seems like he gets better."
The Yankees might not be what they once were. The Red Sox certainly aren't.
But there's something brewing in both. And it feels like it's building.
Sign up for Red Sox updates⚾
Get breaking news and analysis delivered to your inbox during baseball season.