Red Sox
Trevor Story offers an updated timeline on when he might return to Red Sox lineup
"To be able to just impact the team with my bat is something I feel like I can do."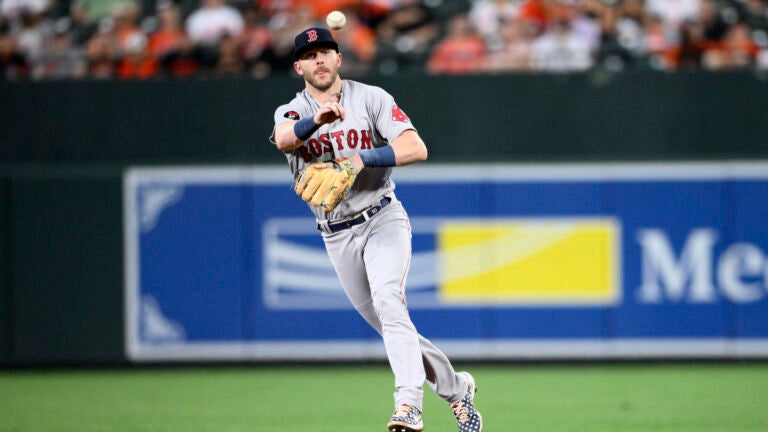 After going under the knife for an elbow procedure in January, Red Sox shortstop Trevor Story is finally seeing the light at the end of the tunnel.
The 30-year-old infielder was on-site at Fenway Park on Monday as part of his ongoing rehab process, and took part in 120-foot throws in the infield. He is also expected to take part in batting practice throughout the homestand.
Given the nature of Story's rehab, there stands a good chance that Boston's top 2022 free-agent pickup returns to the lineup as a DH, giving his elbow more time to heal.
"Yeah, [July] is a real possibility for DH," Story said, per MLB.com's Ian Browne. "I think that's as early as we've looked at it. That's obviously exciting to me. To be able to just impact the team with my bat is something I feel like I can do, so we'll make that decision soon."
Given the uncertain timeline that both Story and the Red Sox were presented with during the winter, getting his bat back in the heart of the order next month is already a major lift for a beleaguered Boston lineup.
But Story added that he could be back in action just a month after his projected return.
"I think the progression is kind of a moving thing based on how I feel," Story said. "I feel good about coming back to play shortstop sometime in August. I know that's what I want to do. That's my goal. So that's kind of where I have my head on."
Injuries limited Story to just 94 games in 2022 during his first season with Boston. But even though the former Rockies star battled just .238, he slugged 16 home runs and totaled 66 RBI.
Story's presence at the plate has been missed, but his plus glove might generate the most impactful domino effect across the diamond for the Red Sox.
With Story out of commission, the Red Sox have been hampered by instability at shortstop, with Kiké Hernandez, in particular, struggling defensively at the position.
For now, Story is working to build up his arm strength over the coming weeks.
"I think 130 or 135, and then 150," Story said of his throwing distances. "I'm not sure how deep we're going after 150, but yeah, I think we're kind of listening to my body, and just because it says something on the paper you know, we're not doing it just because it says that. We're being smart about it. If I feel good about progress, we're going to progress."
The Red Sox are currently treading water with a 33-33 record. By the time Story returns, Boston could very well be bracing for a fire sale ahead of the trade deadline.
But even with Boston's current status, Story isn't going to accelerate his recovery process beyond what the training staff has mapped out for him. Given where he once was ahead of spring training, just getting back into games later this summer feels like a victory for the Sox infielder.
"That's where it gets tricky, because if I go use the rehab games for DH, then those are kind of used up and I can't just go down and do that for shortstop," Story said of Boston's plans to utilize him as a DH.
That's where we get creative with some things. But yeah, I think this is a live and living thing. Things could change at any point, whether it's injuries or whatever. But as of now, I'm getting ready to be able to do it, to be able to be available for DH, and I think things will kind of play itself out over the next couple weeks or so."
Newsletter Signup
Stay up to date on all the latest news from Boston.com