Red Sox
After 10 years and a career revival, Daniel Bard made his return to Fenway Park
"I think I'm more proud that I'm here right now than what I did last year."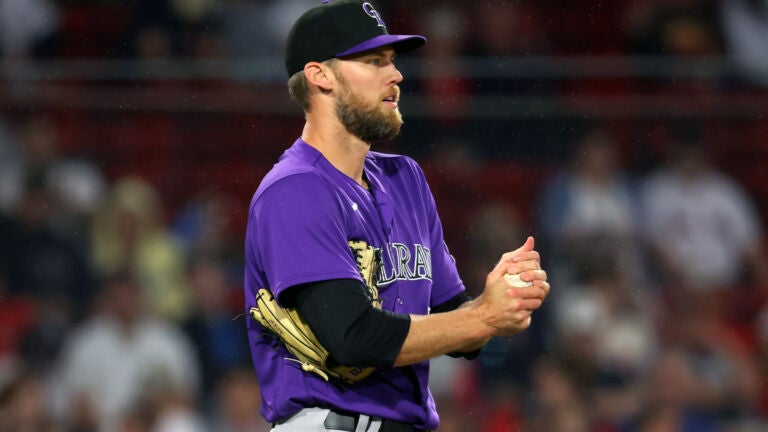 Daniel Bard's journey through baseball has had more than its fair share of twists and turns.
A promising young reliever with a blazing fastball, Bard was a key cog in the Red Sox bullpen in 2010 and 2011. But severe control issues derailed his career, prompting Boston to designate him for assignment in 2013.
Bard bounced around with a number of organizations before opting to retire in 2017. After two years as a mental skills instructor with the Diamondbacks, Bard orchestrated a late-career renaissance with the Rockies in 2020.
The 2020 Comeback Player of the Year has checked off a number of milestones during this second chapter of his up-and-down career, including returning to the mound this season after landing on the IL due to anxiety.
But returning to the ballpark where his pro career both began — and temporarily unraveled — on Monday stood as a defining moment for Bard and a career marked with both adversity and triumph.
"I think I'm more proud that I'm here right now than what I did last year or even what I did back in Boston as a player," Bard told WEEI's Rob Bradford ahead of Colorado's road matchup against the Red Sox on Monday. "That I'm here, I'm active, I'm still getting outs, going through with what went on earlier this year. Things like that."
"I wanted to be able to make this trip and hopefully get an inning here, maybe a couple and just soak it in," he added.
It didn't take long for the 37-year-old righty to get his opportunity.
For the 100th time in his pro career, Bard took to the pitcher's mound at Fenway Park in the bottom of the ninth inning. His 99th appearance at Boston's home ballpark came all the way back on April 27, 2013 — a span of 3,698 days between outings.
With Boston and Colorado stuck in a 2-2 deadlock, Bard navigated through a leadoff walk to Adam Duvall by getting Triston Casas to ground into a double play. Christian Arroyo then doubled on a line drive out to center, but Bard stranded him in scoring position by getting Connor Wong to ground out.
With another scoreless inning, Bard has continued to thrive since returning from his latest stint on the IL. Over 19 appearances so far this season, Bard has posted a 0.92 ERA.
Bard has not exactly had a linear road through the big leagues, to say the least. But his return to Boston on Monday stood as some much-needed closure on a path that has finally come full circle.
"It holds a special place for me in a lot of ways," Bard told DNVR Sports of playing in Boston once again. "I grew up going to games there. My grandfather was from the Boston area, so I went to games there as a 10-12 year old. First time I stepped on the field was during the Cape Cod All-Star Festivities, they did them there. I got drafted by the Red Sox.
"Red Sox baseball has been in my family for generations. It holds a special place. To me, [Fenway Park] is as magical as a baseball venue gets. You can feel the history when you step in the building."
After helping Colorado beat the Red Sox, 4-3, on Monday night, Bard still has one more task to complete while he's back in Boston.
"I never signed inside the Green Monster," Bard told DNVR Sports. "Even visiting players go and do that all time. I played there for four years, and it was always one of the things like, 'I'll do it tomorrow, or next year or whatever.' And then I was gone, and I never did it. So I gotta make sure I sign inside the wall."
Sign up for Red Sox updates⚾
Get breaking news and analysis delivered to your inbox during baseball season.