Red Sox
Red Sox starter Kutter Crawford had a cold view of Alex Verdugo's game-sealing play on Saturday
Crawford was enjoying an ice bath after pitching 5 2/3 innings when Verdugo made the throw that won the Red Sox the game.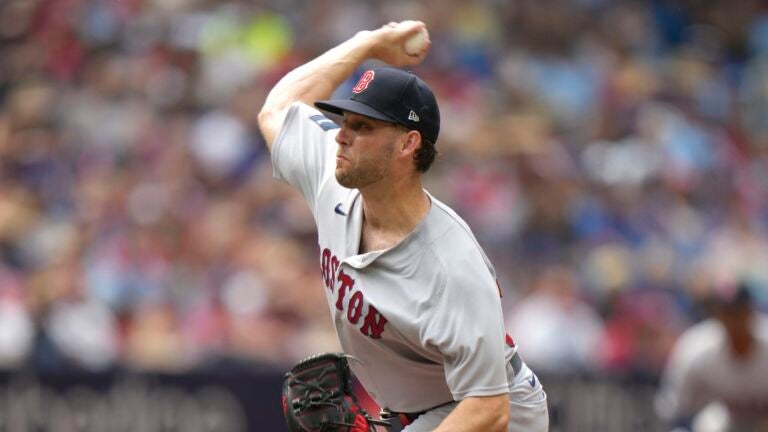 Red Sox starting pitcher Kutter Crawford was cooling down right when Saturday's game against the Blue Jays reached its hottest moment.
Crawford, who started Saturday's game, was in the cold tub in the Red Sox' locker room when Alex Verudgo's throw from right field got Bo Bichette out at home plate to prevent the tying run from scoring and get the final out of the game, securing a 7-6 win.
As Crawford was "watching it unfold" on the television in front of the cold tub, he went through a bit of a roller coaster of emotions as it appeared Vladimir Guerrero Jr.'s single to right field would score the runners on second and third to tie the game up.
"I knew that ball was hit hard and [Verdugo] needed to make a good throw. Dugie did that. He put it right on the money," Crawford said. "I think Bichette, he hesitated. But he was out either way. So it's kind of a roller coaster of emotions there. But glad Dugie made the good throw and we got him out."
Verdugo also sensed something similar to Crawford as his throw beat Bichette by at least a few feet.
"Vladdy hit it hard and on the turf, the ball is skipping. So you know you're going to get it quick," Verdugo told reporters. So for me, I didn't think he was going to go. But we still did everything the same like if he was. Just put the throw right there. Long hop it. No reason to get crazy with it. Just try to get rid of it as quick as I can and throw it right on the money. And we were able to do that."
Verdugo's throw home to get Bichette out secured a win for Crawford, too. The righty gave up two runs on three hits, two walks, and five strikeouts in 5 ⅔ innings pitched. While it didn't qualify as a quality start, the Sox needed it as their rotation has been marred with injuries as of late, leading to Crawford getting starts.
It was also arguably one of Cawford's best stats of the season. Prior to Saturday, Crawford was 2-3 with a 5.70 ERA in the first seven starts he made.
Even though Verdugo's play was exciting enough to cause a jolt of joy, Crawford remained calm in the cold tub.
"No, no," Crawford told reporters when asked if he celebrated the play. "I was in the cold tub so my body was a little stiff."
Sign up for Red Sox updates⚾
Get breaking news and analysis delivered to your inbox during baseball season.