Red Sox
It changed quickly for Jarren Duran. His Red Sox need that kind of sudden shift.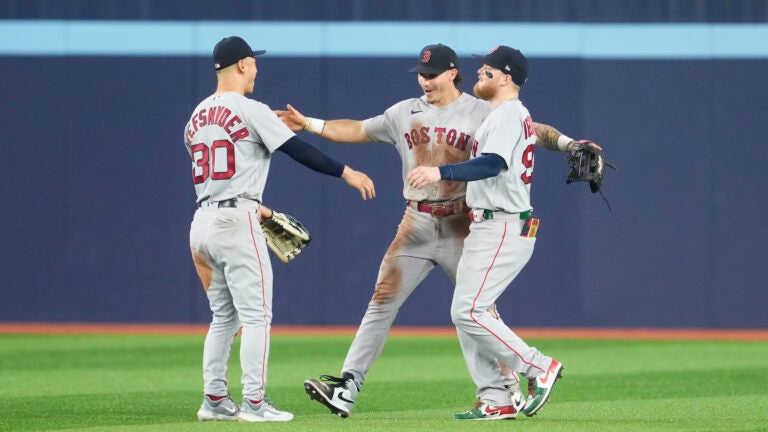 COMMENTARY
Doubles and the Red Sox go together like peanut butter and jelly. Or, if we're being regional, Moxie and milk. (Try it. Trust me.)
Fenway Park is the most doubles-friendly home in the majors annually with rare exception, and often to an extreme degree thanks to that big green wall and the big right field opposite it. Ten of the 14 highest single-season doubles totals since 1995 are by Red Sox teams, including the 352 of last year's unspectacular bunch.
When Jarren Duran doubled in his first four at-bats Sunday at Rogers Centre, it was baseball's 15th three-double game this season and its 51st (including postseason) four-double game of all time. That these lists are peppered with Red Sox and Fenway visitors is thus not a huge surprise.
Of course, Sunday's game was in Toronto, close to league average for doubles in its new configuration. And this season's 15 tri-double games include just one Red Sox player: Duran.
A dynamic type that we have frankly not seen much of around these parts. Ever. And wouldn't be being seen now if, as so many of us wanted, he was shipped out of New England for literally anything last summer.
"Just hitting the ball where it's placed and getting some good swings," Duran told reporters Sunday. "Trying to hustle as much as I can."
Those tries have been going far better than his ones playing center field a year ago, when the collective consternation at his continued playing time and overdefensive public comments could've held back the tides.
It makes what he's doing all the more amazing. Sunday's first-inning bloop off Kevin Gausman flew just 188 feet; Duran needed the throw to get away to beat it, but he's been doing that all year.
Leading off in New York. Against the Twins, home and away. At MLB-best Atlanta. Against the Reds. On and on, on the way to 25 two-baggers.
"He's a more mature kid; a more mature player. Everything that we envisioned in the past, we're getting that player now," manager Alex Cora told reporters last month in Minnesota after Duran broke two bats and was pinch-hit for despite being 3 for 3 with six total bases. "He's having a blast."
So are most Red Sox partisans watching him, starved for good news. The uplift of a weekend sweep of the Blue Jays, with Alex Verdugo's arm sealing Saturday's game and his bat nabbing Sunday's, was gone before it landed. Garrett Whitlock's elbow tightness would be worrisome enough alone, never mind when the Sox rotation is already running bullpen games to fill Tanner Houck's slot.
His loss would be another reason to end the buyer-or-seller trade deadline debate before it even really starts. And with West-leading, big-swinging Texas coming to Fenway for a Fourth of July series, building off the momentum of the wins will be no easy task.
At least there is Verdugo, whose All-Star snub — Kenley Jansen was chosen by MLB as Boston's everyone-gets-one representative — figures to be soon rectified with both Yordan Alvarez and Aaron Judge likely to need injury replacements in the American League outfield. At least there is Brayan Bello's emergence. Masataka Yoshida's establishing himself.
And, of course, Duran. Boston's fastest player of the quantifiable Statcast era by a wide margin, among the fastest for a period far longer than that, and one for whom speed isn't telling the whole story.
"You see all the hustle doubles. He puts himself in the position to take that extra base. The mentality is the biggest part of it," Sox outfield coach Kyle Hudson told the Globe last month. "There are a lot of guys in this league who don't take that mentality. They go down the line thinking about how they hit the ball. Jarren's mind goes to, 'Now I'm a base runner. Get to the next base.' "
Whether injuries or team construction ultimately carry more weight in it, this is clearly a bridge year for your Red Sox. These things happen, even in big markets. (The Bruins seem primed for one, don't they?) Baseball's continued embracing of mediocrity means these years don't preclude playoff berths, though how much you value a third wild card celebration is your business.
The important thing is to find some building blocks. Or, at the very least, things that appear to be them. So much of supporting a team is finding a reason to keep going beyond "I just always have," and the Red Sox frankly have been lacking in that department since the brass decided they were no longer on the same wavelength as Dave Dombrowski.
I've spent more time in this space than a lot of you like trying to contexualize Chaim Bloom. The simple truth is the Red Sox have lost ground to their peers during his tenure, and whether that's all his fault — it's not — matters less with each passing day. It's a results business, and Boston is looking up at a lot more organizations than it used to.
They play too much sloppy baseball. They spend too much time letting fan-favorite players leave. They seem far too OK with it all, the just-as-bad extreme to the almost reactionary player moves of the late '00s.
Duran has gone from disaster to driven in the blink of an eye, clearly more comfortable in Boston this year. Questioning his effort last season may not have been fair, but it's been front and center every game he's played in 2023. He has taken to his second chance, and is rewarding the Red Sox' patience.
It's a nice reminder that even when things are their bleakest, they can change very quickly around here with the smart allocation of the ample resources at hand. They can change because Bloom, for all his word-salad quotes, is not without an eye for this stuff.
The 2023 Red Sox are still a last-place team after this weekend. They're still a long way from a smart buy, given their inability to string together anything close to what they would need to really get in the American League mix.
But on any given night, they've got the chance to deliver you something memorable. Maybe even something you'll remember if they're ever truly great again.
Sign up for Red Sox updates⚾
Get breaking news and analysis delivered to your inbox during baseball season.