Red Sox
Nine thoughts on state of the Red Sox ahead of an uncertain trade deadline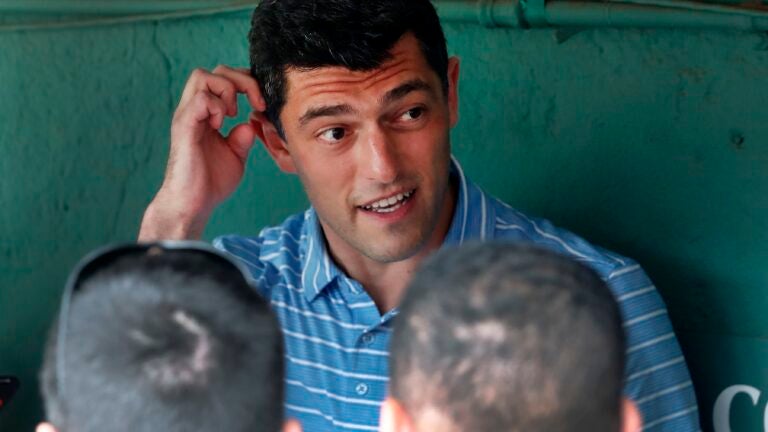 Playing nine innings while officially expecting Jarren Duran to turn just about every ball he puts in play into a double …
1. Call it a conundrum. Call it the logical midseason fallout of a mediocre roster. Heck, go ahead and call it annoying, just as we did when it happened last year.
But the more I think about it, the more I believe there is only one way for Red Sox chief baseball officer Chaim Bloom to proceed at the August 1 trade deadline. He has to try to thread the needle, again.
I know. It's a tricky, unsatisfying approach, with a high degree of difficulty. Yet the state of the team practically demands it.
Bloom can't entirely clear the roster of veterans on short-term contracts unless he wants to spend next offseason scouring the bargain racks again, and yet his 2023 Red Sox, currently 43-42, are not worthy of the commitment of going all-in and trading prospects for veterans, either.
The Sox aren't terrible, but they're wading in the mediocre middle, and that quasi-relevant status — they are only four games out of the silly third wild-card spot — complicates their deadline.
2. So Bloom has to do both, add and subtract, thread that needle, as he attempted to do last season when he traded catcher Christian Vazquez to the Astros, but retained free-agents-to-be J.D. Martinez and Nate Eovaldi, both of whom walked over the winter and are thriving with their new clubs.
Trading Vazquez made sense. So did adding Reese McGuire for Jake Diekman. Acquiring Tommy Pham from the Reds and Eric Hosmer from the Padres were placeholder moves for a team feigning contention. Holding on to Martinez? That did not make sense. I'll give Bloom the benefit of the doubt on Eovaldi, whom they had hoped to re-sign.
But it's not much of a success rate overall. At the upcoming deadline, Bloom's batting average on his keep-or-trade decisions must be roughly .900. His job status come season's end might depend on it.
3. For all of the flaws on this roster, one thing the Red Sox do have is an abundance of veterans on short-term deals who would legitimately appeal to playoff teams.
Among them: Adam Duvall, Justin Turner, Chris Martin, Kenley Jansen, James Paxton, Nick Pivetta, Kiké Hernández (not as a shortstop, obviously, but as a utility player with more than his share of postseason highlights), maybe even Christian Arroyo.
That's an appealing group of trade chips, and yet the Red Sox cannot trade all of them. The best prospects remain in Double A or, in Ceddanne Rafaela's case, just got elevated to Triple A. Clearing out all of their veterans currently on one- or two-year deals means they'd be doing the same bargain-bin shopping in bulk next winter. Some of these guys should stay for the sake of next year as well as this one.
4. The must-move is Duvall. Although he's struggled since coming back from his wrist injury (.508 OPS, one home run in 19 games) following an Aaron Judge-like start, he's a legit power threat and steady corner outfielder who ended up being a helpful in-season pickup for the Braves during their run to the 2021 World Series title.
The Red Sox should be playing the dynamic Duran — who has improved so much at age 26 that it's almost hard to fathom — in center field every day anyway.
If Duvall starts hitting with power again between now and the deadline, he should have plenty of appeal.
Also locked into the move 'em category: Pivetta and Hernández.
5. The "To Trade or To Keep" game is trickier with pretty much everyone else mentioned above. Paxton has looked like a front-of-the-rotation starter in his nine starts (2.70 ERA, 61 strikeouts in 50 innings) after pitching just six games since the start of 2020. But at age 34, is good health and this level of success sustainable? He's a fine pitcher, but his injury history makes me skeptical of trusting him start to start, let alone year to year. I'm leaning toward trading him while his value is highest.
6. Turner, Professional Hitter and Good Clubhouse Guy, would be a welcome addition to any team with need for a lineup-lengthening bat. (Aside: Wouldn't Turner have been a perfect fit on the 2013 Red Sox?) Turner has a $13.4 million player option next season, which is a nice price for the tangibles and intangibles that he provides. But next year will be his age-39 season. Will he still be productive when the Red Sox are a genuine contender again? I cannot make up my mind on this one.
7. I'd like to see the Red Sox retain Jansen and Martin, dependable relievers who have done fine work for the most part remedying the season-undermining bullpen issues last year's team had. Bloom gets credit for signing both — the Jansen move came out of nowhere — and unless he receives an overwhelmingly appealing offer, I hope he keeps both.
8. In matters not related to the trade deadline: I was glad to see Jansen make the All-Star team. But his somewhat surprising selection was a reminder that the Red Sox should never field a roster so devoid of superstars that they end up with a single iffy selection.
9. Trevor Story's status hasn't crossed my mind much during the first three months of this season. But as he gets closer to his return, I can't help but wonder how many more wins the Red Sox would have had he been their shortstop all season and had Hernández been free to play a role actually suited for him.