Red Sox
Wade Boggs explained why he doubts a .400 hitter will happen again in MLB
Boggs isn't a fan of sabermetrics, even if it helped analysts gain a greater appreciation of his Hall of Fame career.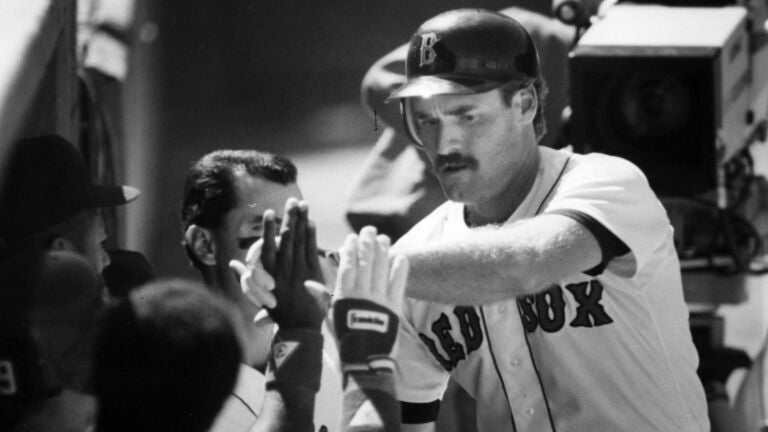 It's been 82 years since Ted Williams became the most recent player to hit at least .400 across an entire MLB season. According to another Red Sox legend, Wade Boggs, such a feat may never happen again.
Boggs, who won five batting titles and finished his 18-year career with a .328 average, thinks the circumstances of modern baseball might have made reaching the .400 threshold impossible. The subject has received renewed attention with Marlins infielder Luis Arraez currently batting a league-leading .387.
"Not with the way guys hit nowadays," Boggs told Matt Vautour of MassLive. "All the guys in the sabermetrics and all of that are dogging this guy. Basically, he's hitting .400 they say, 'Oh, his exit velocity is only [88.4]. But the guy gets on base. And last time I checked that was the nature of the game. The one who scores the most runs wins. It's not the one who has the most exit velocity."
Boggs added that the discussion of Arraez's chances at .400 is purely speculative until later in the season, when heightened attention would also add to the degree of difficulty.
"This is not like he's got a week left in the season and he's hitting .415 and if he has a bad week, he still has .400," Boggs explained. "He's probably got over 85 games left. And then the media. Probably within about 40 more games, there'll be a media crunch. He'll be doing press conferences before the game and the distraction alone eats at you a little bit. It'll be interesting how he handles it."
Ironically, Boggs isn't a fan of newer methods of baseball evaluation. This is despite the fact that a central premise of an earlier sabermetrics thesis — made famous by the book and film, "Moneyball" — was predicated on prizing on-base percentage. Boggs, with a career .415 OBP, gained an additional measure of appreciation thanks to the collective reevaluation of the statistic.
"It's crazy how the sabermetrics has taken over the game, trying to make it cool, but it just doesn't fit," Boggs told Vautour. "I think they wanted to make it more interesting for the younger generation kids to where they could tabulate numbers and say, 'Ooh, that's cool,' and launch angle and various things like this. So it makes watching a baseball game a math equation."
Boggs even admitted that he doesn't watch as much baseball in 2023, saying that he's "not a fan" of the new MLB rules.
"Guys swing at that pitch above the letters and letter high and they can't catch up to it," Boggs said of his frustration watching batters. "That's the reason that they strike out as much as they do. But every once in a while they run into one. When you have more strikeouts than base hits in a month, there's a problem in the game. It's just difficult to watch at times."
Sign up for Red Sox updates⚾
Get breaking news and analysis delivered to your inbox during baseball season.