Red Sox
Red Sox draft: Boston.com writers choose the best individual Red Sox seasons
Each of our seven writers drafted 10 players, from 1999 Pedro to Papelbon in 2007.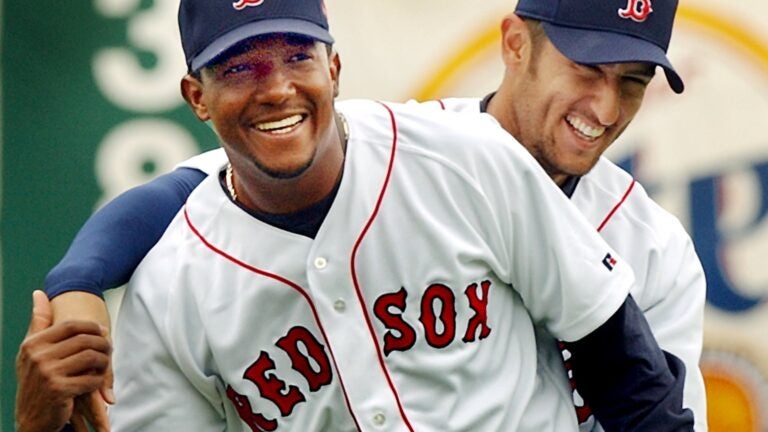 The Red Sox are currently in their 123rd season as an MLB club.
Over that time, the team formerly known as the Boston Americans has won 14 American League pennants and nine World Series titles.
Thirty seven Hall of Famers have played for Boston, some for their entire careers. Some of the best individual seasons in MLB history have been by Red Sox, whether it was Ted Williams hitting over .400 in 1941 or Pedro Martinez winning back-to-back Cy Young awards in 1999 and 2000 (to say nothing of Cy Young, the person, who pitched for the Red Sox starting in the late 1800s).
Which of these individual performances stand out above the rest? And when the rubber meets the road, which seasons would Boston.com writers select first in a fantasy baseball style draft?
With a help of a trusty spreadsheet listing top Red Sox seasons of all-time by WAR, our staff playfully ribbed each other through a 10-round fantasy draft highlighting the best individual Red Sox performances ever.
Here's the setup.
Draft order: Khari Thompson, Hayden Bird, Conor Ryan, Jon Couture, Gary Dzen, Chad Finn, Peyton Doyle.
Rules: Snake draft, randomly generated draft order. Each team selects 10 players, with a minimum of three pitchers and five position players.
And here's how it went down.
The Draft
Editor's note: This transcript has been edited for length and clarity.
Round 1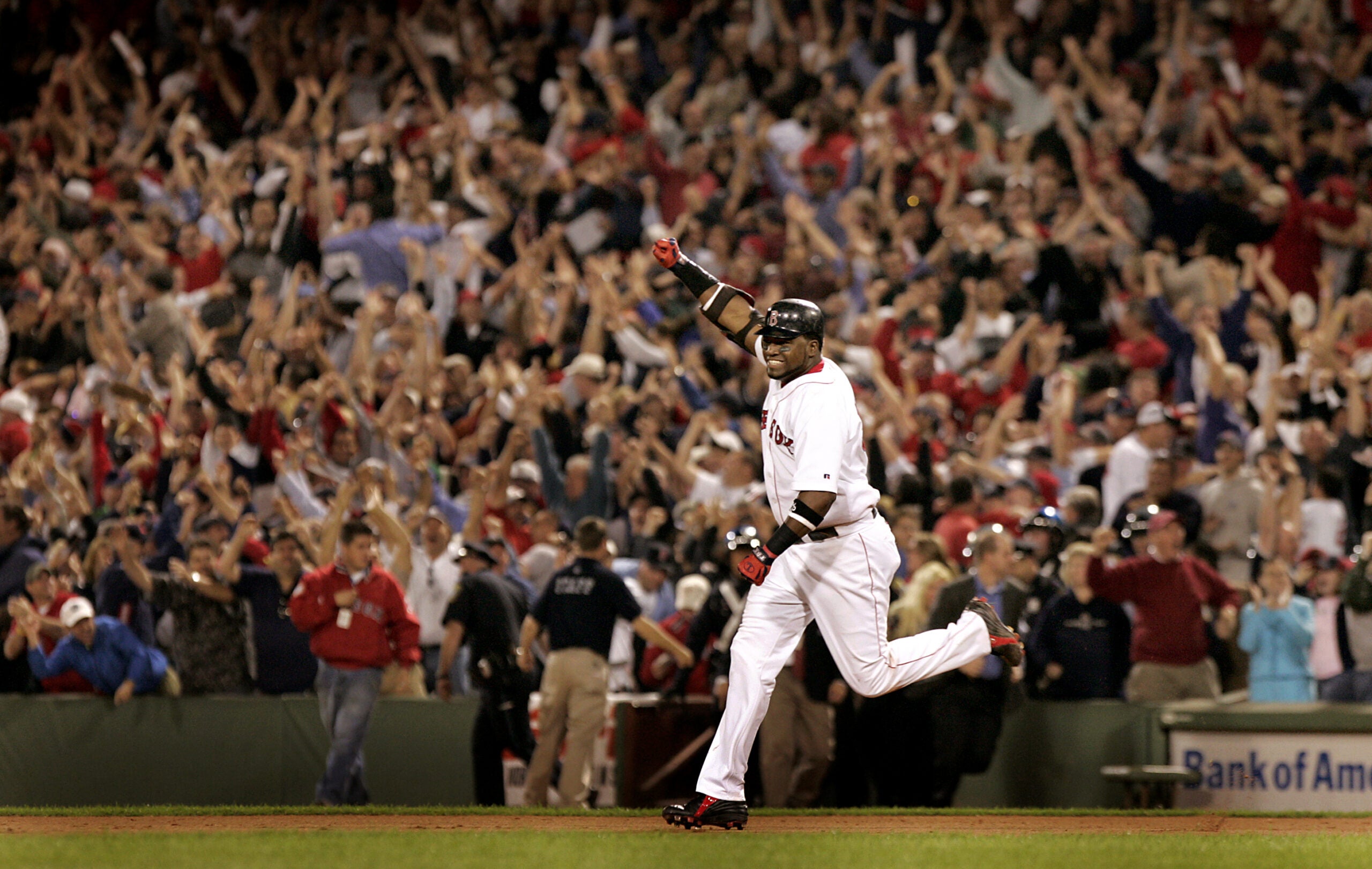 Khari Thompson: Sentimental pick here, but I'm taking 2006 David Ortiz with the No. 1 overall pick. I need a big bat, and 54 home runs with 137 RBIs certainly qualifies. Plus, he was on the cover of "MLB The Show" that year
Hayden Bird: With the second pick, Bird Ball selects…2000 Pedro Martinez: Not gonna lie, a good chunk of this is motivated purely by the fact that this was maybe my favorite ever player to watch in his best season. He had a 1.74 ERA at the height of the steroid era? That feels like a franchise pillar to me.
Conor Ryan: The RIGHTFUL AL MVP in 2000.
Chad Finn: Take that, George King and LaVelle Neal.
CR: I'll go with the RIGHTFUL AL MVP in 1999 … Pedro Martinez. A complete monster in the heart of the steroid era.
Gary Dzen: That was my pick!!
CF: Not exactly a reach, Gary.
Jon Couture: Well, let's keep the run going. I'll take 2003 Pedro Martinez. Only 18 starts, but he was still Pedro, and you win with pitching.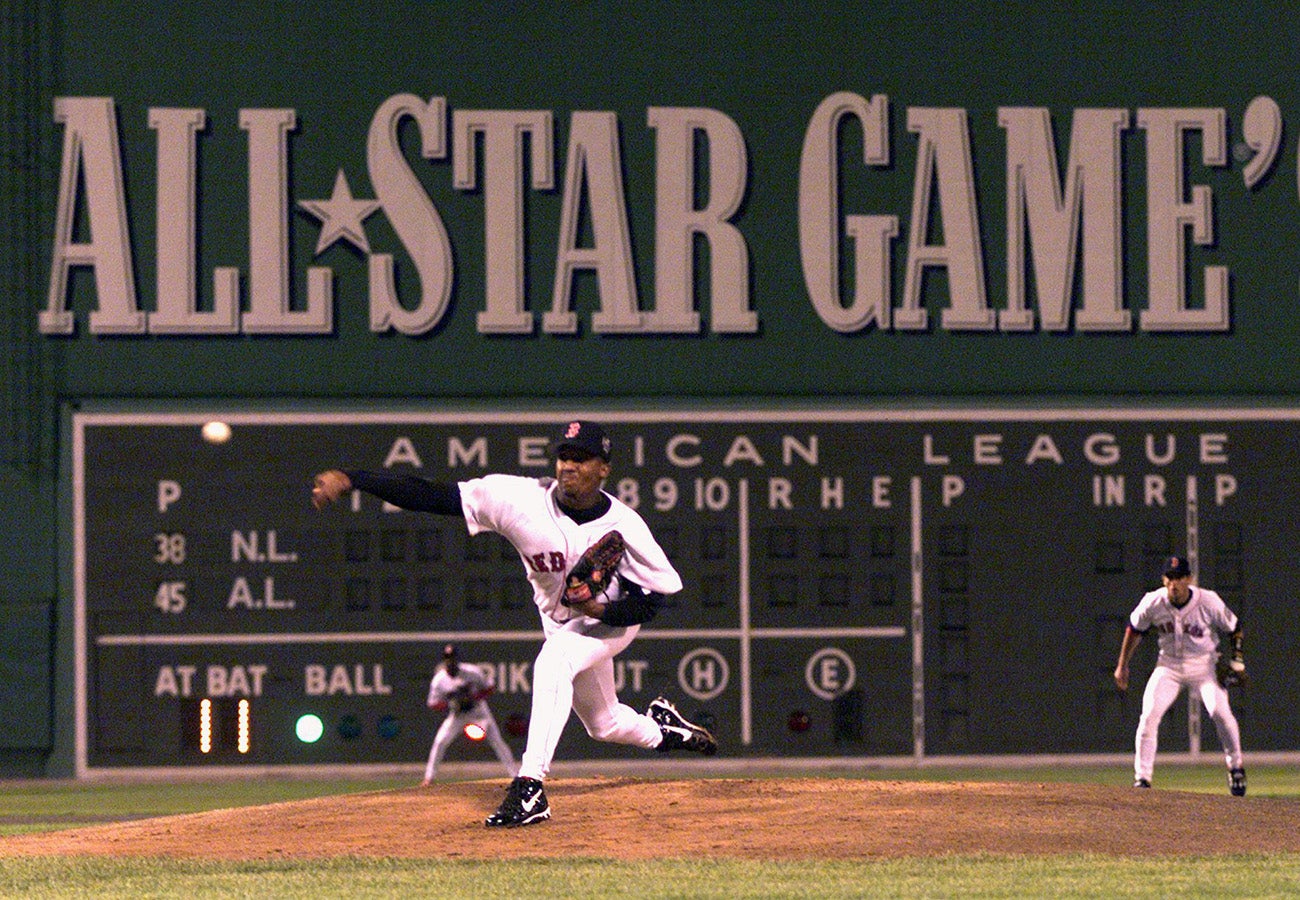 GD: 1942 Ted Williams seems pretty good, only won the Triple Crown. That's my pick.
JC: Ted would be so steamed about only going No. 5.
HB: He would retroactively blame us for not winning MVP voting that season.
JC: But the expletives would be majestic.
CF: Sorry, lost my connection here at the Scarborough, Maine Starbucks.
HB: That feels like something a guy about to draft Adrian Gonzalez might say.
CF: The top three seasons in MLB history for WAR by a batter belong to Babe Ruth, Yankee. The fourth is '67 Yaz. Steal.
HB: I take it all back. Great Pick. (Damnit)
CR: No need to disrespect "MLB '12 The Show" cover athlete Adrian Gonzalez.
CF: Oh, is he available? DO OVER. Bring me the cooler.
Peyton Doyle: I will happily take 1941 Ted Williams here, he somehow hit .406 and led the league in walks at 22 years old. With my second selection I'm grabbing the Rocket and his 1.93 ERA in the 1990 season
CR: Luis Arraez: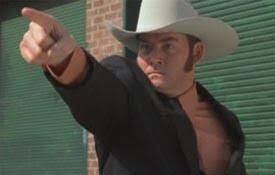 Round 2
CF: '46 Ted please.
JC: Was really hoping he was going to sneak to my second pick.
CF: You can have the '46 World Series version of him.
JC: A real elbow to the ribs there.
GD: Fine I'll take Cy Young in 1901. 33-10, 1.62 ERA, highest Red Sox WAR ever on Baseball Reference. Managed to do it in a tidy 371 1/3 innings.
CR: Dr. James Andrews in SHAMBLES.
JC: No one tell Ted, but I'm taking 2018 Mookie Betts. MVP, led the league in hitting, led it in slugging, and played great defense to top off a season that needed no topping off.
CR: Noooo.
JC: From right under your nose!
CF: Okay, but in two years you have to trade him for Jeter Downs.
CR: Give me Ted "Old Man Strength" Williams in 1957. Casually batting .388 with a .526 OBP at 38 years old. Still didn't win MVP.
HB: With my second pick: 1986 Roger Clemens. The MVP and Cy Young winner in one guy, paired with 2000 Pedro? Good luck.
CF: Ah, I was hoping to get that cheatin' lyin' Hall of Shamer.
CR: I'll counter with '97 Dan Duquette.
GD: [writes down Jose Canseco's name for later]
KT: I'll take 1916 Babe Ruth as my ace. 21 years old with 23 wins and a 1.75 ERA en route to a World Series title? Yes please. Also I'll take 1949 Ted Williams, adding an MVP with 159 RBIs to my outfield.
HB: All of our Ted Williams's playing each other: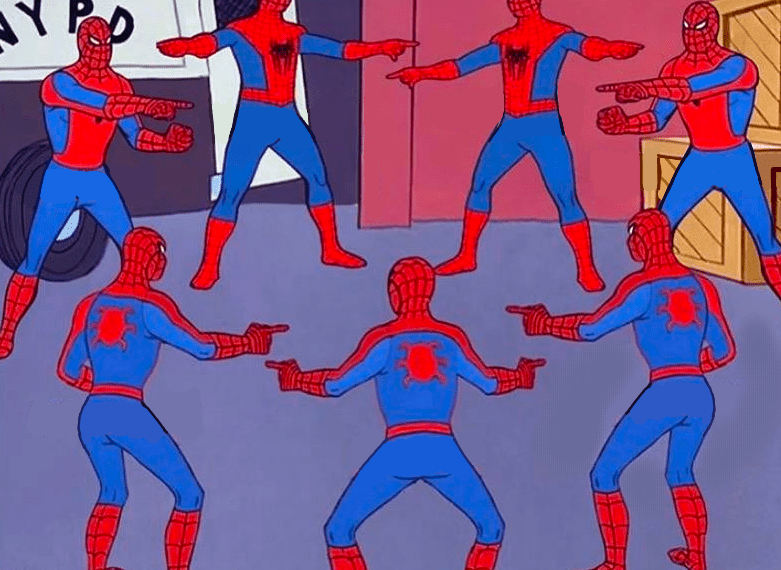 Round 3
HB: Third pick: Since I need hitting, but my team's ethos is "everyone is also an elite pitcher," I'll take 1919 Babe Ruth. He set the MLB record with 29 home runs that season, but also had a 2.97 ERA.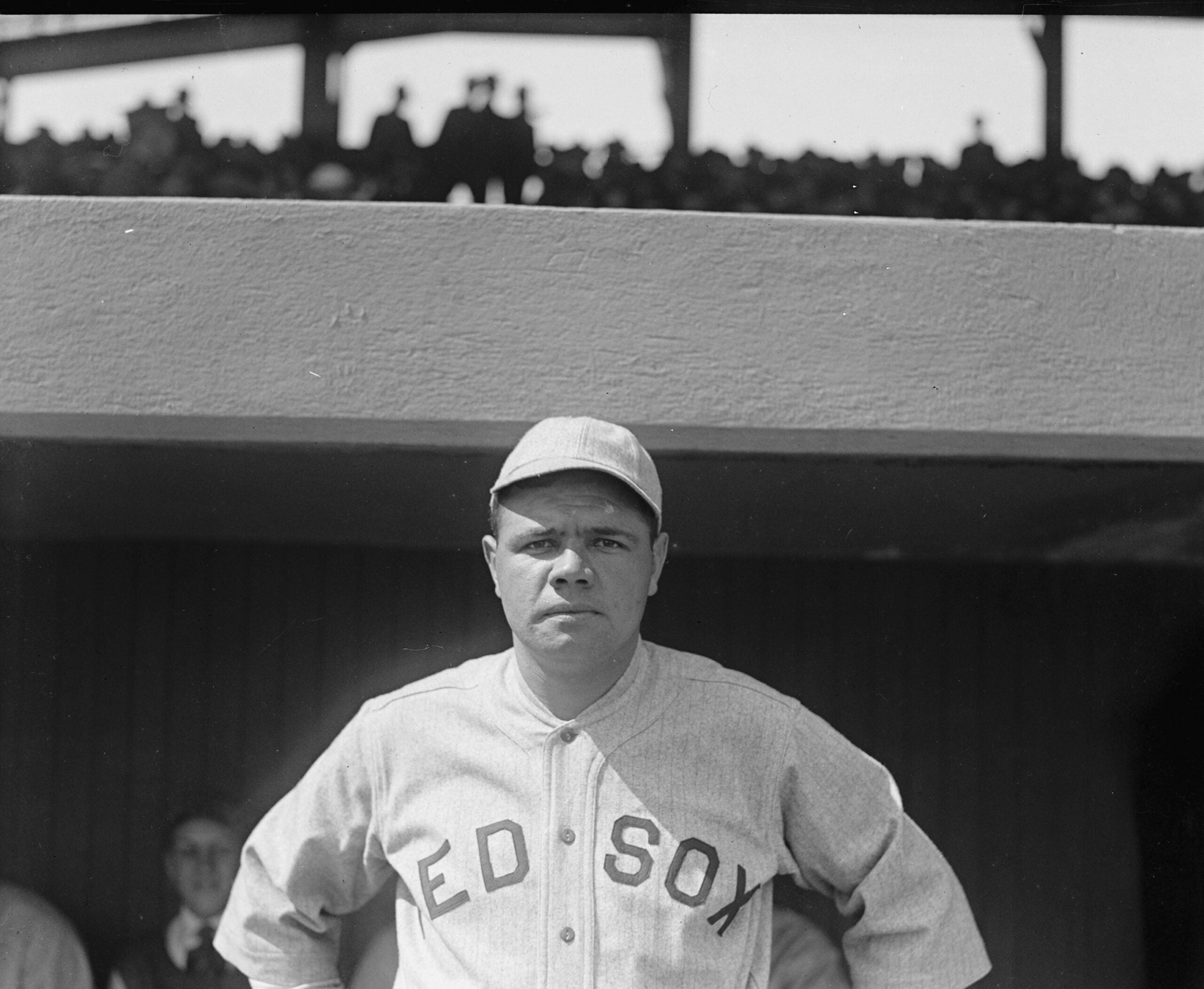 CR: I will take 2016 Mookie Betts – the 23-year-old who casually batted .318, hit 31 dingers, drove in 113 RBI, stole 26 bases and won a Gold Glove. Thank goodness they kept him long-term.
CF: You have to trade Mookie for Connor Wong in four years.
JC: 1936 Lefty Grove. Rotation needs a lefty, so might as well take a Hall of Famer who won the ERA title and threw six shutouts. Even if it was 90 years ago and the training methods are a little better now.
GD: Clemens in '87, need some strikeouts to add to Cy Young in my rotation. Rocket's second MVP season.
CF: Fun fact: Lefty is short for lefthander Grove.
JC: Glad all that time in the archives led you to unearth some real forgotten Red Sox trivia.
CF: Wait, his real name is Robert. My bad.
JC: And his last name is actually Thicket.
CR: Lefthander Grove sounds cooler let's just roll with it.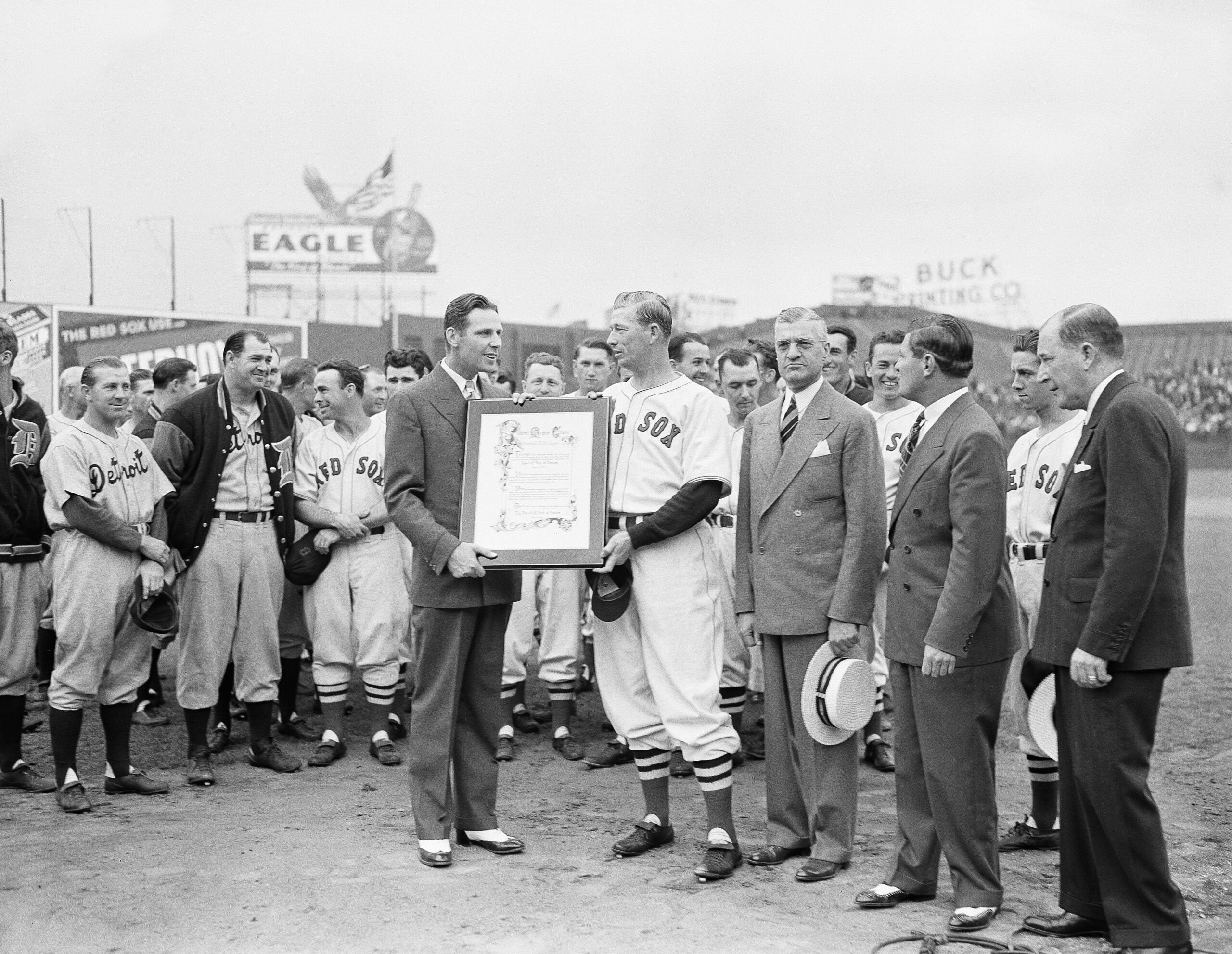 CF: I'll take '79 Fred Lynn, because he was a beast after doing Nautilus workouts all offseason, he was one of my heroes at 10 years old, he's a very nice person, he should have won the MVP award, and I'm not drafting any pitchers LIKE GARY who have been dead for 77 years.
GD: Come at me, Finn.
CR: Gonna be tough to trot out a deceased pitcher IMO.
JC: That's what the bullpen cart is for.
CF: Chaim Bloom has tried it several times. Hasn't gone well.
PD: Like Gary I will be taking someone who left us long ago. With my first pick I'm taking 1912 Tris Speaker when he stole 52 bases, led the league in homers, and hit .383. After that I'll be completing my outfield with 1970 Yaz. 40 homers, 23 stolen bases and he led the league in on base and slugging.
JC: Fun Fact: When they did this draft on Slack back in 1918, all the Mookie trade jokes were Tris Speaker trade jokes.
GD: This is a good time to point out that Peyton's a Yankees fan.
CF: Sneaky awesome Yaz season. Peyton should have to draft players only from 2004.
PD: Please no.
Round 4
CF: I need a pitcher, so I'm going to take … 1985 Wade Boggs and his .450 on-base percentage.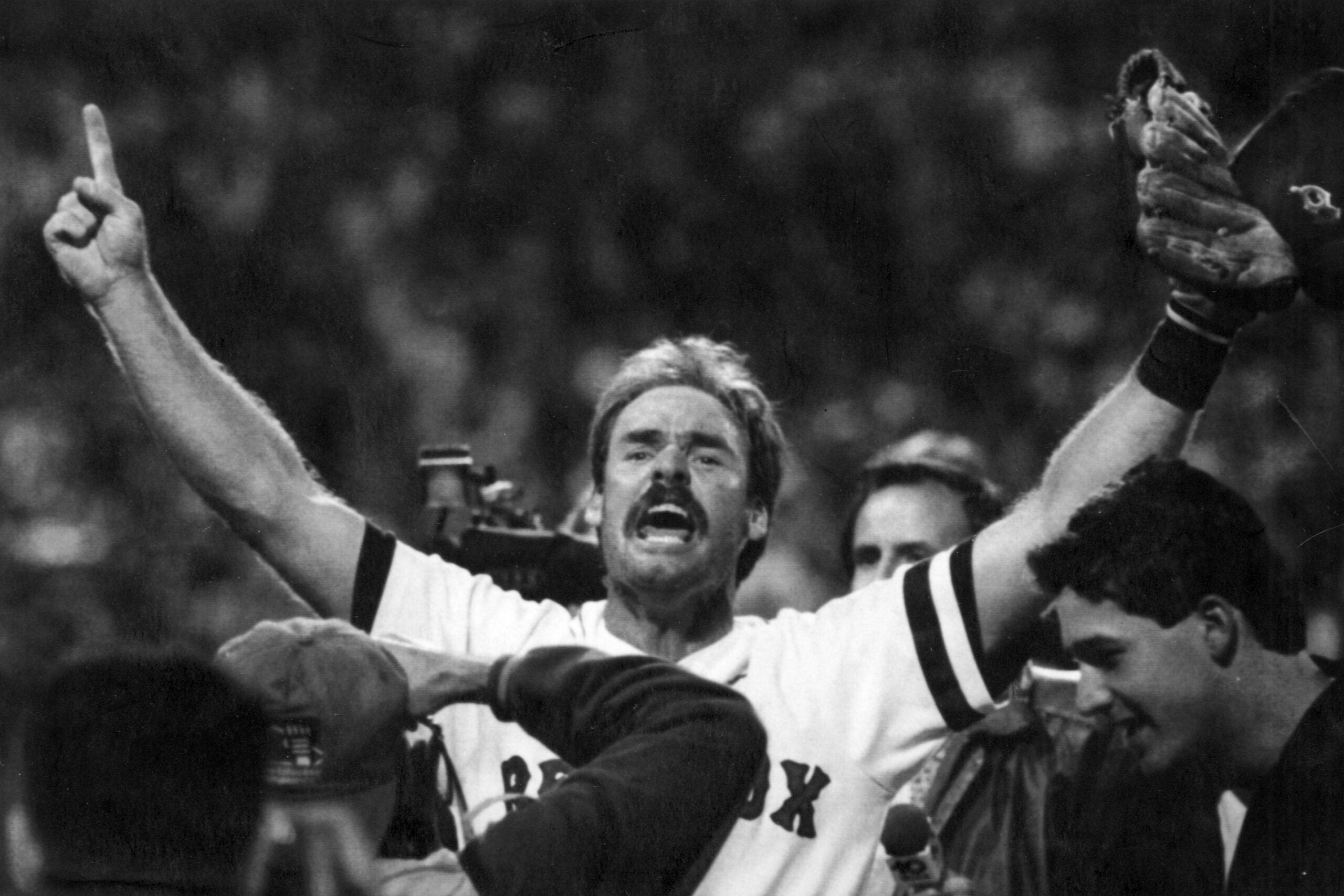 GD: Love it. I'll take 2004 David Ortiz, who Yankees fan Peyton somehow left off the spreadsheet. Hear he was pretty good in the playoffs that year.
PD: There's a reason I didn't want to go beyond the player pool.
JC: 1969 Rico Petrocelli. After watching 80-ish games of the 2023 Red Sox, I'm hyper focused on drafting good defense for some crazy reason. Rico played it, and oh yeah, he also hit 40 homers on the side.
CR: I will take 2000 Nomar, who casually batted .372 — routinely defied the new MLB pitch clock — had 51 doubles, 21 home runs and drove in 96 runs … and finished ninth in MVP voting.
CF: Did he lift?
JC: It's been said by some he was better than Derek Jeter.
HB: With my fourth pick: 1938 Jimmie Foxx. Double-X set the team record with 50 home runs in a season (not to be topped until Ortiz in '06) with a ridiculous .704 slugging percentage. I needed hitting. This man is the definition of a slugger. Also, advanced stats be dammed, he totaled 175 RBIs in '38, absolutely wild.
KT: I'll take 1978 Jim Rice. AL MVP. 25 years old in his prime. .315 batting average with 46 homers and 139 RBIs. Also, just in case there's a Game 6 in the ALCS at Yankee Stadium, give me 2004 Curt Schilling.
GD: Good pick, though I bet Curt's already started bugging you about listening to his podcast.
Round 5
HB: Fifth pick: 2002 Manny Ramirez. Won the batting title at .349, and led the league in unnecessary uniform length. We are glad to have him at Bird Ball.
CR: "MVP Baseball 2005" cover athlete. I'll go with 1912 Smoky Joe Wood. He might sound like a "Yellowstone" antagonist, but he was a hell of a pitcher. Went 34-5 with 344 innings pitched.
JC: Because I'm refraining from taking any more pitchers from 100 years ago (yet), 1991 Roger Clemens. Honestly was a tossup between '91 and '92, but not only did this one lead the league in strikeouts and ERA, he was the version I played as in the forgotten NES classic, "Roger Clemens' MVP Baseball."
HB: To that point, Jon, I picked 2000 Pedro 2nd overall partly as an homage to how absolutely unbeatable I was with him (or anyone was) in that year's version of Strat O Matic Baseball.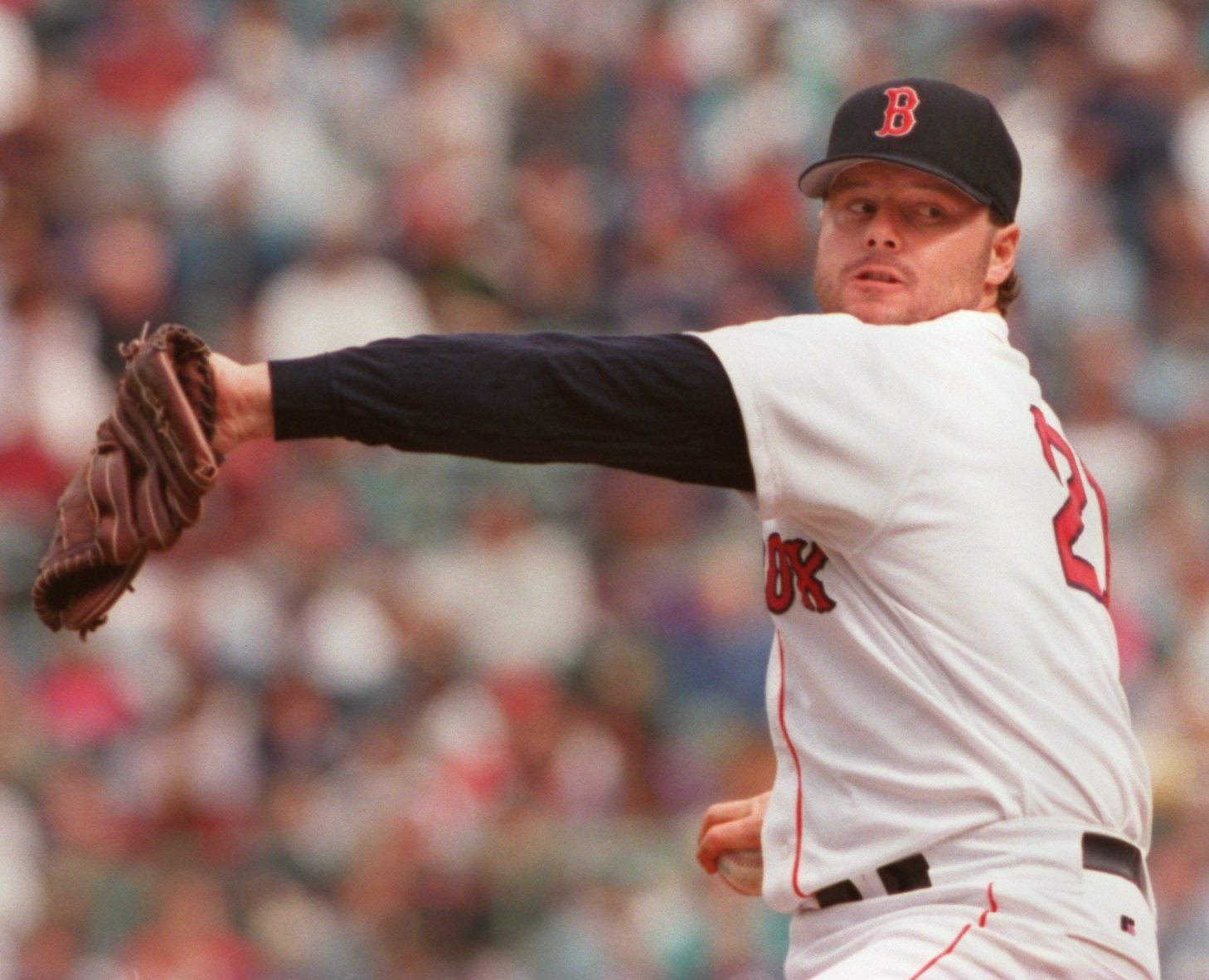 GD: 2004 Manny, please, if only because I might have watched every one of his at-bats that year, and so he and Big Papi can be pals.
JC: Gary getting 2004 Ortiz and 2004 Manny might be the coup of the draft.
CF: Gimme '78 Eck. We're mic'ing him up and he'll double as the color analyst.
HB: Chad just Spygating my draft cheat sheet.
PD: I'll be grabbing 1987 Boggs when he hit .363 and had the best slugging percentage of his career at .588. I'll then be taking 2018 Chris Sale with his 13.5 K/9 and 2.11 ERA.
CR: Sale automatically added 2.0 WAR just for that slider against Machado.
JC: Don't extend him after the season, no matter how good an idea it seems. Trust me on this one.
CF: That's right. You pay Steve Pearce.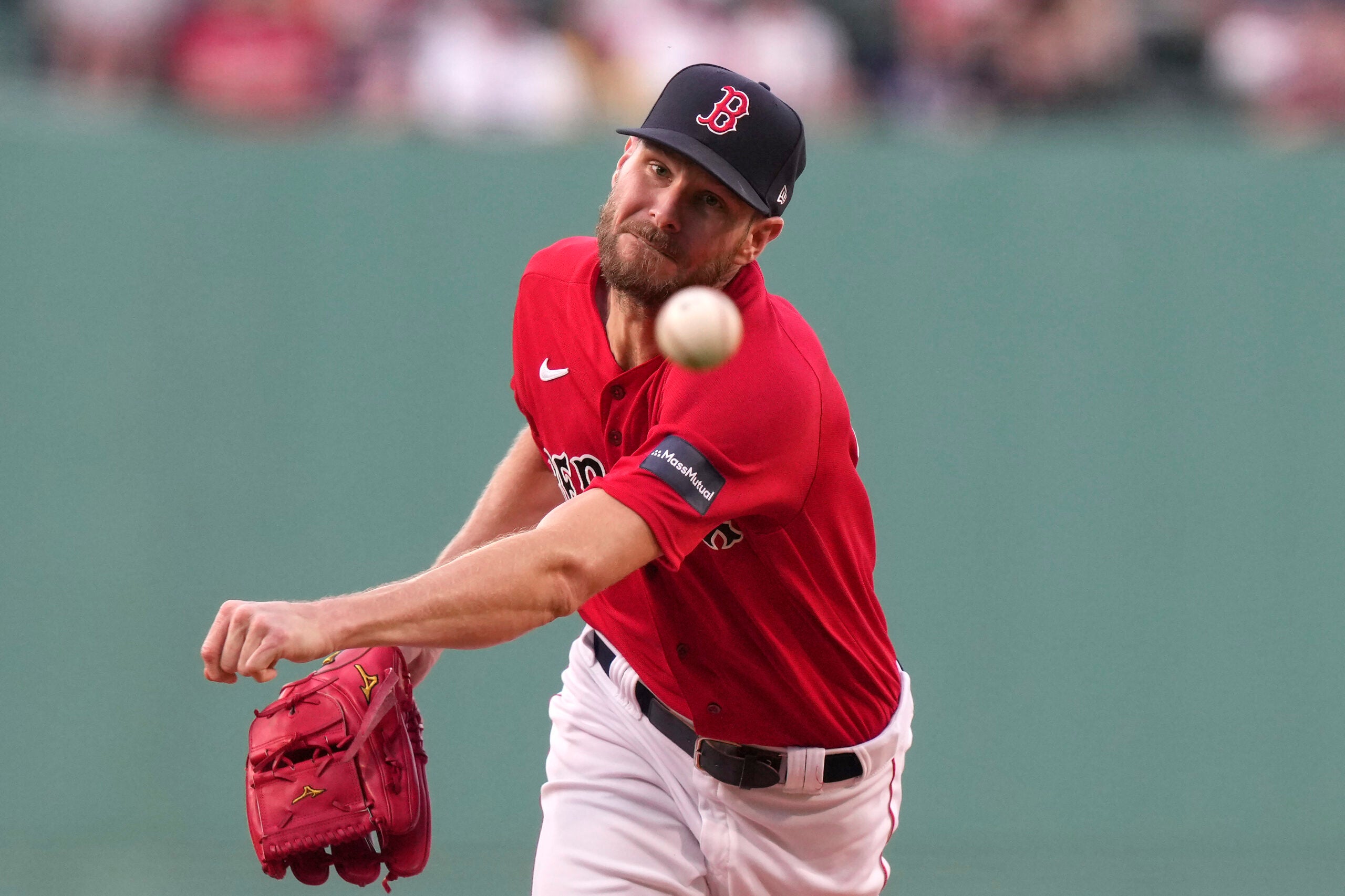 Round 6
CF: Gimme '99 Nomar, even though he hit a mere .357.
HB: He can't keep getting away with this.
GD: Pedro in '98, please.
CF: I still miss watching Pedro pitch.
HB: Still my favorite baseball player to watch.
JC: 1989 Wade Boggs. Last of his consecutive 200-hit seasons, but I believe the only one where he hit 50 doubles. Plus, I'm sure the Margo Adams stuff coming out will be something our clubhouse can rally around . . .
CR: I will take 2011 Jacoby Ellsbury, who casually hit 32 home runs and drove in 105 runs out of NOWHERE. Toss in 39 steals, .321 batting average and a Gold Glove? Just a mad lad season.
HB: Sixth pick: 1996 Mo Vaughn. Had better stats than his MVP season a year earlier (44 home runs, .326 average). He's also just going to be really mad that no one even thought about him in this draft probably until right now.
JC: Legendary Wareham Gateman Mo Vaughn!
KT: Time to get my gold glover at shortstop. 2011 Dustin Pedroia please. Also, I'll take 2009 Jacoby Ellsbury for some speed, since he stole 70 bases.
Round 7
HB: Seventh pick: 1972 Luis Tiant. He had a 1.91 ERA, started 19 games but appeared in 43 overall. So he can start, but also help me out of the bullpen as well. Also his delivery remains iconic. Done.
CR: 2017 Chris Sale. 308 strikeouts in 214 innings pitched. What could go wrong?
JC: 2007 David Ortiz. End of his MVP contender arc. The homers were down from his peak, but had 52 doubles and he was a force of nature in the playoffs. He hit approximately .900 against the Angels, if I recall.
GD: Gimme John Valentin in '95, 8.3 WAR and a fan favorite for 12-year-old Gary.
CF: I'll take 1977 Carlton Fisk, who hit .315 with 26 homers and 102 RBIs and played ONE-HUNDRED AND FIFTY-TWO games because Don Zimmer was an idiot.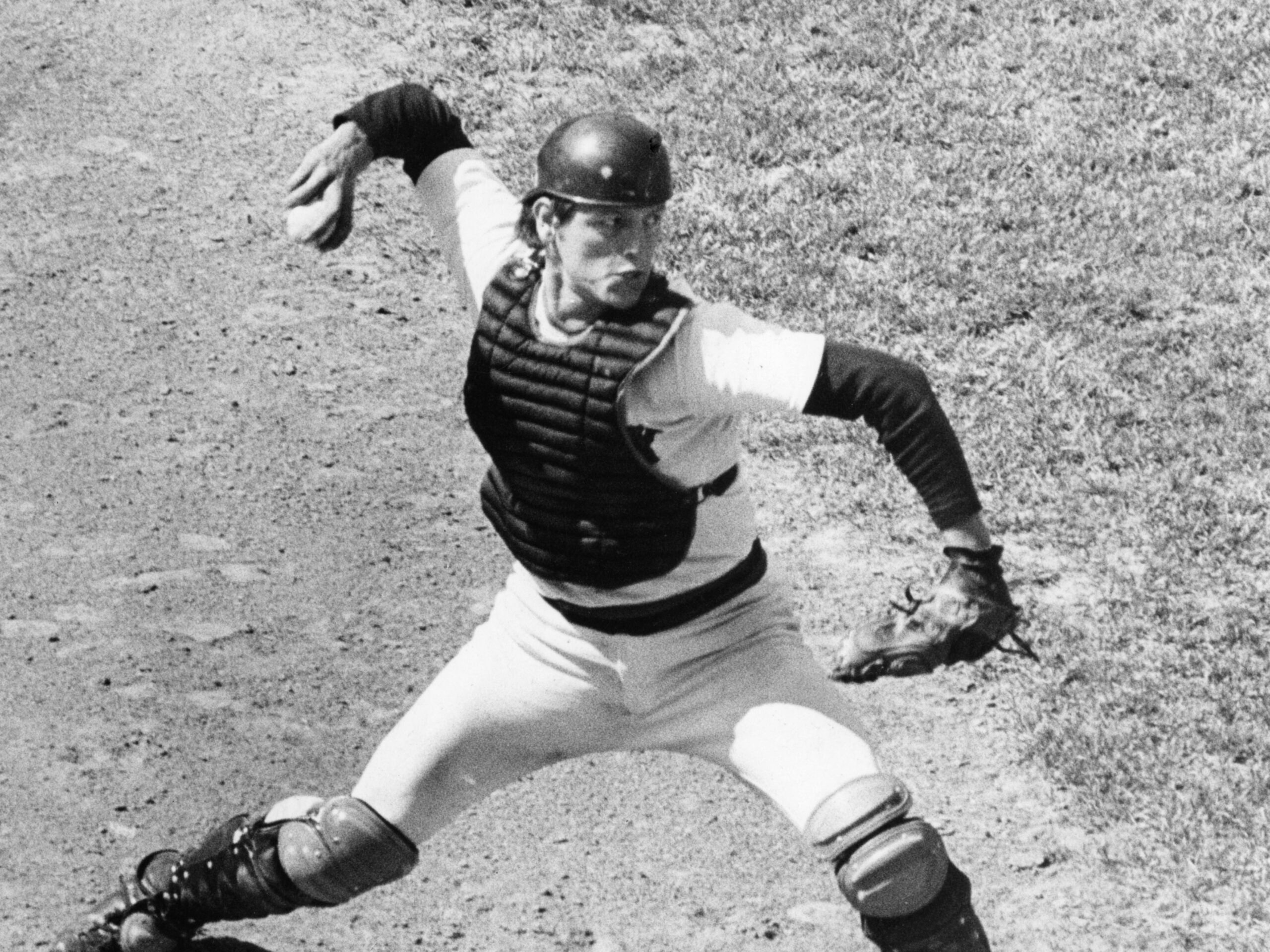 PD: I will take the lowest ERA on this list with 1914 Dutch Leonard, nobody can top 0.96 for a starter.
CF: That's not a real person. No one is named Dutch Leonard.
CR: Yet another Yellowstone character.
PD: I will now grab 2008 Pedroia, an MVP and a Gold Glover.
CF: (Better than Cano.)
Round 8
CF: I'll take 2002 Pedro. Gotta have one Pedro season.
GD: 1995 Tim Wakefield. Instantly bolsters the rest of my rotation by wreaking havoc on opposing hitters' timing. Can come out of the bullpen in a pinch.
JC: 1902 Cy Young. They did name an award after the guy, and he won 32 games this season when they didn't even yet have the rule where the first two foul balls of an at-bat were strikes. That's gotta count for something.
CR: I'll take 2010 Adrian Beltre – one of the best one-season arcs in franchise history. Batted .321, 28 home runs, 102 RBI, 49 doubles and great defense. Just please, no one touch his head.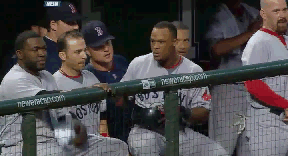 HB: Eighth pick: 1948 Ted Williams. Basically obligated to get at least one Ted season in here. Maybe not the best one, but sure I'll take the "random" year in which he hit (checks notes) .369 with a .497 OBP and 1.1112 OPS.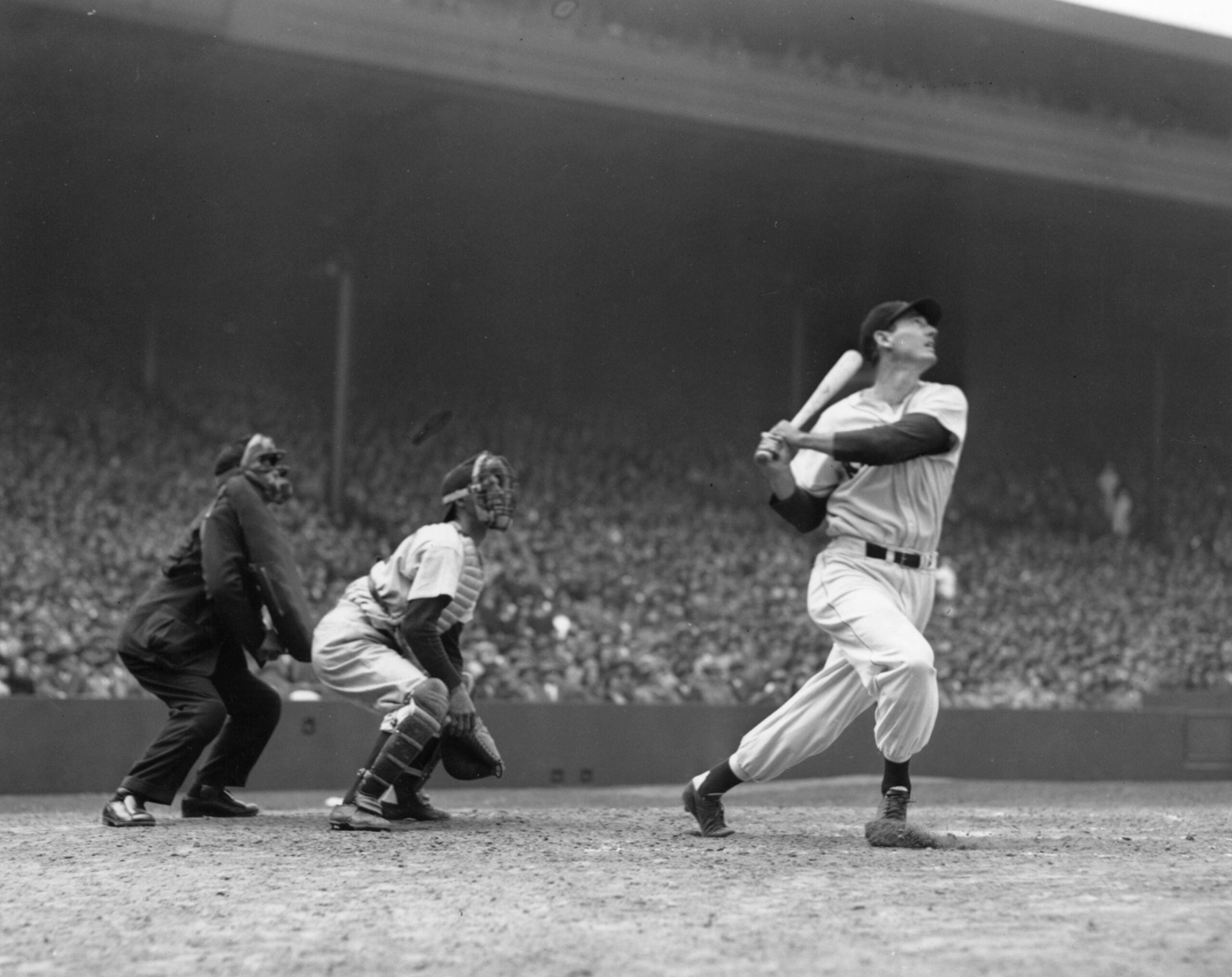 KT: I'll take 1998 Nomahhhh, who hit .323 and clubbed drove in 122 runs. Also, I'll take a sneaky good 2002 Derek Lowe who won 21 games.
PD: Wins should not be allowed to be referenced in this chat.
CR: Smoky Joe Wood's 34 wins would LIKE A WORD.
KT: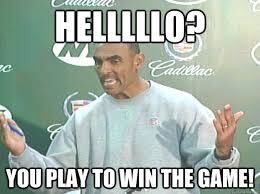 Round 9
HB: 9th pick: 1988 Wade Boggs. Need a proper leadoff hitter, but since this is Red Sox history, there are only like three guys all-time who actually stole bases. So I'll lean into it and commit fully to another guy (like '48 Ted) who had a great OBP (it was .476)! He also hit .366. That'll do for Round Nine.
CR: 2018 J.D. Martinez in the DH spot, please.
JC: 1988 Mike Greenwell. My first favorite player on the first Red Sox team I actually remember. The rightful MVP, and the king of the short-lived game-winning RBI stat.
GD: I'll take 1975 Fred Lynn.
CF: Mo Vaughn in 1995 please.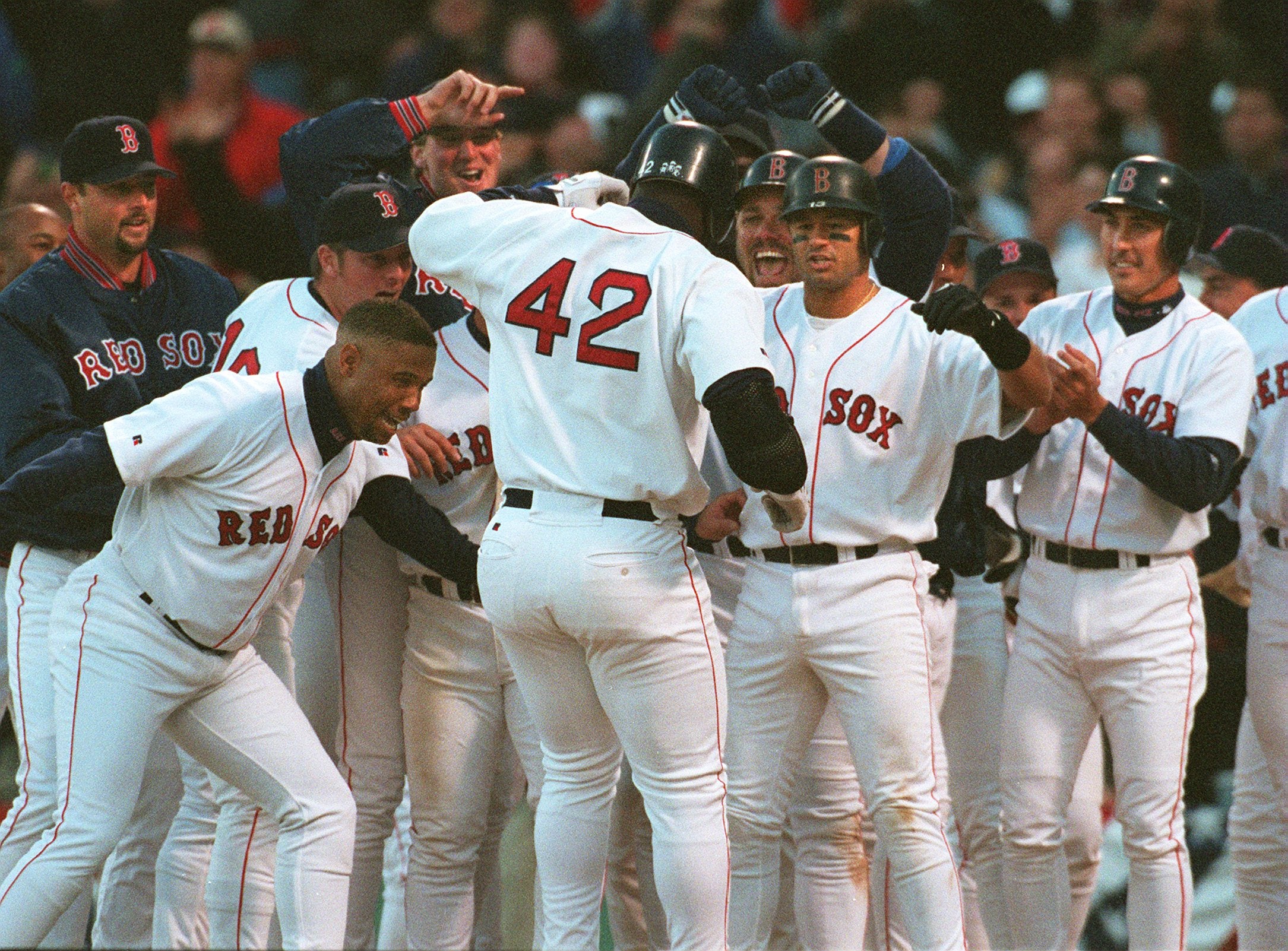 PD: I'm taking the 1972 AL Rookie of the Year and gold glove catcher Carlton Fisk. He led the league with 9 triples. After him I'll take 1939 Jimmie Foxx with his 1.158 OPS
Round 10
CF: '86 Bruce Hurst.
GD: Gimme Dice-K in '08.
CR: Average game time of Gary's team: 4 hours and 51 minutes
JC: A name I did not think I would be seeing today!
GD: Still don't think anyone's been able to hit the gyroball.
JC: 1978 Carlton Fisk. He had three outstanding years here, and I said I'd wait and try to get the third one. Here we are.
CR: 2011 Adrian Gonzalez to round out my list.
HB: Final pick: 2007 Jonathan Papelbon. Proper closer, 13 strikeouts per 9 innings, 1.85 ERA. We're ready.
KT: I'll close it out with 1987 Dwight Evans. One more big bat for the road.
The final teams
Chad Finn
1967 Carl Yastrzemski
1946 Ted Williams
1979 Fred Lynn
1985 Wade Boggs
1979 Dennis Eckersley
1999 Nomar Garciaparra
1977 Carlton Fisk
2002 Pedro Martinez
1995 Mo Vaughn
1986 Bruce Hurst
Conor Ryan
1999 Pedro Martinez
1957 Ted Williams
2016 Mookie Betts
2000 Nomar Garciaparra
1912 Smoky Joe Wood
2011 Jacoby Ellsbury
2017 Chris Sale
2010 Adrian Beltre
2018 J.D. Martinez
2011 Adrian Gonzalez
Gary Dzen
1942 Ted Williams
1901 Cy Young
1987 Roger Clemens
2004 David Ortiz
2004 Manny Ramirez
1998 Pedro Marinez
1995 John Valentin
1995 Tim Wakefield
1975 Fred Lynn
2008 Daisuke Matsuzaka
Hayden Bird
2000 Pedro Martinez
1919 Babe Ruth
2002 Manny Ramirez
1972 Luis Tiant
1988 Wade Boggs
1986 Roger Clemens
1938 Jimmie Foxx
1996 Mo Vaughn
1948 Ted Williams
2007 Jonathan Papelbon
Jon Couture
2003 Pedro Martinez
2018 Mookie Betts
1936 Lefty Grove
1969 Rico Petrocelli
1991 Roger Clemens
1989 Wade Boggs
2007 David Ortiz
1902 Cy Young
1988 Mike Greenwell
1978 Carlton Fisk
Khari Thompson
2006 David Ortiz
1916 Babe Ruth
1949 Ted Williams
1978 Jim Rice
2004 Curt Schilling
2011 Dustin Pedroia
2009 Jacoby Ellsbury
1998 Nomar Garciaparra
2002 Derek Lowe
1987 Dwight Evans
Peyton Doyle
1941 Ted Williams
1990 Roger Clemens
1912 Tris Speaker
1970 Carl Yastrzemsk
1987 Wade Boggs
2018 Chris Sale
1914 Dutch Leonard
2008 Dustin Pedroia
1972 Carlton Fisk
1939 Jimmie Foxx
Best Red Sox Seasons Draft
Sign up for Red Sox updates⚾
Get breaking news and analysis delivered to your inbox during baseball season.