Red Sox
With a metal plate in place and finally free of a liquid diet, Red Sox' Tanner Houck starts return from facial fracture
"I can't bite down and put too much pressure there, but it'll be just kind of a quick ramp up."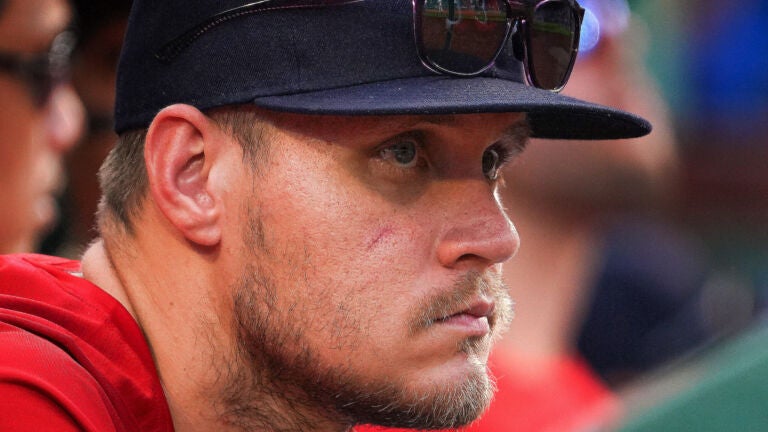 At first glance, the damage doled out on Tanner Houck's face doesn't raise much alarm.
Now sporting just a small scar below his right eye, Houck's understated cosmetic work stands in stark contrast to all that the 27-year-old pitcher has gone through since taking a line drive off the face last month.
A little over three weeks ago, Yankees catcher Kyle Higashioka bashed a sinker from Houck right up the middle, hitting the pitcher square in the face. Even though Houck walked off the field under his own power, testing confirmed that he'd suffered a facial fracture.
"It's part of the game. Injuries and unfortunate events are gonna happen," Houck told MLB.com's Ian Browne of his injury. "We're standing 60 feet, six inches away. And stuff like this is gonna happen. It's about how you bounce back and come back better, stronger and continue to put it behind you."
Despite the severity of his injury, Houck is charting a road back to the mound this season.
After undergoing facial surgery on June 27 to get a metal plate inserted into his face, Houck has started to check boxes as he looks to return to his normal routine.
Last Thursday marked a major step in the right direction: eating solid foods once again.
His first meal in close to three weeks?
"Breakfast," Houck said. "Went to the doctor at 7:30 [a.m.], got cleared, got back home, got some breakfast from Uber Eats. It was great. Everything I wanted."
Even though the metal plate will remain permanently, Houck doesn't expect any limitations once he finally gets the green light to pitch again.
Still, Houck will need to progress at a measured pace before returning to Boston's rotation later this season.
"Just mainly right now, I can't bite down and put too much pressure there, but it'll be just kind of a quick ramp up," Houck said. "I think it'll be two weeks, at least … just normal throwing before I can touch a mound."
Houck expects to begin throwing on Tuesday. After a few weeks of throwing on flat ground, the starter could begin holding bullpen sessions around the end of the month.
If all goes well, Houck can then begin a rehab assignment, with a potential return to the big leagues possible at some point in August.
Before his injury, Houck started 13 games for the Red Sox, posting a 3-6 record and a 5.05 ERA. It remains to be seen if Boston opts to slot him back in the majors as a reliever, especially if the lighter workload accelerates his rehab process.
But regardless of when he does eventually get cleared to play, Houck considers himself lucky that a return at some point in 2023 remains on the table. Given the initial optics of his injury, things could have been far worse.
"I've definitely been counting my blessings, knowing it could have been my eye, nose, jaw, and it could have been so much of a worse process," Houck said. "The biggest thing I keep saying is I'm real lucky. I'm thankful the doctors and our medical staff are incredible, and my wife for dealing with me the past three weeks.
"But it's been a fairly easy recovery with all these great people around. I'm very blessed. It could have been a lot worse."
Sign up for Red Sox updates⚾
Get breaking news and analysis delivered to your inbox during baseball season.
Newsletter Signup
Stay up to date on all the latest news from Boston.com