Red Sox
Kenley Jansen hopes that the Red Sox buy at trade deadline: 'We've got a good team'
"It's a winning organization, so I don't think you should break it."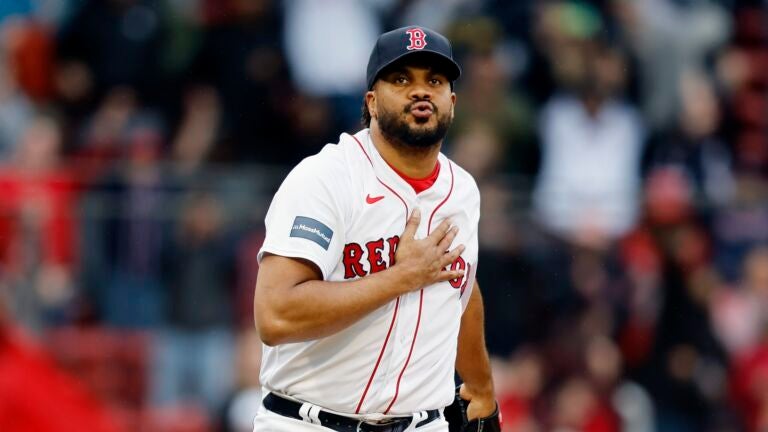 Chaim Bloom has some decisions to make later this month.
Through 91 games, the Red Sox currently sit in last place in the AL East.
But that's more a statement about the competitive division that Boston finds itself in, rather than the Red Sox' status as a fifth-place squad.
Boston entered the All-Star break with a five-game winning streak and has posted victories in eight of its last nine games.
Now five games over .500 at 48-43, the Sox sit just one game behind the Yankees in the AL East, and are just two games behind both the Blue Jays and Astros for the second and third spots in the AL Wild Card.
Between now and the August 1 trade deadline, Bloom and Boston's front-office staff need to determine if this Red Sox roster is worth investing in by way of a pickup or two.
Speaking to WEEI's Rob Bradford, Red Sox closer and the team's lone All-Star representative in Kenley Jansen expressed hope that Boston ends up being a buyer at the deadline.
"When I signed my two years here I'm going to have my time invested here," Jansen said on the "Baseball Isn't Boring" podcast. "I want to be dedicated here. I love this organization. I love this city. I think it's a great organization. It's a winning organization, so I don't think you should break it. Break it and then what?
"For them to find me and Chris Martin and put those pieces after the last couple of years for this organization, it wasn't great … You see the 1-2 punch with us. At this point, it's for them to figure out what's best. To me, it's just to put another punch back there with us. We've got a good team. We're just a few pieces away from probably being a very, very good team."
For most of June, the Red Sox seemed destined to sell off pieces at the deadline as the team hovered around .500.
With assets like James Paxton, Adam Duvall, Kiké Hernandez, and others on the roster, Boston could further bolster their prospect pipeline by offloading veterans to true contending teams.
But Boston's recent surge does offer some hope that this roster has started to turn a corner.
Beyond the established lineup regulars like Rafael Devers and Alex Verdugo, the Red Sox have received major contributions from youngsters like Brayan Bello and Jarren Duran. Masataka Yoshida is looking like an impact bat at the top of the order, while Triston Casas continues to develop at first base.
Boston should continue to gain reinforcements as the season progresses, especially if Trevor Story is cleared to return. Chris Sale and Garrett Whitlock could be in play to start later in 2023, even though the former's injury history remains concerning.
If Bloom decides to add to this team, pitching stands as an obvious target. Still, the price to acquire another starter could be steep, with the Red Sox likely looking to avoid parting ways with young assets both on the MLB roster and further down on the farm.
For Jansen, the promise shown by this current roster should offer plenty of optimism over the final 11 weeks of regular-season action.
"I don't know what their position is," Jansen said of Boston's front office. "Hopefully they keep this team together and find a way to add pieces."
Newsletter Signup
Stay up to date on all the latest news from Boston.com