Red Sox
Kyle Teel 'always looked up to' Jason Varitek, but says his player comparison is Buster Posey
"He was just a great athlete back there. He was amazing. So I would compare myself to him."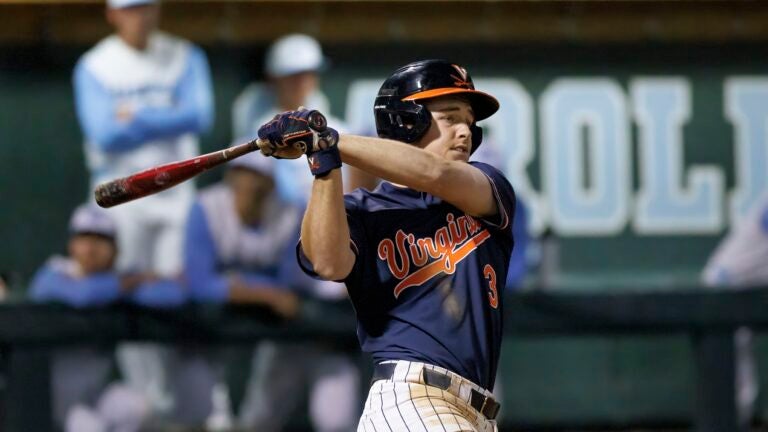 Kyle Teel, whom the Red Sox selected with the No. 14 pick of the 2023 MLB Draft, said he's always looked up to Jason Varitek who is now a game planning coordinator and catching coach with the team.
But, the catcher who starred at Virginia had a different former player in mind as far as a comparison to himself.
"I would say athleticism-wise, I compare myself to Buster Posey," Teel said according to MLB.com's Ian Brown. "He was just a great athlete back there. He was amazing. So I would compare myself to him."
Posey is a seven-time all-star and a three-time World Series champion, so he'd be a pretty lofty comparison for any incoming college player.
Red Sox director of amateur scouting Devin Pearson told Browne that he was "pumped" that Teel was available at 14.
"He can really throw. He can really block. He can slide. His hands are good. His framing continues to get better," said Pearson. "I think he kind of touches all the boxes for us in terms of what we value from a development standpoint. He fits a lot of things that we value behind the plate."
A consensus first-team All-American, Teel also brings strong hitting ability to the catching position. He's top 10 all-time amongst Virginia players in batting average, home runs, doubles, runs scored, and total bases.
Before his time at Virginia, Posey grew up in New Jersey, where he was an avid Yankees fan. He says he "bleeds red" now that the Red Sox have picked him, and enjoyed his first time playing at Fenway a few years ago.
"It was for a high school prospect thing," Teel said. "And to be honest with you, my favorite ballpark I've ever played at is Fenway up to this point in my career."
Sign up for Red Sox updates⚾
Get breaking news and analysis delivered to your inbox during baseball season.