Red Sox
David Ortiz says his father's cancer diagnosis helped fuel his passion for cannabis
The Hall-of-Fame slugger is passionate about weed. He wants you to know why.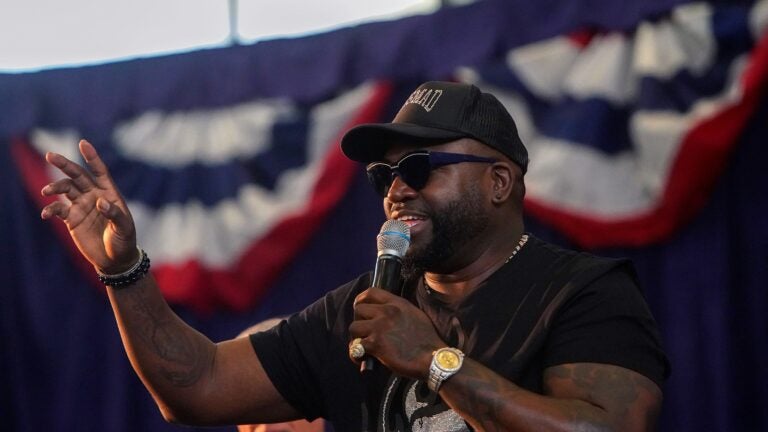 David Ortiz sat a few feet away from the disk jockey's set-up at the Grand Opening of Primitiv, a black-owned dispensary in Downtown Boston founded by three former NFL Players on Thursday.
Ortiz was there to support his "homeboys", he said, whom he congratulated on opening a "nice spot."
The former Red Sox slugger is passionate about weed, and he wants people to know why. Ortiz launched a premium brand called "Papi Cannabis" after using it to manage pain on and off the field.
He also said that his father was recently diagnosed with cancer, and seeing his father use cannabis to relieve the pain helped reaffirm his passion for the product.
"The most important thing to me behind the weed business, the cannabis, is the history behind it," Ortiz said. "For example, in my case, I have a story to tell about why I use cannabis, why I think people should use it, and what's the real deal behind it. Because what people always think about is the recreational side of it. People don't realize that there's a medical side of cannabis that needs to be exposed. People need to know about it.
"Like, I have a dad who has cancer, prostate cancer," Ortiz continued. "He would always want me to bring THC to him, whether it's the gummies or flower because it helps him deal with the pain. People need to know about that. And for me, that's what got me into it. All the pain that I have to deal with, the stress, you know, there are a lot of things that are bad for our body that THC that cannabis can help you out with."
Papi Cannabis offers a range of products, including flower, pre-rolled blunts called "Sweet Sluggers", and "Moonshot" vape cartridges.
Ortiz said his brand is planning on selling edibles, too.
"We've got edibles coming out," Ortiz said. "We have a new strain coming out that people are going to love. People are already in love with the strain we already have, but we're coming with better stuff because we went through a time where our flower was having issues. But now, with that behind us, we're bringing new stuff, very solid stuff, with good strength that people always look for."
As for his personal preference, Ortiz says he typically chooses to smoke over using edibles.
"You know what? I'm more of a flower guy," Ortiz said. "I love the edibles. But, they get me extremely hungry. I swear, i can go from 0 to 200 after I have a gummy. Like, if I'm traveling, I don't mind the gummies, but if I'm at home I've got to go for the flower. Otherwise, I'd be in the kitchen destroying food."
Ortiz was also asked if he has a favorite snack when he gets the munchies.
"Whatever is in my way. Anything that is in my way is going," Ortiz said. "I'm lucky enough to have whatever I need, but it's a no-brainer. It's no thinking. It's like when I played baseball. Whatever you throw my way, I'm going to try to destroy it. That's how it goes down."
Papi Cannabis can be found several in local dispensaries, and has a "dispensary finder" on its website to help consumers find locations where it is sold.
"We have some new strains coming that are fire," Ortiz said. "It's going to be fire. People love the Big Papi strain, but this new stuff is going to be absolutely fire."
Sign up for Red Sox updates⚾
Get breaking news and analysis delivered to your inbox during baseball season.