Red Sox
David Ortiz would like to see the Red Sox trade for Shohei Ohtani, but only under one condition
Ortiz explained in an interview with Boston.com that he thinks Ohtani would fill all of the Red Sox' needs: hitting, pitching, and leadership.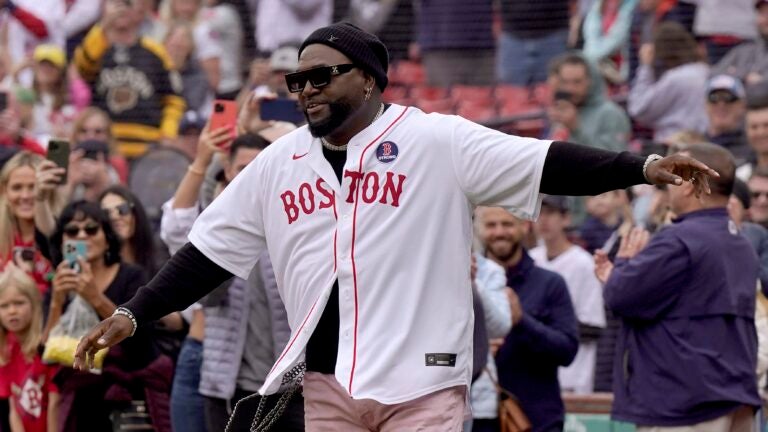 One of the biggest storylines in Major League Baseball these days is whether or not the Los Angeles Angels of Anaheim will trade Shohei Ohtani.
David Ortiz said during an appearance on MLB on Fox that he wants to see the Red Sox make a deal for Ohtani. He said he doesn't care if Boston gives up "half the team" to do it.
Speaking to Boston.com on Thursday at the grand opening for Primitiv, a new dispensary on High Street in Downtown Boston owned by former NFL Players Calvin Johnson Jr., Godser Cherilus, and Rob Sims, Ortiz spoke about a range of topics, including a potential Ohtani trade.
"What team in baseball would not like to have Ohtani?" replied Ortiz with a grin. "Wow. What a player. I've seen a lot of things in baseball, but I never saw that coming in our lifetime. And it's here. When you think about how he can hit, and then the same guy can switch it over and pitches the way he pitches is insane.
"I'll tell you this, a player like that needs to be on a winning ball club because he'll help you win," Ortiz continued. "Anyone would like to have Ohtani now, but I don't know if they'll be able to get him because I don't know if the Angels will let him go. I think they should. They're not going to sign him, they can't."
But, Ortiz cautioned that the Red Sox should only get Ohtani if they know they can re-sign him. The price tag, even for a rental, could be steep.
"I don't think it's worth it to trade for him, giving up four, five, six prospects for him just for two months," Ortiz said. "It doesn't make sense. They already signed Rafael [Devers] to a big deal. I don't think they're going to be walking in that direction for a minute. Remember, we have limitations with the payroll, having a high payroll. So getting Ohtani with two months or whatever left in the season doesn't make sense."
So, say the Red Sox were able to pull off the trade. What would Ortiz's pitch be to Ohtani about staying in Boston for the long term?
"First of all, he'd be playing for an historical organization, and he can make a difference," Ortiz said. "He's not just a good player, he's a good leader. I saw that in the WBC. He told his teammates, 'Hey listen, I know you admire those guys out there but just for this game, for the next few hours let's try to shove it up their you-know-what, and then you go back to being a fan.' He said that and I love it, because that's the mentality when you go out there … and then he went and finished them. That was crazy.
"He can bring that leadership to the Red Sox because we have talent," Ortiz continued. "We have good, young, talented players but I think we need a little more leadership and that guy would bring that."
The Red Sox are in fifth place in the AL East, nine games out of first place, and lack the star power and the pitching to take them far enough to be considered a contender.
Ohtani could certainly fill both of those needs if the Angels are willing to part with him.
"Pitching is what takes you to the promised land," Ortiz said, when asked about the Red Sox' biggest need before the trade deadline. "You can have the best offense of all time. If you don't have pitching, you ain't going nowhere. If you look at the teams that are really doing well, look at the pitching staff."
Sign up for Red Sox updates⚾
Get breaking news and analysis delivered to your inbox during baseball season.