Red Sox
Masataka Yoshida's red-hot stretch has Red Sox players 'all taking notes'
"He's all-around one of the best hitters in the league."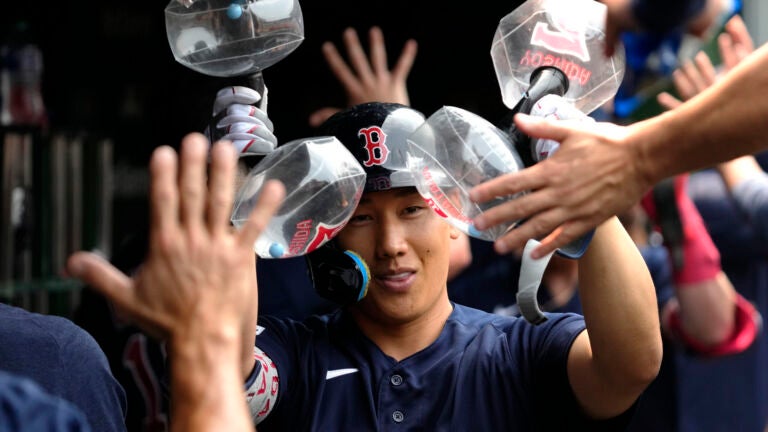 Red Sox outfielder Masataka Yoshida took a brief break from his recent torrid stretch at the plate on Saturday, going 0-for-4 in a 10-4 loss to the Cubs.
Maybe fans can cut Yoshida a little slack: He might have been distracted by turning 30. On Sunday, Yoshida turned things around in a big way — he blasted a grand slam as well as a two-run triple, finishing 3-for-5 with six RBIs in an 11-5 Red Sox victory.
"I couldn't hit yesterday, but I could hit well today," Yoshida said through an interpreter in a postgame interview with NESN. "That was awesome."
Yoshida has impressed for the Red Sox all season, but in nine games since the beginning of July, he has put together an impressive .436/.450/.692 slash line that now includes two homers and 10 RBIs after Sunday's explosion. He is fourth in the league with a .317 batting average and 11th in on-base percentage at .381.
His teammates have taken notice.
"I think we all learn from his approach," Triston Casas told reporters. "He's spraying the ball all over the field, having really quality at-bats every single time. Not chasing out of the zone, putting the ball in play. He's all-around one of the best hitters in the league obviously for average. …
"I think we're all taking notes from him. We all wish we could talk to him a little bit more, pick his brain, get inside of what he's thinking. But he relays as much as he can to us. And we're really happy about having him on our side."
Yoshida's grand slam on Sunday came at an opportune moment. The Red Sox led 2-0 in the fifth inning, but they were on the verge of squandering a bases-loaded, no-out opportunity after Cubs starter Justin Steele got a strikeout and a pop-out. But Yoshida ripped a fastball from Steele down the right-field line at 110 mph, and it narrowly cleared the Wrigley Field baskets for a 381-foot homer that spiked Boston's win probability from 78 percent to 96 percent.
"[Yoshida is] starting to hit for power and he's got that clutch factor, too," Casas said.
Casas added that Yoshida's ability to hit the ball the opposite way on a line is what impresses him most about his game.
"He just keeps it on a line whether it's a hard ground ball to third base or a hard line drive 10 feet right in front of the left fielder," Casas said. "It's so impressive. Even when he has his front side flying off, he somehow keeps his hands back and sprays the ball to the opposite field. And then when he's on time, it's pull-side in the air and it's beautiful to watch."
Sign up for Red Sox updates⚾
Get breaking news and analysis delivered to your inbox during baseball season.