Red Sox
Reeling Yankees show frustration at end of disappointing trip
The Los Angeles Angels swept the Red Sox's biggest rival with a 7-3 game on Wednesday.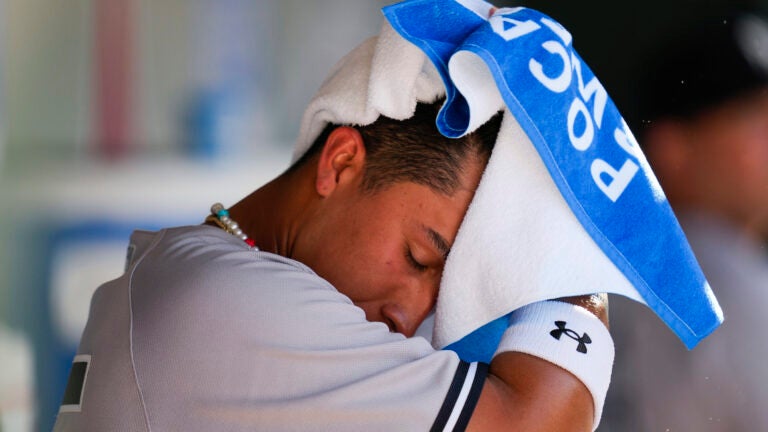 ANAHEIM, Calif. (AP) — Carlos Rodón and Tommy Kahnle visibly displayed the New York Yankees' struggles.
Rodón sarcastically blew a kiss while walking to the dugout after the second inning and Kahnle took out his frustrations on a cooling fan in the dugout on Wednesday during the Yankees' 7-3 loss to the Los Angeles Angels.
The loss marked the first time in 14 years New York was swept in a three-game series by the Angels, The Yankees completed a 1-5 trip that saw them drop to last place in the AL East. They have lost four straight and nine of 11.
Manager Aaron Boone admitted: "We stink right now."
"We're not very good right now. We understand that and certainly this is a low point for us," he said. "So acknowledging that we're not in a good place as a team right now and we're not playing anywhere near the ball we need to be able to play to put ourselves in a good position at the end of the season."
After giving up a pair of two-run homers and four runs the first two innings, Rodón blew a kiss to fans who were booing him as he approached the dugout.
Rodón has a 7.36 ERA in his first three outings after signing a $162 million, six-year contract, his season delayed by a forearm injury in spring training and then back trouble during his rehab.
Rodón said he didn't hear what fans were saying, but he understood their frustrations.
"A fan was angry as they should be. I'm angry too. I was just angry at myself and blew a kiss unfortunately," said Rodon, who allowed six runs, four hits and five walks in 4 1/3 innings. "It was the best reaction I could give. Better not to give a reaction. I guess."
Boone said he understands Rodón's frustration, but blowing a kiss was better than doing something worse.
"When you're in the arena, and you're going through it, sometimes you do things you don't necessarily want to engage in," Boone said. "Hopefully he'll learn from that and move on, but I think it was better than getting into a shouting match or doing something that we would regret."
Kahnle, who did not allow a run in his first 16 appearances this season and 21 straight outings dating to last season, has given up a run in each of his past three.
During the eighth inning, he walked two and allowed a ground-rule RBI double to Taylor Ward, which gave the Angels more breathing room.
Kahnle made a slow walk back to the dugout. After having his glove checked by an umpire, he walked into the dugout and threw his glove at a floor fan, which was propped up. He then stomped on it twice.
"Everyone's different. I used to throw my helmet sometimes or snap or get mad. It's not for everyone," Boone said. "Be authentic. I know we all care a lot. And sometimes in this game, when you get beat up a little bit and you're taking your lumps it comes out in certain ways."
The biggest frustrations though might be with the offense.
New York struck out 42 times during the Angels series, one shy of a team record in a three-game series. Sean Casey was brought on as hitting coach but the Yankees batted .171 during the trip.
"We're not showing much signs of life or stringing anything together," said Anthony Volpe, who has only four hits in his last 39 at-bats. "The game is going to be the game. The more consistently we can win pitches and AB's I feel like the results will start to come."
While the Yankees (50-47) are nine games off the lead in the AL East, they are only 3 1/2 games out of the final wild card spot. They are 15-22 since Aaron Judge got hurt on June 3.
Boone hoped Thursday's off day can help the team recalibrate before a three-game series against Kansas City.
"We have to come ready to compete our (butt) off on Friday and believe that's the day we turn it around. If it's not, we keep going," he said. "We're nowhere near where we want to be, but understanding that and know we are capable and we can change. We control the story, and that's on us."
Sign up for Red Sox updates⚾
Get breaking news and analysis delivered to your inbox during baseball season.