Red Sox
Fans, Red Sox players share videos from inside Fenway Park during Friday's flash flood warning
"I thought we could have played through it," Red Sox infielder Justin Turner joked in a tweet.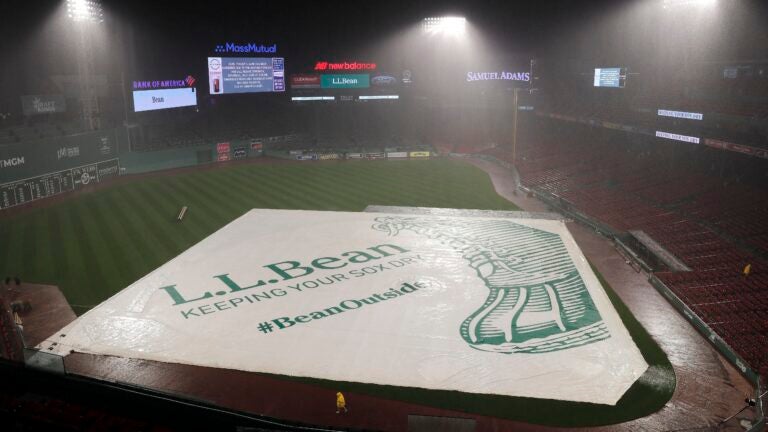 Fenway Park was overtaken by rain on Friday night.
The Red Sox game against the Mets was suspended during the fourth inning when it began to rain in Boston. That rain quickly turned into a downpour, which led to flooding throughout the ballpark as a flash flood warning took effect in the city until 12:45 a.m. Saturday.
Numerous fans posted videos on Twitter of what the scene was like at the ballpark when the game was stopped. Matt Crow showed water quickly making its way down the stairs at one of the concourses.
"Waterfall in Fenway Park tonight," Crow tweeted.
Another tweet from @DannyBoy9 showed a similar video as fans tried to make their way down the stairs.
Some fans had fun with the rain. In another area of the concourse, one man took his shirt off and began to do a slip-and-slide, which was shared in a video by Brandon Fig on Twitter.
Red Sox players also were affected by it. Justin Turner shared a video showing the flooded hallway between the Red Sox' dugout and clubhouse. He wore trash bags over his legs in order to keep himself dry.
"I thought we could have played through it," Turner wrote with three laughing emojis.
Prior to Friday's rain delay, fans of both teams were able to have some fun. A unison "Yankees Suck" chant broke out at Fenway shortly before the game was paused.
After playing the waiting game for over an hour, Friday's game was officially suspended. It'll be resumed at 2:10 p.m. Saturday. The Mets hold a 4-3 lead in the fourth inning.
Sign up for Red Sox updates⚾
Get breaking news and analysis delivered to your inbox during baseball season.