Red Sox
Alex Cora compares Triston Casas to Dustin Pedroia following his two-home run game and recent surge
Casas has been one of the best hitting first basemen in baseball over the last couple of months.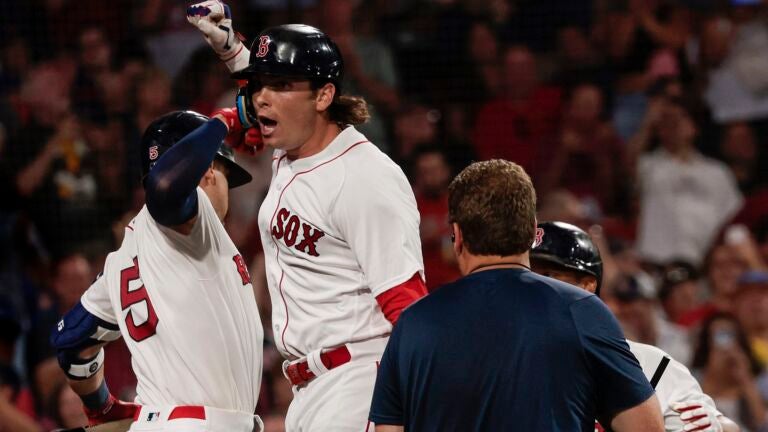 Triston Casas continued the tear he's been on since the All-Star break in the Red Sox' win over the New York Mets on Saturday.
The Red Sox rookie first baseman hit two home runs off of three-time Cy Young Award winner Max Scherzer, including a 428-foot shot to dead center field in the sixth inning off of a 95 mph four-seam fastball.
Casas had a good feeling it was gone at the crack of the bat, taking some time to cherish the moment and look toward the Red Sox' dugout.
"I think that was the first home run that I've hit that I've gotten to take my time around the bases at Fenway," Casas told reporters. "I think I topspin a lot of line drives by Pesky's [Pole]. So finally to backspin one to center field and admire it a little bit felt good. And I had the time to look toward the dugout. So I just wanted to give them a little smile, let 'em know I was thinking about them."
Casas's first homer was also a no-doubter, taking Scherzer's 87 mph cutter 417 feet to right field and just over the bullpens.
As Casas had the first multi-home run game of his career and became the first rookie to hit two home runs off Scherzer in a game, he shared the unique approach the Red Sox had against the future Hall of Famer.
"It was a weird game plan… because we want to be aggressive but at the same time, we want to kind of break him down so we get him out of the game early," Casas said. "But he attacks the zone so frequently that you can't really do that."
The two home-run game adds to what's been a great first week-plus for Casas since play resumed following the All-Star break. He's 10-for-22 (.455) with a .556 on-base percentage and a 1.227 slugging percentage in eight games. He also has five home runs already plus eight RBIs.
But if you zoom out past the All-Star break and look at how Casas has hit over the last couple of months, you'll notice he's made big strides since April.
Dating back to May 1, Casas is hitting .286 with a .376 on-base percentage and .531 slugging percentage, which is the 19th-best slugging percentage in baseball during that time span. Casas ranks seventh in batting average, sixth in on-base percentage, fifth in slugging percentage, and 10th in homers (11) among all first basemen since the start of May.
If you look at Casas's numbers since the start of June, his hitting ranks even higher among the game's best. He has a .302 batting average since the start of June, which is the 23rd-best in the league. His .397 on-base percentage is the 11th-best in baseball and his .587 slugging percentage is the 10th-best in baseball since June 1. Among all first basemen, Casas ranks fifth in batting average, second in on-base percentage, third in slugging, and tied for fifth in homers (eight) since the start of June.
Those numbers are drastically better than the .133 batting average and .576 OPS he put in April plus the .197 batting average he posted in the 27 he played in 2022.
The jump in Casas's numbers led Red Sox manager Alex Cora to make an understandable comparison for the rookie first baseman following Saturday's game.
"He just keeps going and growing," Cora told reporters. "It's very similar, kind of like Dustin [Pedroia] in [2007]."
Cora, of course, was teammates with a young Pedroia then. The second baseman hit just .191 in the limited action he saw with the Red Sox in 2006 and also had a cold start in 2007, hitting .182 in the first month before turning it around to win American League Rookie of the Year and help the Red Sox win a World Series later that season.
Casas appreciated the comparison his manager gave him.
"Any time I can get my name mentioned in the same sentence as Dustin Pedroia I think I'm doing something right," Casas said. "I don't know exactly. But I have heard about his steady climb in his rookie year as well. I think he was hitting like .160 through whatever-100, 200 at-bats."
Casas's numbers at the plate on the whole for the season might not be league-leading numbers. He's hitting .244 with a .814 OPS to go along with 14 home runs and 35 RBIs.
While Casas could make a late surge into the Rookie of the Year race, his attention is focused on getting better each day. And he's certainly done that for a couple of months now.
"I'm not focused on winning Rookie of the Year," Casas said. "I'm not focused on winning any awards. I'm just trying to get better every day. If I win enough days, I win that week and then I win the month and then I win years. So just trying to win today. Today I felt like I did."
Sign up for Red Sox updates⚾
Get breaking news and analysis delivered to your inbox during baseball season.