Politics
Triston Casas' homer, Alex Verdugo's 3 hits lead the Red Sox to a 9-5 win over the Royals
Verdugo was just a home run short of the cycle in the victory.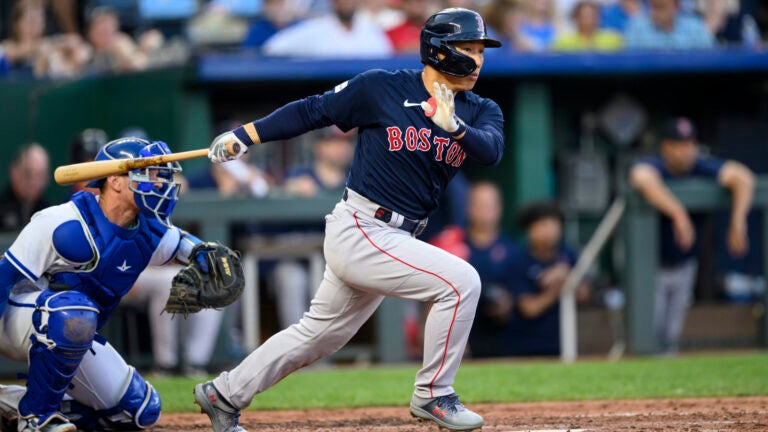 KANSAS CITY, Mo. (AP) — Triston Casas hit a two-run homer and Alex Verdugo finished a homer short of hitting for the cycle as the Boston Red Sox beat the Kansas City Royals 9-5 on Saturday night.
Six Boston batters drove in a run and all but one Red Sox starter had a hit. Boston snapped a five-game skid with the win after allowing four runs for the 12th time in 13 games.
Tanner Houck (4-8) worked five innings and allowed four runs and seven hits while walking one and striking out five.
"It felt good, it was good to be around that 100 pitch mark. It was something that I haven't reached in a while," Houck said. "To reach that milestone in terms of the progression, it felt good. It was good to know that I don't have a pitch count, i can just go out there and compete at the highest level I can and put the team position to win."
Royals starter Alec March (0-8) was knocked out of the game early after allowing six runs on seven hits. He walked two and struck out one in 2 ⅔ innings.
"I think there was a controlled focus in here this morning," Verdugo said. "This one feels good because their record might not show, but that's a good team with a lot of talent over there."
Kansas City has lost 11 of its last 13 games. The Royals haven't won a series since Aug. 3 and need a victory in the series finale on Sunday to end the skid.
The Red Sox capped a three-run first inning with Casas' two-run homer to right field. Boston had four extra-base hits in the inning. Cases went 2 for 4 with two RBIs and two runs scored.
"Offensively, I think there is another run in this team in September," Boston manager Alex Cora said. "Everyone gets hot at the same time, but at least for today that was a good one."
MJ Melendez homered for Kansas City and Maikel Garcia, MJ Melendez, and Nelson Velazquez drove in runs.
"We had a big chance in the sixth, we just didn't bust it open or make up all the ground, but overall we competed until the end, putting some good at-bats together in the ninth," Royals manager Matt Quatraro said.
YOST TO THE HALL OF FAME
Prior to the game, former manager Ned Yost was inducted into the Royals Hall of Fame. He led Kansas City to a World Series championship in 2015 and has the highest postseason winning percentage in MLB history.
UP NEXT
Chris Sale (5-3, 4.75 ERA) will start for the Red Sox in the series finale on Sunday. The Royals have not announced a starter.
___
AP MLB: https://apnews.com/hub/MLB