Red Sox
Red Sox season of struggles still holds plenty of silver linings
Slugger Triston Casas is now a year into his Red Sox career, and he's starting to make the most of his opportunity.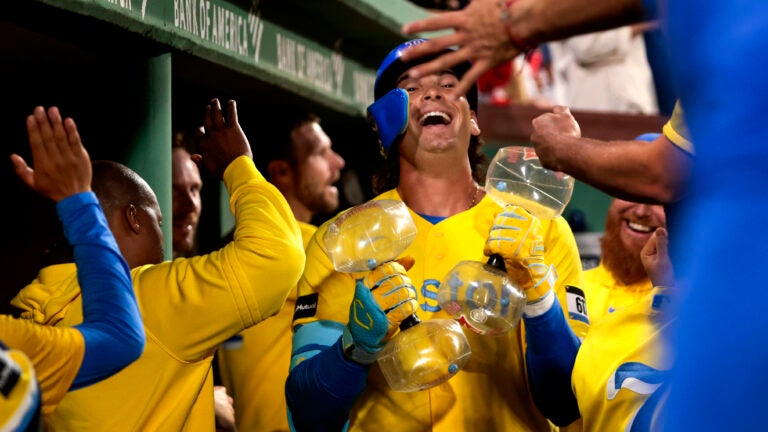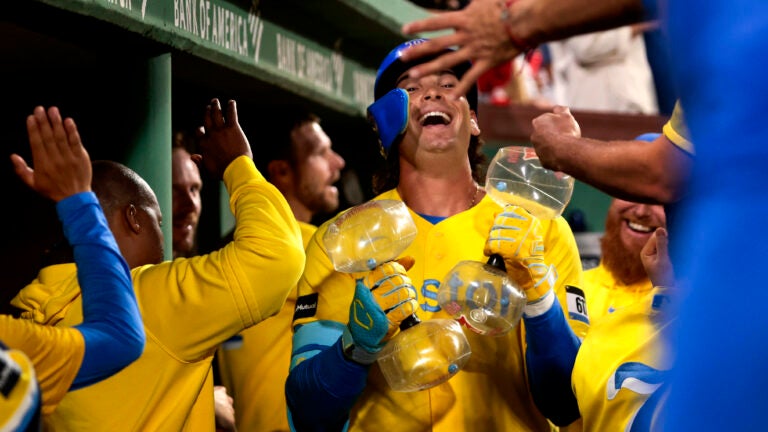 COMMENTARY
Since the All-Star break, there are three players in the majors with an OPS of at least 1.110. All-world Mookie Betts (1.141) has surged into the National League MVP conversation. All-Star Corey Seager (1.130) is trying to drive the Rangers through their slump in the ultra-tight AL West.
The third? Triston Casas (1.113). Not Freddie Freeman, or Ronald Acuña Jr., or Shohei Ohtani, or Bryce Harper, or Jose Altuve. The Red Sox first baseman who was hitting .225/.330/.398 at the All-Star break, but has looked better with each passing month.
Yeah. Caught me by surprise too, honestly.
Casas debuted a year ago Monday, with his first hit an infield single that clanged off the heel of Seager's glove at Fenway. Immediately after came a series at Tropicana Field, where he promptly went 1 for 11 with six strikeouts in losses 7-9 of Boston's 13-game streak at the St. Pete Pinball Machine.
He delivered the big blow to end that streak Monday, smashing a changeup that slid into the middle of the plate 419 feet the other way.
"I think he's going to keep hitting fourth in this lineup," manager Alex Cora told reporters.
So many of us should have known better, after watching Dustin Pedroia struggle for 50-odd games in 2006-07 before he flipped into an MVP. Bobby Doerr barely hit .220 in his first year. Rico Petrocelli wasn't much better out of the blocks, nor was Yaz or Dewey or Xander or countless others. The majors usually don't come easy. There are lessons to be learned.
"Granted, having the opportunity to fail as much as I did helped, but with that opportunity, nothing's that deep," Casas told WEEI. "If you have a bad at-bat, if you have a bad game, if you have a bad week, just turn the page. Try to come back the next day and fix whatever you did wrong and be constantly getting better, and not focus on how many hits necessarily you get that day, but just making sure you win the day."
Even the worst Red Sox seasons tend to carry silver linings. (Andrew Miller's dominance as a middle reliever in the 2010s began with Bobby Valentine in the disastrous 2012 season.) This year is more forgettable than execrable, a team that needed a ton of breaks to contend and did a bit despite getting almost none of them, but it is no exception.
Casas is definitely among the players who, should he become the mid-lineup linchpin it appears he could be, will look back on this season as the start of something special. He's not alone in that, as 2023 could be a critical point for a few names on the Red Sox roster.
Brayan Bello
Things looked like they were going sideways early Monday, the Sox down, 3-0, six batters in and the Rays already pulling off a double steal on Bello and Reese McGuire.
Harold Ramírez helped bail them out with a foolish sprint for third. Bello got out of the first, then retired the next nine in order and faced the minimum until working around a leadoff double and walk in the sixth.
What looked like another potential long day for the bullpen became Boston's longest start since Bello went seven innings in Houston a week and a half ago. Red Sox pitchers have 42 six-inning starts this season, ahead of only Colorado and Oakland leaguewide.
Bello has 15 of them, nearly twice any other pitcher. At 24, he has set the table to be the desperately needed arm atop the rotation, and the homegrown starter lacking here for forever.
"Last year, whenever I would have a bad inning or things were going bad, they would snowball a little bit on me and I would get mad at myself in those moments," Bello told reporters. "But now, I'm able to block those things out."
"I think he has no ceiling. I think this kid can be equally as special as me," Pedro Martinez said last month. "But he still has work to do."
Rafael Devers
Let me be the latest to tell you the big-money third baseman's off year has been pretty on: A 2.6 fWAR that's top 80 in the majors despite Devers's defensive adventures, thanks to 31 doubles and 29 homers — good enough for top 10 in a number of American League power categories.
Despite struggling to adapt to a lineup that's weakened around him, his chase and whiff percentages have gone down. His line drive rate, however, is also down, and he's pulling a higher percentage of balls than he has since 2019.
But there's not another hitter like him in the lineup. JT [Justin Turner] is doing great. [Alex] Verdugo has been good. But Raffy, he's the guy, the other team doesn't want him to beat them.
"He needs somebody behind him in the lineup to help him," David Ortiz told the Globe recently. "He needs somebody behind him in the lineup to help him. When the time comes whether to pitch to him or not, you know what will happen."
He is, by and large, the face of the franchise after all the recent departures. That takes some growing into, and this can be a season for Devers to further adapt to the role. He's already done so before this year, slowly opening up as he becomes more comfortable in Boston and using the anger of an unfulfilling season to drive him in the winter.
He need only look at those error numbers to find a pool of that.
Masataka Yoshida
This year was a fact-finding mission both for Yoshida and for us regarding him. The defense has been, well, worse than even our low expectations. And since his line peaked at .320/.382/.506 (.887 OPS) with three hits against Atlanta on July 25, Yoshida is hitting just .236 with three home runs — two coming Sunday and Monday.
That said, he's got a reasonable chance to hit .300 — he's at .298. He doesn't strike out. And we're still talking about an MLB rookie.
He's adjusting to a new country, a new schedule, and a whole new set of pitchers. He has already shown himself a player worthy of the Red Sox affections, even if that left-field defense creates some DH logjam problems on a team defensively lacking.
It's exciting to think about where he goes from here.
Connor Wong
Admittedly, we've taken a step down in ceiling with Wong, but consider most of us thought he was headed for the minors behind Jorge Alfaro when the year began.
The offense is, well, a catcher's offense. But he's going to end up with around 100 starts and top-10 in the majors for innings behind the plate, he's been a plus defender — no small feat on this team — and is tied for second in caught stealings above average per Baseball Savant. He has, at minimum, established a plan at the position.
Heck, it might even last until Kyle Teel, this year's first-round pick just called up to Double A — is ready if we're really being optimistic.
Pablo Reyes
Yes, now we're really reaching, but I have to. He was released from Oakland's Triple-A club for goodness sakes and, if not for injuries, would have likely spent the entire year solidifying the middle infield. Even with them, he's been a league-average hitter across 51 games, including a walkoff grand slam last month.
Better than the last Pablo we had to watch around here.
Sign up for Red Sox updates⚾
Get breaking news and analysis delivered to your inbox during baseball season.