Red Sox
Remaking the Red Sox? Start by looking at their free-agent decisions.
The Red Sox will likely have to make decisions on three key impending free agents this offseason as they hope for a better 2024.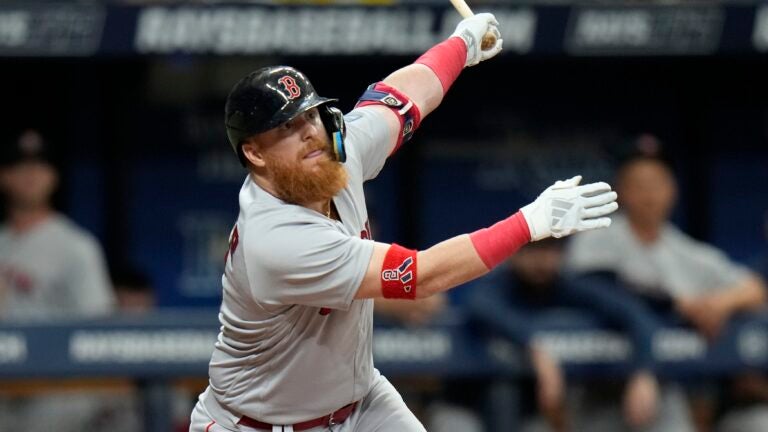 COMMENTARY
It's football season now, a moment of clarity when the baseball diehard realizes more people watched that series of ads where Peyton Manning flew a baguette than will watch any World Series game.
Practically, this doesn't matter much outside of meaning MLB won't stop trying to appropriate NFL things — Schedule reveals! Draft combines! — any time soon. Plenty of things survive without being the most popular thing.
It also means the 2023 Red Sox can quietly fade into the obscurity their too-thin rotation and abysmal defense have earned them. It must be noted here that Alex Cora has not publicly given up the ship, stressing after Wednesday's meek loss to the Rays there remains something to play for.
"We're going home now. If you want to gain ground, we have a chance now," he told reporters. "We have the best team in the American League [Baltimore] and then we have the Yankees and we have Toronto and Texas. This week is going to be huge for us."
The Red Sox (72-68) sit five behind the Blue Jays (77-63) for the third wild card, with the floundering Rangers (76-63) between them and 22 games remaining. Staying ahead of New York (70-70) feels like a more manageable goal, given the sorts of games the Sox need to make a run — like Tuesday's — seem to slip a lot.
So, let's look ahead. This weekend will offer a reminder of where the Sox really stand, the Orioles breaking out on the backs of the sixth-youngest lineup in the majors — Adley Rutschman, Anthony Santander, Gunnar Henderson, Austin Hays, and Ryan Mountcastle are all at least a year from free agency.
How do they fix it? (Who'll do the fixing isn't an unfair question either, which makes the work all the harder.) A good place to start, it seems, is to consider the pending free agents, of which there are three main ones.
Adalberto Mondesi, who never got out of Fort Myers and got as far as some moderate baseball activities in August before being shut down again, is outside of that group. Joely Rodríguez was supposed to be a key lefthander in the bullpen, but was only healthy enough to throw 11 innings. And Corey Kluber lasted only nine starts in the rotation before being demoted. His push to pitch again this year feels like just an audition for his next team — potentially his sixth organization in six years.
James Paxton
In hindsight, Boston should've traded the 34-year-old at the deadline, when he had a 3.34 ERA and the scuffling start he had July 29 in San Francisco felt like a momentary blip. It didn't and, as we saw for most of August, it wasn't.
Paxton will, should he pitch Tuesday against the Yankees, hopefully, cross the 100-inning threshold for the season. (He's at 96.) That he would struggle late in the season after throwing 20, 1, and 0 innings the last three seasons isn't a shock. However, it also makes for an intriguing question going into the winter.
When he was fresh, he was Boston's best starting pitcher. He's now built himself back into triple-digit innings for the first time since 2019, when he was arguably the ace of the Yankees staff.
It feels like there might still be something here, and the Red Sox certainly are in need of innings. Getting them from a player who has already professed he's "comfortable" with the franchise and its medical staff, feels like a pretty good back-end option.
Adam Duvall
The what-might-have-beens are strong with this one. The slugging center fielder put together runs of .455/.514/1.030 in eight games before he busted his wrist in the outfield and .462/.512/1.154 in that 10-game stretch against the Astros and Dodgers that could've defined the Red Sox season.
I suppose it did define the Red Sox season anyway. Just not in the ideal direction.
Even missing 54 games, no one's going to grip about Duvall's $7 million paycheck in 2023. To the contrary: I would imagine the winter is going to be filled with calls for the team to bring him back.
I'm not feeling them. Prior to that hot 10-game run last month, Duvall was a 0.0 fWAR player across 53 games — from his return in early June to Aug. 20. (He hit seven homers in 194 plate appearances, fourth on the team in that span.) Moreover, his defense in center field has not been good, calculated as minus-6 defensive runs saved and three outs below average across the season.
He's been a fun watch, and his literal bad break submarined what might have been a season that could have made these Red Sox into something more. But with Ceddanne Rafaela here and spectacular in the outfield, it's time to move on.
Justin Turner
This is a hard one, and it's pending a decision from Turner on a $13.4 million player option for 2024. The deal has a $6.7 million buyout, though, which means Turner will almost certainly come out ahead given his 2023 if he opts for free agency.
So, what to do?
The 38-year-old has been absolutely everything the Red Sox could have hoped for both at the plate — tied for the team lead in RBIs, second in on-base, tied for second in hits, third in homers — and in the clubhouse, where he's been a positive influence on so many teammates. (Not unlike how his DH predecessor, J.D. Martinez, was.)
He hasn't, however, been able to contribute anything more than passable, part-time defense at first base, which creates an issue when Triston Casas is the one of the ugly triumvirate with Rafael Devers and Masataka Yoshida who seems to be looking up with the glove.
Those three are all locked in to the team's forseeable future. Having the ability to plug one of them in at DH from time to time seems a prerequisite to the '24 Sox improving in the field. That can't really happen if Turner returns.
It's a difficult balancing act, and there are arguments to be made on both sides.
We'll have months to mull them. And the clock on 2024, Alex Cora's public optimism aside, is already running.
One last thing: The Sox have five arbitration-eligible players. Alex Verdugo ($6.3 million in 2023) and Nick Pivetta ($5.35M) are in their last winters before free agency; Luis Urías ($4.7M) and Reese McGuire ($1.225M) are two away; and John Schreiber ($750K) is three.
We'll leave the Verdugo question for another day. Feels like it could be another 1,000 words by itself.
Sign up for Red Sox updates⚾
Get breaking news and analysis delivered to your inbox during baseball season.