Red Sox
Meet Red Sox prospect Shane Drohan, a 'regular guy' having his breakout season
"I really don't think anybody's going to have higher expectations than myself."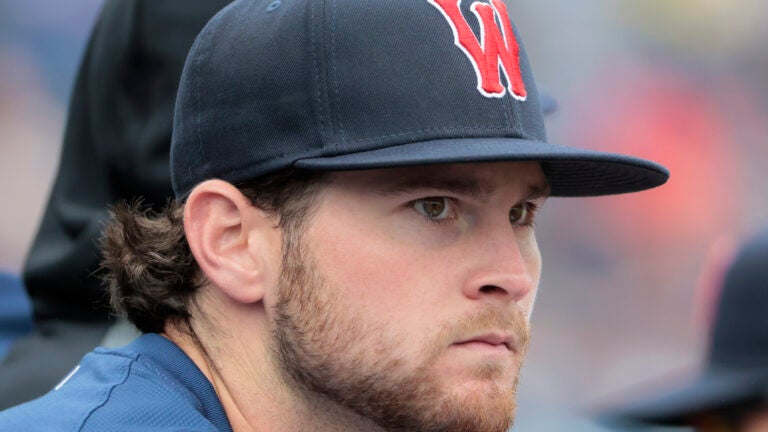 "Put some clothes on and come into Eppy's office."
Shane Drohan sat at his locker and wondered what pitching coach Sean Isaac's demand meant. His Portland Sea Dogs had just defeated the Somerset Patriots in a game that he did not pitch in. He spent that game cheering on his teammates like any other rest day. Drohan had no significant role that day, so what could manager Chad Epperson want to tell him?
Drohan had no idea, but he did as he was told. He got dressed and walked over to Epperson's office. Once Drohan stepped inside, Epperson looked in his eyes and told him the news that every Double-A player dreams of hearing.
"We're gonna send you up," Epperson told Drohan. "You've been dominating down here and it's time."
Epperson was right. Drohan torched hitters across the Eastern League in the six games he pitched as a Sea Dog. At-bats routinely ended at home plate whenever hitters faced Drohan. He had a real gift for preventing any sort of base acquisition, which was shown by his 1.38 ERA and 0.82 WHIP. Those stats weren't just for show, either. They earned him five wins—a league-leading four coming in April alone—without a single loss. By that point, a quick promotion to Triple-A Worcester seemed inevitable. Double-A had become too easy for him.
As Drohan's pitching stats became smaller and smaller, the hype surrounding him only grew. He shot up Red Sox prospect rankings to become one of the most highly-touted players in Boston's farm. Baseball experts started to consider him one of the best pitching prospects the Red Sox had to offer, especially among his fellow southpaws. All of a sudden, Drohan was getting more attention than he ever received in his life.
But that praise comes with massive expectations from others. The pressure to live up to standards that high can overwhelm any player, no matter how talented they are. But does that pressure ever get to Drohan?
"I wouldn't say that," Drohan told Boston.com. "I really don't think anybody's going to have higher expectations than myself."
Drohan considers himself a pretty normal guy. He likes sports, he doesn't believe in superstitions and he's good at his chosen craft. Sure, he's one of the best young pitchers in the world, but he doesn't believe that makes him different from any other person.
"I'm just a regular guy, like anyone else," Drohan said. "[I] just have my talents in certain places in this world, like everyone else has their talents."
But even regular guys have unique traits. And one of Drohan's is his hyperfixation on the sport of baseball. Whether he plays it, watches it or studies it, Drohan can't get enough baseball and allows it to take over his mind.
"I'm just passionate about this," Drohan said. "Kind of like, almost obsessed with it. It's like something you're always thinking about. You're always watching baseball."
It wasn't always that way though. Drohan's favorite sport throughout childhood was football, a love that encouraged him to devote himself to playing quarterback at Florida's Cardinal Newman High School in 10th grade. At that point, baseball wasn't even a thought on his mind. His father played in Kansas City's system, but the younger Drohan grew bored of playing in the outfield as a kid and abandoned the sport altogether after pitching in his freshman year of high school.
But things would change in his junior year of high school. After a growth spurt took Drohan from 5-foot-8 to 6-foot-2 inches, one of his football teammates convinced him to return to the mound. He honored his friend's request, but he did so with the same lack of enthusiasm for baseball he had as a child. He was just going through the motions without any emotions.
"At the time, [I] was kind of just walking out to the field like any other regular kid," Drohan said, "Tying my shoes and just going out there playing."
But by the halfway point of that year, Drohan noticed that he was making significant improvements to his game. He was throwing the ball harder and his breaking balls broke very sharply. After that, he realized that baseball—not football—was his true calling.
"Everything really came so naturally," Drohan said. "It was just like, 'Yeah, this is what I'm supposed to do.'"
The Philadelphia Phillies realized the same thing, and so they selected Drohan in the 23rd round of the MLB Draft in 2017, the year he graduated from high school. But Drohan declined to play for them, instead choosing to honor the commitment he made to Florida State University. He pitched with the Seminoles for three years before he waited to hear his name called in the five-round 2020 MLB Draft.
And so he waited. And waited. And continued to wait. Four rounds had gone by without a team selecting Drohan. And as the fifth and final round started to wrap up, Drohan began accepting his fate. He figured his dream of playing professional baseball would have to be postponed another year, and so he called his pitching coach at Florida State to tell him that he would likely be returning.
Just as the draft was merely a few picks away from concluding, Drohan heard his phone ring. It was from the Boston Red Sox, who said that they wanted to select Drohan with their team's fifth-round pick in the draft. Without any hesitation, Drohan gave them his answer.
"Yeah, let's do it!"
Traversing the Red Sox' minor league system wasn't always easy for Drohan. Each league came with different challenges and hitters to pitch around. And once he'd pass those challenges, he'd be greeted by a brand new league of hitters that have seen all of his new skills before.
This grueling process summarizes the difficult job of a minor league pitcher, but it's never stopped Drohan from working hard to clear each hurdle he faces.
"I'm gonna show up everyday and put the work in that I know I need to," Drohan said, "Always searching for more things to do to get better."
Drohan's work has been recognized across baseball. He earned Eastern League Pitcher of the Week from April 10-16 while he dominated in Portland, and he eventually won Pitcher of the Month a few weeks later. But the biggest honor Drohan has received thus far came after his promotion to Triple-A, when Worcester manager Chad Tracy and director of scouting Brian Abraham told him he was selected to represent Boston in the MLB Futures Game.
"It caught me off guard," Drohan said. "But yeah, I was excited. I think the direct quote I said when they told me was, 'Oh, f*** yeah!'"
A calf cramp kept him from pitching in the game, but the initial selection was enough to excite Drohan. It meant that all of his hard work was paying off and that the world was beginning to believe what he knew ever since he started playing baseball again as a 17-year-old: he was good enough to play in the major leagues and he would stop at nothing to get there.
Such a goal is ambitious, especially for someone whose passion for baseball developed that late in his childhood. But those are the only goals that Drohan feels comfortable setting.
"It's kind of just how I think," Drohan said. "I shoot for the highest of highs of goals."
In due time, Drohan may end up reaching the highest goal a Red Sox prospect can have: playing at Fenway Park. But before manager Alex Cora calls his name, he wants to keep adding to his velocity by throwing harder and cleaning up his slider and cutter a little more.
Making these changes won't be easy to accomplish, but Drohan thinks he is up to the challenge. He believes that the only way to the major leagues is forward, no matter how many obstacles come in his way. He knows he can become a major leaguer one day, and the Red Sox do too. That's why Coach Isaac told him to get dressed and report to Epperson's office all those months ago.
"Each offseason I've been with the Red Sox we've made really good strides," Drohan said. "So we're just going to keep going."
Sign up for Red Sox updates⚾
Get breaking news and analysis delivered to your inbox during baseball season.