Red Sox
Gathering nine Red Sox thoughts as the Chaim Bloom Era comes to an end
Firing Bloom was the right move, but his tenure will look better in retrospect than it ever did when he had the job.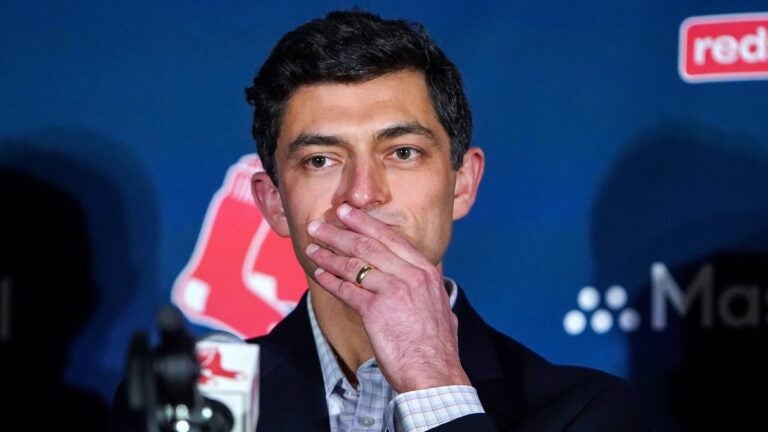 Playing nine innings while hoping you realize there's a better chance of the Red Sox hiring an actual gorilla as president of baseball operations than there is of Theo Epstein returning …
1. I'm sure this is no consolation to him in his first full day as the former chief baseball officer for the Boston Red Sox, but Chaim Bloom's tenure will look better in retrospect than it ever did when he had the job.
Now, it's a couple of steps too far to suggest he left the Red Sox demonstrably better than he found them, if only because Mookie Betts, who is on a very short list of the most charismatic and complete players ever to wear a Red Sox uniform, was still working his magic for the franchise when Bloom arrived.
A franchise that trades Mookie Betts for a handful of salted peanuts cannot be considered better off, no matter the financial implications. That's a rule. A rule I might have just made up, but a rule nonetheless.
2. When the Red Sox hired Bloom in October 2019, I never bought into the scuttlebutt that the job lacked appeal to some potential candidates because of the abrupt endings to Ben Cherington and Dave Dombrowski's terms in the front office and the sense that the franchise's direction could change impulsively.
They're still the Boston Red Sox, and for all of the chaos, they have won four World Series this century, the most recent five seasons ago. It's one of the most desirable jobs in baseball, and Bloom, for all of his weird recurring blind spots with the major league roster, has left the organization in a strong position. Whoever replaces Bloom will have a much easier job than he did when he arrived.
3. Consider the condition of the roster and the organization. There are no terrible long-term contracts. (Trevor Story has to be better next year, but his deal isn't an albatross.) They are under the luxury-tax threshold. Rafael Devers is locked up through his prime. Triston Casas (who has slashed .317/.417/.617 with 15 home runs in 54 second-half games) is going to be an All-Star. Masataka Yoshida ranks somewhere between Mike Greenwell and Troy O'Leary on the Red Sox Left Fielder Power Rankings, and that's fine. Brayan Bello has the talent and makeup to be a front-of-the-rotation starter. Potential cornerstones Marcelo Mayer, Roman Anthony, Kyle Teel, and Ceddanne Rafaela all played at Double A or higher this season.
The cause is lost this season, but certainly not beyond. Bloom will get credit for much of this down the road, when days are brighter.
4. The new baseball boss should have one enviable and fun task: spend money and/or farm system capital to enhance the major league roster, specifically the starting rotation.
I believe there are a number of reasons why Bloom was dismissed, all of which were amplified recently, and we'll touch on more of those in a moment. But one of them was that he had given no indication that he had the mind-set or the nerve to be proactive and aggressive in enhancing the major league roster.
There were trades to be made at the deadline, and he could not bring himself to make them. That hardly inspired confidence that he could make the bold and expensive moves this offseason necessary to remodel a pitching staff that was always short during his tenure, even in 2021.
5. Not that anyone with the Red Sox will tell, but I do wonder when Bloom's gig officially became in jeopardy. I doubt it was on, say, July 28, when the Red Sox beat the Giants for their fifth straight win, moving a season-high nine games over .500 and just 1½ games back of the Blue Jays and Astros in the wild-card race.
Of course, they promptly lost five straight, then hovered on the fringe of contention but nothing more than that until everything came crashing down with a cavalcade of recent embarrassments.
6. The short list: Mookie returned to Fenway and punished the Sox before what at times felt like a Dodgers home crowd … the Kyle Barraclaugh debacle, when Alex Cora basically declared, "I've got nowhere else to go!" and left the modern-day Toby Borland out there to take a pounding … and most damning of all, the rows upon rows of empty seats during an irrelevant series with the Yankees, when at the very least the Red Sox were supposed to be capable enough to play meaningful games in September.
7. The lack of action at the deadline hurt Bloom's standing. The team's recent haplessness and the fans' resulting indifference hurt more.
Word that tickets for one of the recent Yankees games were going for single digits was the kind of embarrassment that cleared the air of indifference in the Fenway offices and actually sparked action.
The hunch here is that ownership was fine with quasi-contention. But when it all took a turn toward laughingstock status, Bloom was done.
8. And make no mistake, it was the right thing to do. I empathize with Bloom, a bright and nice person, and he did make his share of savvy moves. I'm appreciative that I got to see what Justin Turner is all about on and off the field. Chris Martin, Kenley Jansen, and Adam Duvall were all helpful pickups. I think Yoshida will count as a win for Bloom.
Some of these guys would have fit right in on a certain Red Sox championship team a decade ago, and that's close to the highest praise a veteran who comes to Boston can get.
9. But when you start tallying the bewildering decisions during Bloom's time here … Franchy Cordero, first baseman … Kiké Hernandez, shortstop … the perpetual faith in Kaleb Ort … the inexcusable Matt Dermody experience … the constant neglect of the defense … the parade of waiver-claim pitchers with 5.00-plus ERAs … Renfroe for Bradley … the insincerity in negotiating with Xander Bogaerts … Corey Kluber, Opening Day starter … well, it all starts to sound like a terrible rewrite of "We Didn't Start The Fire."
And no one ever wanted that.
Sign up for Red Sox updates⚾
Get breaking news and analysis delivered to your inbox during baseball season.