Red Sox
Chaim Bloom earned his ouster, but Red Sox show themselves reactionary again
The Red Sox keep getting what they hired, then deciding they need something else.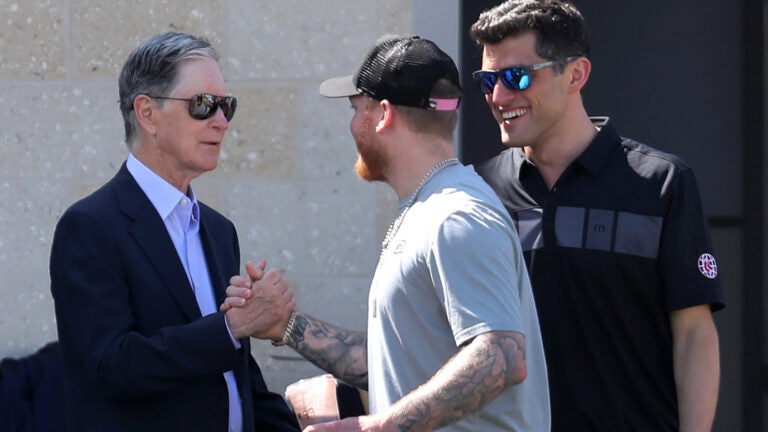 COMMENTARY
The symbolism of the Red Sox cutting ties with chief baseball officer Chaim Bloom in the midst of the deadest series with the Yankees in decades should not be lost on anyone.
Nor should this: The chances the next great Red Sox team has Bloom's architectural fingerprints all over it are pretty high. Even his biggest detractors should tell you that.
This is the nature of team building, of course, and not exclusive to the latest man to be a former Red Sox baseball boss. Dan Duquette got plenty of flowers in the celebrations of 2004. Theo Epstein's influence was all over 2013. Ben Cherington's core was at the heart of the late-2010s juggernaut that peaked in 2018.
This is also the nature of things when success is mixed with rapid change. Rapid, bordering on frenetic.
"We're aiming for World Series championships. That's it. That's the aim. That's the goal. That's why we're here. We're here to win championships. Our fans deserve World Series championships. As many as we can possibly win while we're here," CEO Sam Kennedy told reporters Thursday, as emphatically as anything he offered across his 20-minute session. "We're not going to waste this opportunity. We're here to win, and we're here to be competitive."
"The goal, the commitment has never wavered once. We're here to win."
I suspect a lot of the people who tuned this team out long before this week would object to that assessment, but anyway.
It's impossible not to watch Kennedy's performance — a word I didn't choose by accident — and notice the emphasis on that diatribe about winning. For me, it's impossible not to hear his opening quip (not included in the NESN video) apologizing for the impromptu presser, then explaining, "we wanted to make sure we were here and accountable to you," and not think of the clown college way they moved on from Dombrowski: A 12:07 a.m. press release after the Patriots opener.
(The now-Phillies architect is still chapped about it.)
They hear everything. They react to plenty of it. Which makes it so mystifying why it all feels so haphazard, and has for years. How can you be so worried about optics and PR and be so mediocre at it?
Frankly, for all the turnover of the past decade, the Red Sox have largely gotten exactly what they paid for in their leaders. Cherington maintained the structure and continuity of what Epstein accomplished, and won, but perhaps was too unwilling to part with farm resources.
Dombrowski wasn't, supplied whatever pieceparts were needed to win now at whatever the cost was, and helped create the greatest team in a century of Red Sox baseball. And then, John Henry (who also owns Boston Globe Media Partners, including Boston.com) decided "perhaps we weren't going to be on the same wavelength going forward."
"We can talk about what he did wrong, but I prefer to talk about what he did right," Henry told reporters in September 2019, speaking on the firing for the first time some two and a half weeks after it happened. "He was, as I said earlier, I think, the right person at the right time."
So was Cherington. So was Bloom, brought in from thrifty Tampa Bay at a time the team was preaching austerity and renewability. Rebuild the farm system? He did it. Craft a young core that could be at the heart of whatever success the franchise can craft for the rest of the decade?
"We have gotten glimpses of this emerging new core of the Boston Red Sox. . . . I think there's a lot of great things to build on here," Kennedy noted on Thursday, before dropping the hammer of the day.
"But we owe it to our fans to be decisive, aggressive, and clear about the mandate, which is to get back to playing baseball in October."
In other words, someone else will benefit from Bloom's work. Often the way it is with rebuilds.
Let's not ignore the obvious: Bloom's legacy in Boston will be trading Mookie Betts, period. A move in which his hand was to some degree forced by his bosses, a return for which was never going to be enough, but all of which Bloom never made any qualms about owning.
"It was really all about where we were as an organization. We just weren't positioned to build around him at that point in time. And [the Dodgers] were," he told MassLive last month. "I believed then and believe now that as an organization, we had to think longer term at that point in time."
That quote is Bloom personified, and why I think he is not simply a victim of an ownership who tied his hands. He had his vision for how to build a perennial contender. He did not allow negotiations to sway him from the value he'd put on a player, and he did not allow short-term results to distract him from his larger plan.
To the point it cost him his job.
Someone who was trying to stay hired would not have played this year's trade deadline like Bloom did, looking at a fringe contender and deciding the juice to boost its chances wasn't worth the squeeze. It is, to a large degree, exactly what you want your baseball operations to do. Hold firm through the waves. Stick to the plan. Let your young talent cook.
Of course, you also need to put a reasonable team on the field, which Bloom did not do this year after injuries made the fine line the 2023 squad needed to navigate a nonstarter. And when your bosses are susceptible to being swayed by thousands of empty seats, declining NESN ratings, increasingly less currency in those four World Series championships won over 15 years . . .
It's hard to blame them, I suppose: I've seen a heck of a lot more celebrating in the last 24 hours than I have lamenting Bloom's departure. But it's also hard to see where the Red Sox really go from here. Not the sort of person they'll hire, as it's time to pong back in the other direction as a reaction to failure.
But how they present themselves when they've now shown for three straight administrations that for all their preaching about a sustainable contender, they've got four years of patience. And winning big once isn't even enough to buy some extra time.
"I think we've always been consistent that, trying to build that farm system, but win at the major league level has always been a priority," Kennedy said Thursday. "Obviously, last two seasons, we haven't been there so change was made."
They have long sought to serve those two masters, a heck of a line to try and tread. Hey, it's good to have high standards, and the Dodgers are among those who've shown it can be done.
But in a decade of trying, the Red Sox have done little more but turn the phrase "long term" into lip service in Boston. They blinked on Thursday, just as they do on a quadrennial basis now.
All while their competition grows stiffer, and better.
Sign up for Red Sox updates⚾
Get breaking news and analysis delivered to your inbox during baseball season.