Red Sox
Ceddanne Rafaela is bouncing around positions, but Red Sox manager Alex Cora has a vision for him
Rafaela started at second base against the White Sox. He's also seen time at shortstop and center field.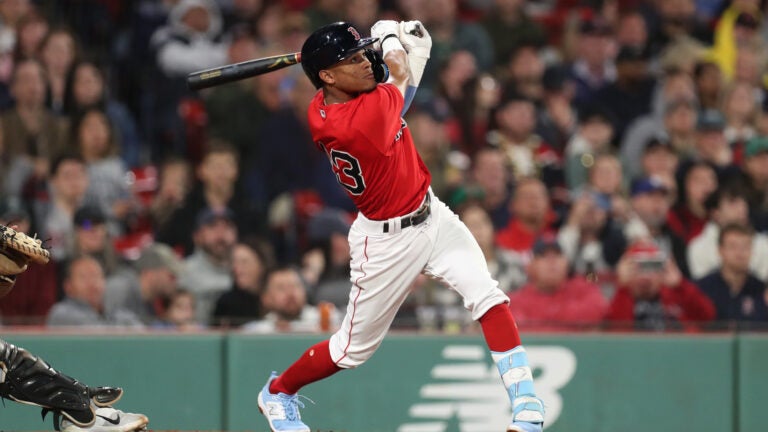 Ceddanne Rafaela's introduction to the major leagues in 2023 has been a promising development for the Red Sox this season.
The 23-year-old is being utilized in a few different ways as needed, but Alex Cora has a plan for Rafaela long-term. The Boston manager wants to make Rafaela's time in the infield less and less frequent.
"Center field," Cora said when asked where he sees Rafaela's future. "He's a game changer … it's the instincts, the first step."
On Friday against the Chicago White Sox, Rafaela started at second base for the first time this season. He may see more time there before the season ends, since Luis Urías was placed on the 10-day Injured List.
Rafaela saw a bit of action at second base prior to Friday, but not in a starting capacity. Speaking prior to the game, Cora shared his advice to Rafaela in the role.
"Just be an athlete," Cora said. "Just go there and be you, don't try to be somebody else. He's a good player, a good defender, a good athlete. So, he should be OK."
Other than second, Rafaela has also been deployed at shortstop. But the outfield is where he's seen his most reps. Offensively, Rafaela is batting .295; he has two home runs and five RBIs.
Boston is thinking about the future as its underwhelming 2023 campaign winds down. Rafaela has the ability to be a cornerstone piece of future Red Sox lineups. The experience he's gained over the last month could be pivotal for his development.
"The fact that he's here, he's been able to play against top competition this whole month, it only benefits him," Cora said. "We'll attack the offseason right away. We'll give him a plan. … We're looking forward to seeing him in spring training and see where it takes us."
Rafaela finished off Friday's game in a fitting way for himself individually. After coming home as the tying run in the bottom of the eighth, Rafaela sealed a victory in the top of the ninth, catching a flyball from center field, where Cora moved him late Friday night.
Sign up for Red Sox updates⚾
Get breaking news and analysis delivered to your inbox during baseball season.