Red Sox
'It really stems from who he is as a person': WooSox' Ryan Fitzgerald embraced the Worcester community — and the city repaid him
'"He makes everybody who comes in contact with him better."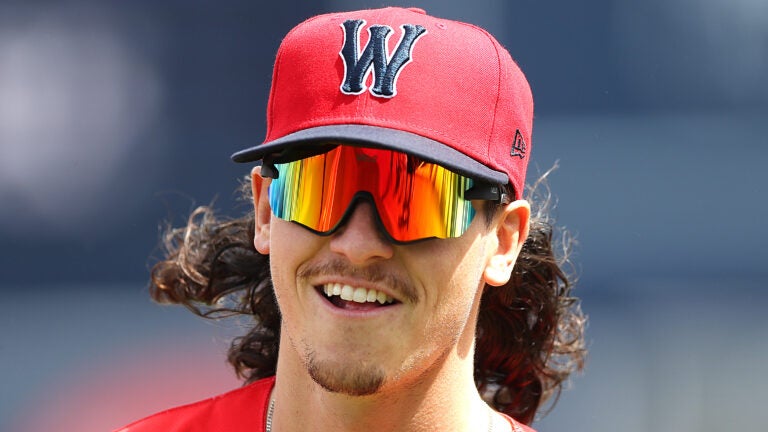 The clubhouse located underneath Polar Park's home dugout is a large, vibrant room adorned with several wooden lockers, most of which look like near-replicas of one another. If no one's sitting in front of it, or if you don't read the WooSox-themed nameplates attached to each one of them, it's nearly impossible to tell which locker belongs to which player.
But one particular locker, located near the left corner past the room's entrance, stands out from the rest. Taped just above its nameplate is a child's drawing of a man donning a standard baseball cap and an unmistakable mullet.
That locker belongs to Ryan Fitzgerald, who proudly taped the portrait of him on his locker about a month-and-a-half ago. The drawing is a memento of the special bond he shares with its illustrators, 7-year-old Derek Raby and his family.
"Derek especially has done a number of pieces of art for Fitzy," John Raby, Derek's father, said. "I think it stems from Fitzy's generosity with the boys."
Fitzgerald met the Rabys when he played for Double-A Portland in 2021 and has since developed a close friendship with them. They often make the two-hour trip to Worcester from their home in Maine just to visit their friend, who stays involved in the kids' lives. When Derek's 9-year-old brother, Dexter, went to Massachusetts for a Little League baseball tournament, Fitzgerald attended one of the games to cheer Dexter's team on. When the Rabys visited Worcester for Dexter's birthday, Fitzgerald invited both boys onto the field and played catch with them for a half-hour.
"My wife and I [were] standing there in tears," Raby said. "Here's this incredible guy who genuinely cares for our kids. We can't even comprehend it."
In many ways, neither can Fitzgerald. He grew up just like Derek and Dexter, playing baseball and idolizing those who played it professionally. Having people look up to him is still a new, unfamiliar experience for him, especially since he doesn't think he's much different from anyone else.
"I always remembered how it was like when I was a kid," Fitzgerald said. "You see these professional players and you kind of think they're larger than life. We're not. We're just regular people that can play a sport a little better than others."
The Raby boys view Fitzgerald not just as a great athlete, but as a great person as well. Their father said that they appreciate all he has done for them, and are always looking to find ways to make him just as happy.
"He's done so much for the boys," Raby said. "Dexter and Derek talk a lot about what they can do for [Fitzgerald] in return."
It's not just them either. Raby said that everyone Fitzgerald interacts with becomes a better version of themselves, and inspires them to do good just like he does.
"He makes everybody who comes in contact with him better," Raby said. "In a way, you can say he has lifted up Worcester and New England as a whole and made so many of us just better people."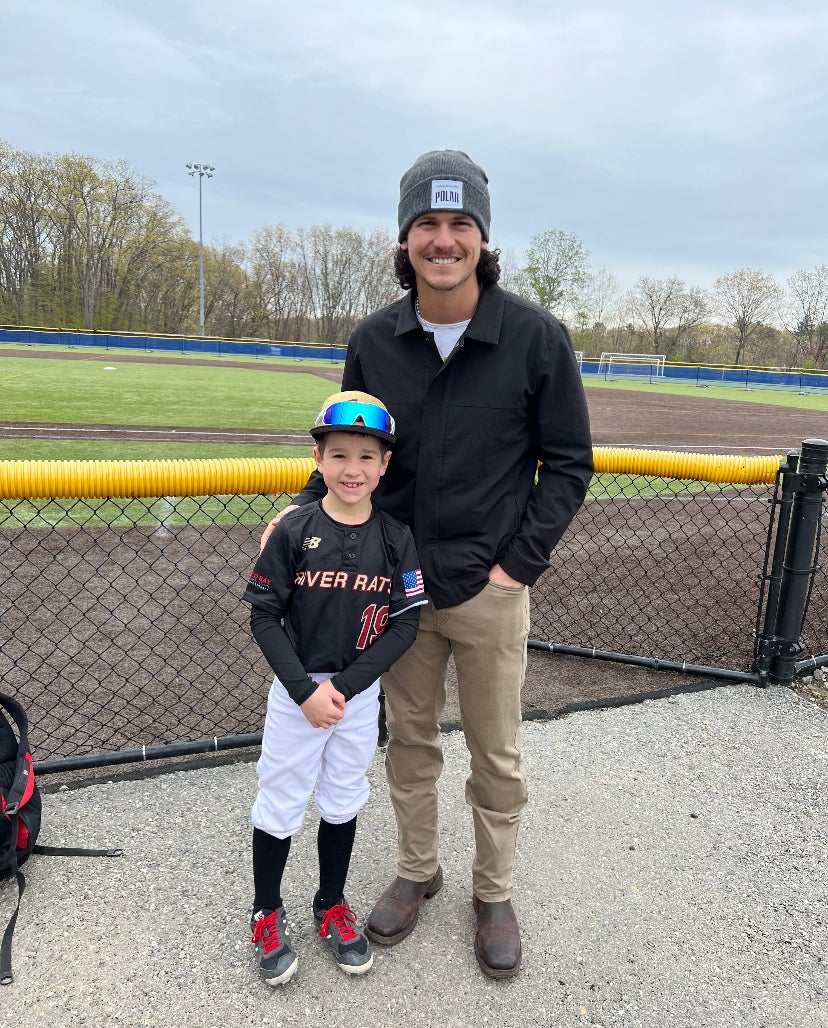 As Fitzgerald continues to inspire fans, those very same fans inspire him back. He spent his holiday season traveling across Worcester with various coaches and mascots, aiming to spread joy all across the city. He met several people during that tour, including a genuine friend: 13-year-old Olivia Perez.
Perez was diagnosed with medulloblastoma, a rare form of terminal brain cancer. Fitzgerald knew that she was a big fan of his and planned to visit her. When that day finally came, he admitted that he didn't know what to expect.
"I wasn't sure how the whole thing was going to go down," Fitzgerald said. "I've never really been around someone that like, knew that they were on the clock."
Fitzgerald visited Perez's middle school, where he gifted her a custom baseball bat with his signature on it. He said he admired her for wanting to spend her time doing things that normal kids do, such as going to school, and that he was in awe of her strength in the way she lived with her condition and still remained joyful.
"Seeing her was incredible," Fitzgerald said. "Seeing how mentally strong she was."
Fitzgerald said that visiting Perez was his favorite community project he's ever done in Worcester. He added that she is still alive and living, and he hopes to see her again very soon.
"I've talked to her mother a little bit," Fitzgerald said. "I've been asking if she's going to come on to the park."
Perez's story is one that will always stick with Fitzgerald. He will always remember meeting her and is very happy that she's stayed strong ever since.
"She's still here, which is even more incredible," Fitzgerald said. "She's still living and it's just a really good story."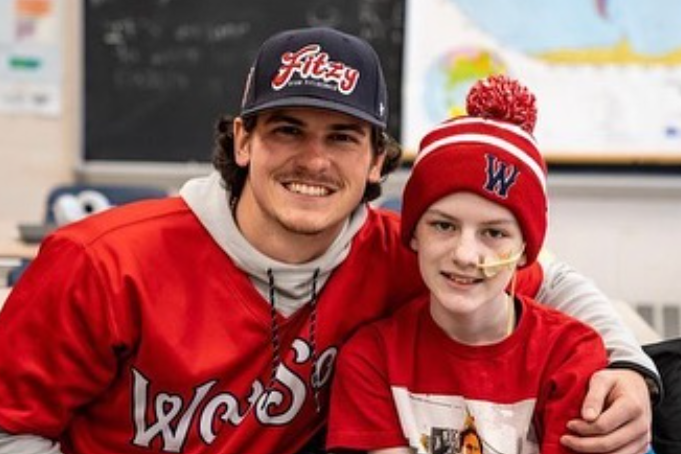 Fans packed Polar Park on the weekend of the WooSox's final homestand, dressed in gray "Fitzy" shirts with Fitzgerald's face on them and black wigs that resemble his signature hairstyle. They all came to honor Fitzgerald, who has spent much of his baseball career honoring them.
"There was a bond between people whose lives he has touched," Raby, who attended Polar Park on Saturday, said. "I think we all saw each other as a part of what he was doing."
The WooSox know how important Fitzgerald is to the city and its baseball club, so they dedicated much of the weekend to celebrating him. On Saturday, they gave out free bobbleheads of Fitzgerald to the first 5,000 fans who entered Polar Park. Certain fans who arrived at the park dressed like Fitzgerald got to go on the field and meet him after the game as part of their "Fitzy Lookalike Contest."
These events were designed to help fans connect with the players they love, which Fitzgerald admires.
"I learned more this year of the stuff that goes into [fan events at Worcester], and all the stuff they do for the fans and you know, the whole show they put on," Fitzgerald said. "It's really something else, a lot of thought goes into it."
On Sunday, Worcester mayor Joseph Petty presented him with a key to the city, an honor he learned about on Aug. 31. He acknowledged how great of an honor receiving the key was, but was unable to fathom that it was given to someone like him.
"It's funny because I'm just a baseball player," Fitzgerald said. "I just try to be nice to people, play the game the right way."
Those efforts don't go unnoticed. Fitzgerald is a fan-favorite at Polar Park largely because of how often he goes out of his way to make others feel good. Many of Worcester's fans believe that his character, in addition to his talent, will translate to Fenway Park once that day comes.
"Anytime I talk to someone about Ryan, to a T, it's always 'When are they gonna call him up?'" Raby said. "This takes nothing away from who he is as a baseball player, but it really stems from who he is as a person."
Fitzgerald's attempts to make fans' days are wholly deliberate. They stem from a natural desire to do good for other people, because those acts of service make Fitzgerald feel just as happy as his fans when he does good things for them.
"It's cool, obviously, to impact other people's lives," Fitzgerald said. "I just feel good about doing it. I think at the end of the day, what's important is serving others."
Fitzgerald has a special fondness for making kids smile, including the Raby boys, Perez, and every other child he's met. He knows that oftentimes the children he encounters are meeting someone they look up to, and he wants that experience to be one they'll never forget.
"I know how it makes them feel, especially the kids, and I like making them feel special," Fitzgerald said. "And hopefully I can continue to do that."
Having that opportunity to inspire fans on such a grand stage is still relatively new for Fitzgerald. But it's something he's thankful for and doesn't take for granted.
"It's really cool," Fitzgerald said. "I never really thought I would have an opportunity like this. And it's really cool to have that, and I'm proud of it."
To Fitzgerald, the fans are what make playing in Worcester special. They're the reason why he has Derek Raby's drawing on his locker, why he went to visit Olivia Perez at her school, and why John Raby considers Fitzgerald a "positive beacon for everyone." The people of the city will always be special to Fitzgerald just as special as he is to his fans. That's why he's proud to wear the word "Worcester" on his chest every time he steps up to bat.
"The people here are what make [playing for Worcester] great and I'm proud to play for them," Fitzgerald said. "I don't want to let any of them down."
Sign up for Red Sox updates⚾
Get breaking news and analysis delivered to your inbox during baseball season.