Red Sox
4 takeaways as Red Sox nearly erase 7-run deficit but fall, 9-7, to Rays
Enmanuel Valdez sparked a furious comeback, however Boston came up just short.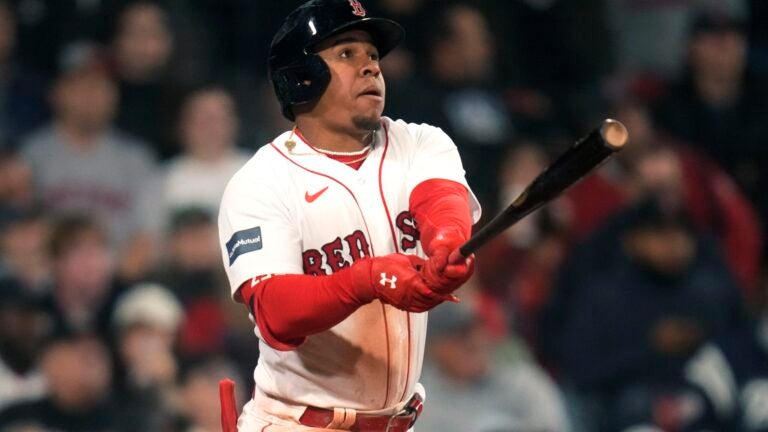 COMMENTARY
In a game that technically meant nothing for the last-place Red Sox, they showed the resilience of a team in desperate need of a win before coming up just short Tuesday night.
After falling behind by seven runs early, Boston chipped away and nearly stole one from the Tampa Bay Rays, but lost, 9-7, at Fenway Park. A loss is a loss, and this was their ninth in the last 11 games, however they did show some signs of life.
The Red Sox (76-81) were sluggish early and let the Rays (96-62) seize command. It appeared as though it might be a blowout, yet the Red Sox ensured it wasn't.
In the end, though, Tampa Bay had just enough to escape. The Red Sox are 27-52 vs. the Rays since the start of 2019, their most losses to any opponent in that span.
Tanner Houck struggled mightily.
Last year, pitching primarily out of the bullpen, Tanner Houck finished the season with a 5-4 record and 3.15 ERA in 32 appearances.
This season, pitching exclusively as a starter, Houck is now 5-10 with a 5.31 ERA in 20 appearances.
Tuesday was arguably his worst outing of the year, as he allowed seven runs (six earned) on 10 hits in three innings.
"Terrible," Houck said. "Lot of learning lessons in it. That's what failure does."
The first six Rays reached to give Tampa Bay a 3-0 edge. When Houck finally recorded the first out, fans sarcastically cheered.
Tampa Bay added four more in the third, punctuated by a two-run shot from No. 9 hitter Renè Pinto that made it 7-0. Houck got the last out of the frame, but that was it, as Zack Kelly replaced him in the fourth.
"Command was off," Red Sox manager Alex Cora said. " … A lot of pitches in the middle of the zone … They put good swings on it."
As the Red Sox (theoretically) reshape the roster this offseason, Houck – who's on a one-year contract worth $740,000 – will be a name to monitor.
Reese McGuire exited with a left thumb contusion.
Prior to the third inning, catcher Reese McGuire caught a warm-up throw from Houck off his left thumb.
McGuire felt the pain right away and departed with a left thumb contusion. Cora put Connor Wong in the game in his place.
"He should be OK," Cora said of McGuire. "He'll be available (Wednesday)."
The bats were quiet early, then they came alive.
The Red Sox couldn't generate much of anything early against right-hander Zach Eflin, who entered with a 15-8 record and 3.44 ERA. Eflin threw strikes, and the Red Sox hit the ball hard, but nothing materialized initially.
Their first hit came in the third inning, when the star of the night, Enmanuel Valdez (3 for 4, 4 RBIs), singled to right. Alex Verdugo followed that with a single of his own, but Josh Lowe delivered a beauty of a throw and gunned Valdez at third.
In the fifth, Wilyer Abreu and Bobby Dalbec singled and Valdez got ahold of one and launched a three-run homer to right to slice it to 7-3. Valdez, who also made a nice diving play at second base, is 6 for his last 10 and has extra base hits in three straight games.
"Those guys, with their approach, and the way they go about it, they can help us," Cora said of Abreu and Valdez.
Valdez, ranked the Red Sox' No. 17 prospect, has a chance to solidify himself as the second baseman of the future.
The Red Sox added two more in the sixth, as Abreu plated Masataka Yoshida and Trevor Story with a double to left. Abreu got just enough to place it right over Raimel Tapia's head by the American League East scoreboard, and Story ran the bases to perfection.
In the seventh, Justin Turner blooped a single to center that scored Adam Duvall to make it 7-6 Rays.
Suddenly, a deficit that was seven not too long ago had been trimmed to one. The Red Sox, in a game where they didn't have much to play for, showed some serious fight.
The bullpen fared admirably for a while but struggled late.
Zack Kelly made his first appearance since April after he missed 143 games due to right elbow inflammation. He pitched a scoreless fourth and looked sharp in the process.
"The fact that he had surgery, he worked hard during the rehab … and to be out there, it was good to see him out there," Cora said. "It was good to see him smile in the dugout."
Brennan Bernardino, Mauricio Llovera, and John Schreiber each pitched one scoreless inning from the fifth to the seventh as the Red Sox chipped away.
In the eighth, though, the Rays scored two runs off Chris Murphy and Josh Winckowski to extend the margin to 9-6.
With the infield in, Valdez had a chance to throw home, but he fumbled the ball and had to settle for the out at first. It ended up mattering a great deal.
The Red Sox nearly rallied again in the eighth, as Valdez blasted a double off the wall that scored Story, but Duvall struck out to end the threat. Nothing materialized in the ninth, and that was that.
Sign up for Red Sox updates⚾
Get breaking news and analysis delivered to your inbox during baseball season.