Red Sox
Here's what Justin Turner said after what could be his final home game with the Red Sox
"I want to say thank you to all the fans for being so brave for showing up and sorry we fell short."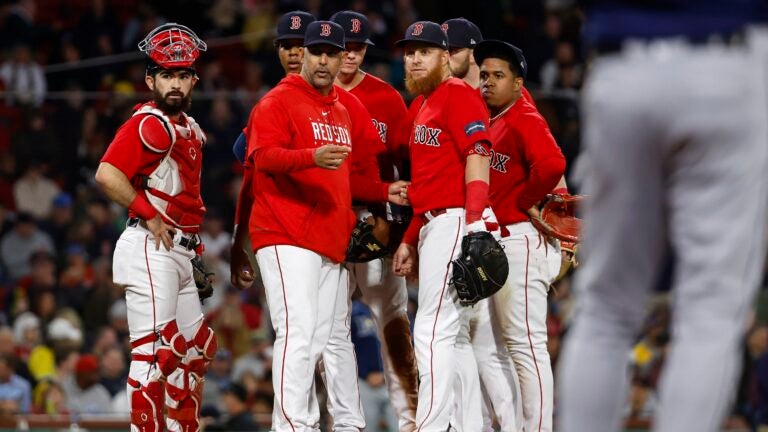 Red Sox manager Alex Cora walked to the mound in the top of the sixth inning in Wednesday's game against the Tampa Bay Rays. The team huddled around him as he shook Justin Turner's hand, hugged him and watched as Turner walked to the dugout.
As Turner was walking, he raised his cap to the fans at Fenway Park, who stood up from their seats and gave him the standing ovation they believed he deserved.
In his first season with the Red Sox, Turner became a fan-favorite for his stellar hitting at the plate and his leadership off of it. He has a player option in his contract to return to Boston for another year if he wants to, but as of now it's unclear whether or not he will exercise it.
If this was his final home game with the Red Sox, Turner will leave Fenway Park as one of the most beloved Red Sox players in recent memory. And according to Turner's recent post on X, the platform formerly known as Twitter, that love is mutual.
"Thank you [Alex Cora] and all the @RedSox fans who poured out their hearts and souls to root us on and make Boston feel like home in my 1st year here!" Turner posted. "I've loved every single moment and I can now appreciate how magical Fenway Paaaahhhk truly is! #BostonStrong"
That wasn't even Turner's first words of praise to Red Sox fans of the night. He told MLB.com's Ian Browne that he loves playing for Red Sox fans and that he admired how many seats Fenway Park filled up on Wednesday, even though the Red Sox no longer have a playoff spot to play for.
"Look at tonight, it's the last game of the season, out of playoff contention, but the house is packed and everyone's into the game and it's just been an absolute pleasure to play in front of these fans every single night," Turner said. "So I want to say thank you to all the fans for being so brave for showing up and sorry we fell short."
Even though Turner's future is not yet certain, he loves Boston and has stated that he would like to come back for at least another year. He doubled down on that desire after Wednesday's game.
"I would definitely be happy if I was back here again next year," Turner said.
Many of Turner's recent words suggest that wants to keep his locker at Fenway Park. If he does, Red Sox fans will be happy to welcome him back.
Sign up for Red Sox updates⚾
Get breaking news and analysis delivered to your inbox during baseball season.