Red Sox
Red Sox release statement following revelation that Tim Wakefield has cancer
"Unfortunately, this information has been shared publicly without their permission."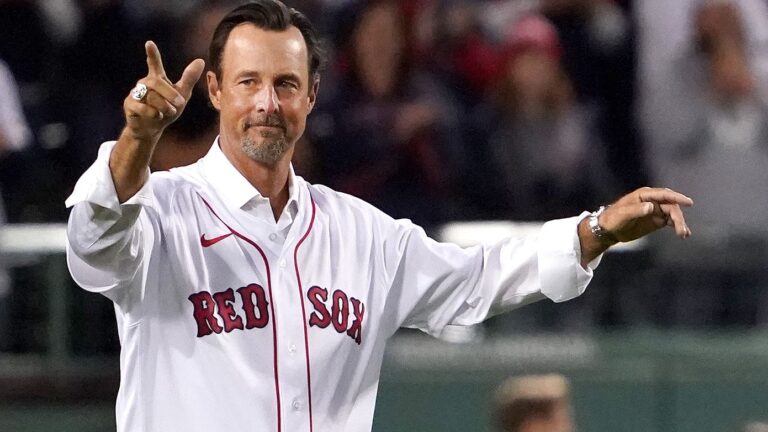 During a recent episode of his podcast, Curt Schilling announced that former Red Sox pitcher Tim Wakefield has an aggressive form of brain cancer.
"This is not a message that Tim has asked anyone to share," Schilling said. "And I don't even know if he wants it shared, but as a Christian and as a man of faith I have seen prayer work so I'm going to talk about it."
"Tim's wife Stacy who is one of the sweetest women you'll ever meet is very sick, with pancreatic cancer," Schilling continued. "My wife has talked with her and they're communicating, and they're going through an incredibly difficult time with Stacy. I want them to know that we're all obviously thinking about them and playing for her, but recently Tim was diagnosed with a very serious, very aggressive form of brain cancer."
The Red Sox released a statement Thursday afternoon saying that they are aware of Schilling's comments.
"We are aware of the statements and inquiries about the health of Tim and Stacy Wakefield," the statement reads. "Unfortunately, this information has been shared publicly without their permission. Their health is a deeply personal matter they intended to keep private as they navigate treatment and work to tackle this disease. Tim and Stacy are appreciative of the support and love that has always been extended to them and respectfully ask for privacy at this time."
According to the Boston Globe, Wakefield is indeed battling an aggressive form of brain cancer. His wife, Stacy, also has an unspecified form of cancer.
Wakefield, 57, pitched for the Red Sox for 17 seasons and is third on the team's all-time wins list. He has pitched more innings with the Red Sox than any other player in franchise history. He was an American League All-Star in 2009.
Wakefield, a 2010 recipient of the Roberto Clemente Award, was a fan favorite during his playing days in part because of his success throwing the knuckleball pitch but also because of his work with local charities.
The Florida native played college baseball at Florida Institute of Technology before making his MLB debut for the Pirates in 1992. Wakefield was drafted as a first baseman, but converted to a pitcher as he climbed his way to the big leagues, Pete Abraham of The Boston Globe noted.
Wakefield joined the Red Sox three years later in 1995. He gave up one of the most infamous home runs in Red Sox history when Aaron Boone connected on a walk-off homer to end Boston's season in Game 7 of the 2003 ALCS. But, Wakefield and the Red Sox rebounded and won World Series titles in 2004 and 2007.
After retirement, Wakefield became an honorary chairman of the Red Sox Foundation and spent time working as an analyst for NESN.
The Red Sox said their statement came with permission from Wakefield and his wife.
Sign up for Red Sox updates⚾
Get breaking news and analysis delivered to your inbox during baseball season.