Red Sox
Alex Cora says he expects Chris Sale to start Opening Day 2024
"If everything goes well ... the goal is for [Sale] to pitch the first game in Seattle.'"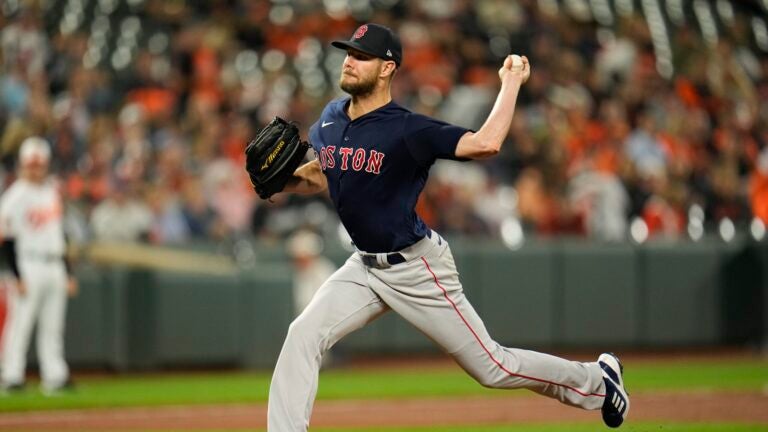 The 2023 MLB offseason has yet to begin, and it's impossible to know what the roster for the Boston Red Sox will look like by the time baseball returns to Fenway Park. But manager Alex Cora already has an idea as to who he wants on the mound to kick off 2024.
"That's the goal — for Chris [Sale] to have that start," Cora told reporters Thursday, per MassLive's Christopher Smith.
If Cora's mind doesn't change before the end of 2023, Sale will make his first Opening Day start since 2019, which was a no-decision loss to the Tampa Bay Rays at Tropicana Field. Nathan Eovaldi opened every following year until he left the Red Sox just before this season, which began with Corey Kluber on the mound.
This does not necessarily mean that Sale will be this team's best pitcher going into next season. The rotation is considered one of the most important areas for the Red Sox to improve, and it's still possible that the Red Sox will continue to add arms over the winter. What it does mean is Cora trusts Sale to set the tone for the upcoming season.
"I don't know what the offseason is going to bring, obviously," Cora said. "But this is a guy, I talked to him, 'If everything goes well … the goal is for you to pitch the first game in Seattle.'"
Part of the reason why Sale has yet to open a season since 2019 is that he was physically unable to do so for a while. He received Tommy John surgery in March 2020 and did not take the field until August 2021, missing both of those Opening Days. And just before the 2022 season started, he was taken off the Opening Day roster after suffering a stress fracture in his rib.
Sale has had putrid injury luck ever since he signed his five-year, $145 million dollar contract extension in 2019. He has played in just 56 games ever since he put pen to paper, missing significant time with injury in each of the last four years. And now that this contract will expire at the end of 2024, Cora's honor gives Sale something new to work toward.
"It means a lot, I appreciate that," Sale said about starting on Opening Day, per NESN. "It gives me something to look forward to other than just being healthy."
Once the season officially ends, Sale will work toward improving his body to pitch in more games. Smith reported that Sale will likely train at JetBlue Park in Fort Myers, the Red Sox' spring training home, which is close to his offseason residence in Naples.
"[Sale will] start working on a few things physically," Cora said. "A throwing program earlier. He wants to be built up to 95, 100 pitches before we go on the first road trip to Seattle next year."
The Red Sox will open their 2024 season in Seattle on March 28. Sale is excited about taking the mound during that game and will get himself and his body ready to pitch at T-Mobile Park and beyond.
"Not only am I trying to be healthy, I'm trying to build on things," Sale said. "So it definitely gives me something to chase this offseason which is good."
Sign up for Red Sox updates⚾
Get breaking news and analysis delivered to your inbox during baseball season.