Red Sox
'I will never be able to replace a brother and a friend like you': Red Sox teammates pay tribute to late Tim Wakefield
"Today we lost one of the good ones."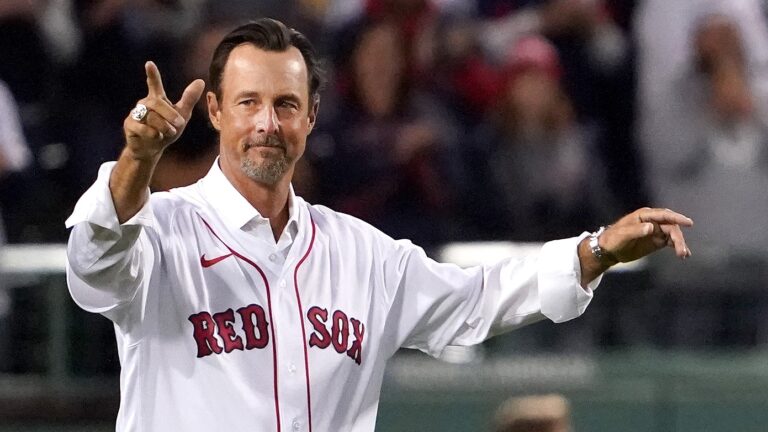 Whether it be his former teammates out on the baseball diamond or the countless others that he impacted across the greater Boston community, Tim Wakefield was honored by numerous tributes on Sunday shortly after news of his passing was announced. The beloved knuckleball pitcher was 57.
Wakefield pitched for the Red Sox organization for 17 seasons (1995-2011), winning two World Series titles in 2004 and 2007.
Wakefield is the all-time Red Sox leader in starts (430) and innings pitched (3,006). He ranks second in franchise history in pitching appearances (590) and strikeouts (2,046), behind Bob Stanley (637 games) and Roger Clemens (2,590 strikeouts). He is third in club history with 186 wins, trailing only Clemens and Cy Young (192 each).
Along with his achievements on the field, Wakefield won the 2010 Roberto Clemente Award, given annually to the MLB player who "best exemplifies the game of baseball, sportsmanship, community involvement and the individual's contribution to his team."
Here are a few of the reactions and thoughts shared by those who knew Wakefield, both from his playing days and his efforts in the community.
David Ortiz
"I can't describe what you mean to me and my family, my heart is broken right now because l will never be able to replace a brother and a friend like you….Rest and peace my brother 🙏❤️"
Kevin Youkilis
"He was a great competitor when he took that mound. He was just a great teammate. Just a great friend. Had the luxury to play with him on the field. In the booth. Just glad I had the opportunity over the years to be alongside him. Just an amazing husband, a father and a community leader. He really enjoyed people. He really enjoyed being around people. Today we lost one of the good ones."
Alex Cora
"We lost a brother, a teammate, a family member. Stacy and kids, my condolences. We're here for them. One of the best teammates I ever had and this is not BS. This guy was there for us all the time. He was accountable. He was what a Boston Red Sox should look like.
"Everybody had their jerseys [on[ in the dugout. It was a tribute to him because of all the guys I have played with, nobody wore his jersey with more pride than Tim Wakefield. It's a tough day for all of us. I know it's a tough day for you guys [media]. Another reminder that 162 is just a game. It's just a freaking game. I saw him Sept. 14. He went to my office. He was having his thing the next day. And he was just a regular guy just talking to me, talking about baseball. And he said, 'I'll be fine. I'm going to be fine.' And he is fine. He is fine."
"We have a lot of stories. We have a history together. Not only with me, Tek (Jason Varitek), Ramón (Vázquez), all the guys. A sad day for us, a sad day for the organization. I'm glad that we went out there and we played a clean game. We pitched well. We kind of represented Wake today. In that aspect, it was a fun day and I was very proud of this group to play all the way until the end. And that's something Wake did as a man, as a husband, as a father, as a player. He played all the way until the end."
Lou Merloni
"It's surprising, shocking. He was doing well after surgery. To get that news today was hard. He was obviously a friend, a teammate. The ultimate teammate… He was just a good human being. I've run into so many people that have told me stories behind the scenes that he had done for them, or for their families, that nobody knows about. It's not in the papers.
"He would do anything for you. It was hard, a few weeks back, hearing about what he himself was going through personally, because I knew he was going through a lot with his wife. That was hard but I knew he was doing better since the surgery. This one here today just came out of nowhere. It was shocking. I heard it and didn't really believe it. It makes for a real hard day."
Jason Varitek
"I don't know if I need to say anything. I think I'm showing it. I've always said it, Wake exemplifies what this uniform is. And it's not just in the name on the back — it's the name on the front.
"It's what he's done in the community. Ways he's represented it. Ways he's respected the game, which goes on to the whole league of being a precious part of what we do is respect for the game and for your place. He exemplifies what it means to be a Red Sox and what it means to be a professional."
Pedro Martinez
"I don't have words, we were together a week ago, and I was so looking forward to being here for you on this stretch 😭😭😭😭😭😭 I will miss you my teammate…my heart hurts. Carolina and I will always be here for your family 🙏"
Jonathan Papelbon
"Wake was an amazing friend, and teammate! An absolute legend that embodied what it means to be an @RedSox player on the field and in the Boston community. I am grateful and blessed to have had you in my life. Since my days as a young kid in the big leagues to retirement and now working together @NESN you have taught me more than you will ever know about the game of baseball and life. You will never be forgotten and live forever in the eyes and hearts of Red Sox Nation."
Don Orsillo
"I am completely crushed, my friend of 23 years and 1st player to take me under his wing my 1st season is gone. It was Wake who made me a Major Leaguer. He was hard on me in a great way. Thoughts and prayers🙏 to his beautiful family."
Mike Lowell
"My heart is broken and I have no words. RIP Wake. You were one of the good ones and a great teammate. Red Sox Nation will forever be grateful. Thank you for your friendship."
Roger Clemens
"Well…this is heartbreaking news. A great person, great teammate, and great golfing companion for many of our playing years. I told him many times playing along side of him what a great competitor he is. Hugs to his family and extended family. Miss you pal."
Will Middlebrooks
"Absolutely heartbroken. Wake was a good man. This is awful."
Fred Lynn
"Devastating news about Tim Wakefield. I only knew him off the field, but he was a very good guy. Class act. Gentleman. Our thoughts go out to his family and all those who knew and loved him."
Brock Holt
"One of the best people I've ever met. Wake, thank you for just being you. You did it the right way and we are all better having known you. Love you brother."
Sean Casey
"RIP Wake. You will be missed. Way too soon."
Red Sox post tribute video
Shortly after Wakefield's passing, the Red Sox posted a tribute video for their longtime pitcher — narrated by Joe Castiglione.
Charlie Baker
"Tim Wakefield was a gentleman. He reinvented himself as a ballplayer more than once & became one of the players that broke the curse. He set an example for us all & I'm grateful that he and his family made MA their home. RIP Tim, we won't see another like you for a long time. 🙏"
Maura Healey
"This one hurts. Tim Wakefield epitomized class, empathy, and devotion to his family, team, and community. He will be truly missed and my condolences to his family, friends, and all who loved him."
MLB Commissioner Rob Manfred
"We are deeply saddened by the loss of Tim Wakefield, one of the most unique pitchers of his generation and a key part of the most successful era in the history of the Boston Red Sox. Tim's knuckleball allowed him to excel as a rookie with the Pittsburgh Pirates in 1992. In 1995, he began a 17-year tenure in Boston, where he made a mark that will be remembered forever. Tim was more than just a versatile and reliable All-Star pitcher, a highly respected teammate, and a two-time World Series Champion. In 2010, Tim was named the Roberto Clemente Award winner for the dedicated work he and his family did serving the communities of New England.
"On behalf of Major League Baseball, I extend my deepest condolences to Tim's family, his friends and teammates across the game, and Red Sox fans everywhere. We will continue to support our partners at Stand Up To Cancer in the memory of Tim and all those who are in the fight against this disease."
George Kirby
Seattle Mariners pitcher George Kirby paid tribute to Wakefield by throwing one of his trademark knuckleball pitches during Seattle's home game against the Rangers on Sunday.
Kirby noted earlier this season that he wanted to add the knuckleball to his pitching repertoire, with Sunday's news standing as the proper time to pay tribute to one of the league's best when it came to that befuddling pitch.
"I loved watching that guy throw, even though he's a Red Sox player and I'm a born Yankee fan," Kirby said, per MLB.com. "But yeah, it was a great day to throw it and I'm glad Seager missed it and didn't take it deep. So, yeah that was fun."
"With the passing of Tim Wakefield today, who knows — baseball is a weird game that way," Mariners manager Scott Servais added. "I do believe in the baseball gods, and maybe that's why it came out today."
Red Sox President & CEO Sam Kennedy
"It's a rare occurrence for a two-time World Series Champion's extraordinary personality to shine even brighter than their illustrious career. Tim was undeniably an exceptional pitcher, but what truly set him apart was the ease with which he connected with people. He was an extraordinary pitcher, an incredible broadcaster, and someone who exemplified every humanitarian quality in the dictionary. I will miss my friend more than anything and can only aspire to live as genuinely and honorably as he did."
Red Sox Chairman Tom Werner
"It's one thing to be an outstanding athlete; it's another to be an extraordinary human being. Tim was both. He was a role model on and off the field, giving endlessly to the Red Sox Foundation and being a force for good for everyone he encountered. I felt fortunate to call him a close friend and along with all of us in Red Sox Nation, I know the world was made better because he was in it."
NESN's Tom Caron
"I've worked with Wake for the past 12 years, and had the honor of covering him for 17 seasons before that. I've never met anyone who loved the Red Sox more, or who better understood how to use the power of sports to help those in need. Absolutely gutted by his loss."
Worcester Red Sox
"We join all of Red Sox Nation, and baseball fans everywhere, in mourning the loss of Red Sox Hall of Famer Tim Wakefield. As great as the knuckleballer was on the mound, he was an even better human. We'll miss Wake, but we will always cherish the 17 years of memories he gave us."
New England Patriots
"Such heartbreaking news. Sincerest sympathies to the Wakefield family and all who mourn his loss."
Boston Bruins
"We join the Boston sports community in mourning the loss of Tim Wakefield and send our deepest sympathies to Tim's loved ones and the entire Red Sox and NESN family."
Boston Celtics
"We are saddened to hear of the passing of Red Sox legend Tim Wakefield. Our condolences go out to the Wakefield family and Red Sox organization during this difficult time."
Mike Timlin on Wakefield in 2007
Following Wakefield's passing, NESN.com's Mike Cole posted a video of Mike Timlin praising Wakefield following Boston's victory in the 2007 World Series.
Michelle Wu
"Boston City Hall is lit in Red Sox colors tonight in honor of Tim Wakefield and all that he contributed to his team and our city. I extend my sincere condolences to Tim's family and all who share in mourning his loss."
The Jimmy Fund
"Tim Wakefield was selfless in his dedication to the adults and children being treated for cancer at @DanaFarber. He was our inaugural Jimmy Fund Red Sox co-captain and always went the extra mile. He often visited our adult and pediatric floors, met our teen patients during their annual spring training trip and was dedicated to helping us raise funds for cancer research and care. He will be missed. Our thoughts go out to his family, his fans, and the @RedSox organization."
Sign up for Red Sox updates⚾
Get breaking news and analysis delivered to your inbox during baseball season.