Red Sox
After a lost season and a tragic loss, a hope the Red Sox can rebuild what matters
Tim Wakefield's legacy speaks to the connective fabric a sports franchise can have in a city like Boston.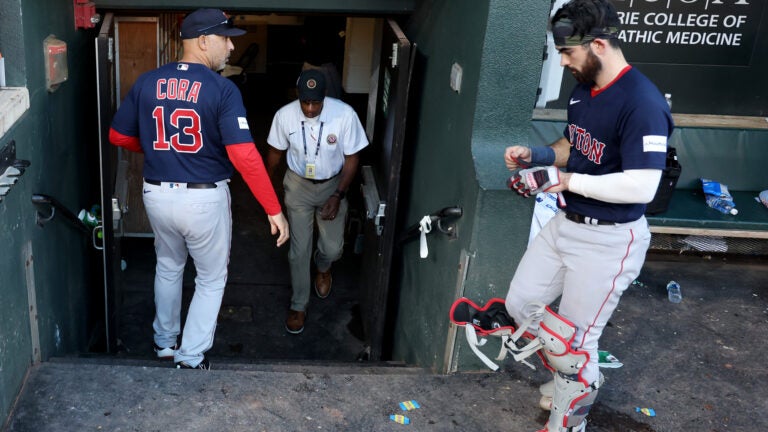 COMMENTARY
The emotion had drained from the 2023 Red Sox season well before its final series, in which the visitors lost the only game with any stakes, then got outstanding starts from Nick Pivetta, Kutter Crawford, and Tanner Houck months after that was what they desperately needed.
To watch was mildly pleasant. Like finding a quarter in the winter jacket you pulled from storage. No traffic, but you're going to a root canal. Even in the final days of a second straight 78-84 season, one where even Alex Cora had to finally admit the critics were right, Red Sox baseball is better than no Red Sox baseball.
This squad certainly tested that theory, especially down the stretch. (They lacked pride, offered by none less than Pedro Martínez, someone whose words offer some heft.)
Tim Wakefield's death on Sunday did as well, for a largely different reason. The world does not lack for pain, and the anguish delivered by a sports team on the field is nothing compared to when caring about one delivers anguish off it.
Sports are silly and unserious. Choose your favorite from 100 examples just this weekend, with a special hat tip to "Carson Daly Teaches Swifties About the NFL." The people, however, are real, and they do not come much better in any walk than Wakefield, who was 57 when he suffered a seizure following surgery for brain cancer.
Wakefield was not by any means a superstar, and was — in a cosmic practical joke I'm sure wasn't unique to my family — inevitably the guy starting the 1-2 games we'd land tickets for each year. That does not change he was a marvel, lasting until age 45 and throwing more innings in a Red Sox uniform than anyone in history despite essentially washing out twice before he ever wore it.
First, in A ball, when struggling infielder Wakefield was told to try pitching with that knuckleball he'd learned from his Dad as "a party stunt."
Then, late in the strike winter of 1994-95, after an improbable run to the 1992 National League Championship Series and an Opening Day start in 1993 with the Pirates ended with his release. A week later, Dan Duquette nabbed him amid a slew of wild grabs for pitching, and I suspect you know the rest of the story.
Tim Wakefield signed just before a season where a division title felt parade worthy, and fluttered his last pitches days before two-time Series champion Terry Francona was shoved out the door. He was at the very core of a Red Sox era that changed everything around here, forever.
And his loss cuts so deep because that is only a sliver of why he mattered so much to those who care about this team.
"Wake exemplifies what this uniform is," longtime teammate Jason Varitek tearfully told reporters Sunday in Baltimore. "He exeplifies what it means to be a Red Sox."
"What Tim Wakefield meant to the Red Sox and the city of Boston will be felt for generations to come," wrote Lenny DiNardo, Wakefield's teammate both with the Red Sox and at NESN.
"The gold standard for how to go about my business on air and in the Boston community," wrote Will Middlebrooks.
"He was what a Boston Red Sox should look like," Cora told reporters after Sunday's win, revealing everyone in the dugout wore their jerseys as tribute, since "nobody wore his jersey with more pride than Tim Wakefield."
"He was our hero," Eileen Curran, spokesperson for the Franciscan Children's charity, one of a laundry list that Wakefield and his family supported.
"There haven't been many who have come to play here and invested in the city and become part of the city the way Tim Wakefield has," said writer and radio host Tony Massarotti, who cowrote Wakefield's autobiography more than a decade ago. "He described Boston once to me as a neighborhood, and he acted like it. He acted like it was his neighborhood."
It's the thought of that uniform. That fabric. What means so much to so many of us, in a lot of ways more than what it means to those people who actually wear it.
There is something lost when a person who cares like Tim Wakefield is lost. Connective tissue. The bond that ties us to them and the colors they wear. It's similar to when Jerry Remy passed two years ago, though Remy was a local. He was born into it.
Wakefield came from somewhere else and chose it, the way we hope, however irrationally, it will work. The way it rarely does.
These were not the Red Sox of the heights they saw when Wakefield was a stalwart, neither in the standings nor somewhere far deeper. They used 56 players in 2023, and just three — Chris Sale, Rafael Devers, and Bobby Dalbec — remain who landed on the 40-man roster before the Mookie Betts trade.
Justin Turner bought hard into Boston in his first season here. He's been here a minute, and he's more likely than not headed elsewhere this winter. Sam Kennedy wants to talk about getting back to "being a championship-caliber club, year in and year out"? Super. Job No. 1.
How about also getting back to being a club with some tentpoles? Some keystone players. Some faces who feel as invested in those colors as the people paying the highest ticket prices in baseball are.
The last time the Red Sox were this bad in back-to-back seasons was 2014-15, at which point Ben Cherington was fired, Dave Dombrowski was hired, and three division titles immediately ensued. The time before that was 1965-66, after which came a reasonably notable season which makes the papers from time to time.
The on-field stuff can flip fast. Look at Baltimore. Look at Houston. Building a winner gets done and undone in the bat of an eye, the stroke of a pen, the transfer of millions to a talent. It's not easy, but it happens more than you think.
The building of a franchise, though? The building of that connective tissue? The stuff that turns a team to an institution? That's a lot harder, and a lot more valuable.
The Red Sox lost some more of theirs this season. They lost even more of it on this sad Sunday morning. May the work to rebuild it begin as soon as possible.
Tim Wakefield's life's work makes pretty clear he would've wanted it that way.
Sign up for Red Sox updates⚾
Get breaking news and analysis delivered to your inbox during baseball season.