Red Sox
Watch: Mariners pitcher George Kirby throws knuckleball as tribute to Tim Wakefield
"I loved watching that guy throw, even though he's a Red Sox player and I'm a born Yankee fan."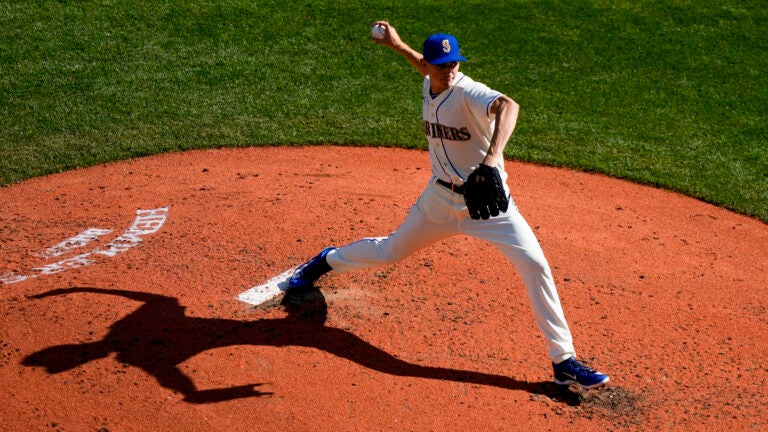 Tim Wakefield's death on Sunday left the entire baseball world stunned. Many of Wakefield's teammates and colleagues paid tribute to the former Red Sox pitcher through social media posts, heartfelt interviews, and narrated videos detailing his many accomplishments on and off the field.
Even people who were never affiliated with the Red Sox or Wakefield paid their respects to the two-time World Series winner. In the fourth inning of Seattle's 1-0 victory against Texas on Sunday, starting pitcher George Kirby threw a 73.2 mph pitch to Corey Seager, who swung and missed.
But this wasn't just any pitch. It was a knuckleball, the signature pitch of Wakefield. It was the first knuckleball Kirby had ever thrown at the major league level, and he chose to debut it on Sunday as his way of honoring Wakefield.
"I loved watching that guy throw, even though he's a Red Sox player and I'm a born Yankee fan," Kirby said of Wakefield, per MLB.com. "But yeah, it was a great day to throw it and I'm glad Seager missed it and didn't take it deep. So, yeah that was fun."
The knuckleball is one of the rarest pitches in baseball due to how hard it is to control, and only a few players — such as Wakefield — have ever mastered it. Kirby teased during Spring Training that he could throw a knuckleball and Mariners manager Scott Servais said that he was very good at throwing it.
"George is George. He is gifted. He can do a lot of different things," Servais said. "He also has an extremely devastating knuckleball. And it didn't surprise me that he threw it."
Servais wasn't surprised, but not because he knew how good Kirby is at throwing it. This particular pitch was called by catcher Cal Raleigh, who grew up a Red Sox fan, on the day of Wakefield's death. It was a pitch designed to honor Wakefield, arguably the best knuckleballer in baseball history.
"With the passing of Tim Wakefield today, who knows — baseball is a weird game that way," Servais said. "I do believe in the baseball gods, and maybe that's why it came out today."
Sign up for Red Sox updates⚾
Get breaking news and analysis delivered to your inbox during baseball season.