Red Sox
8 takeaways from Red Sox' end-of-season press conference
"There's just nothing like winning in Boston. And we need to get that back. We want to get back."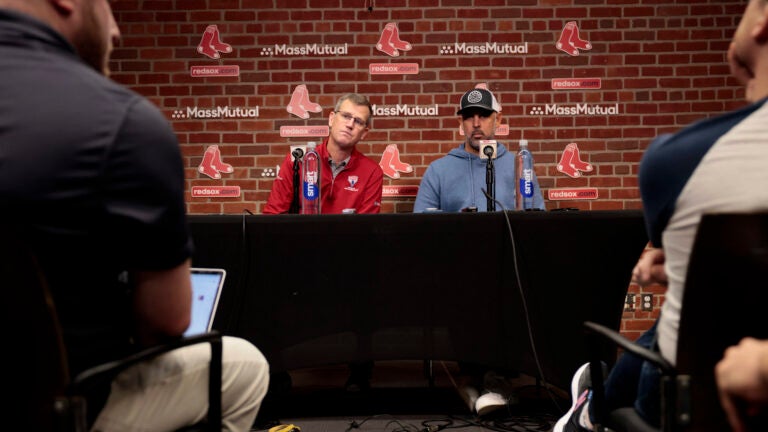 The Red Sox held their annual end-of-season press conference on Monday evening, with Alex Cora and team president Sam Kennedy sharing their thoughts on the passing of Tim Wakefield, the search for Boston's new top baseball executive, and what is shaping up to be a busy offseason at Fenway.
Here are eight takeaways from Cora and Kennedy's press conference.
Remembering Tim Wakefield
The Red Sox organization has been operating with heavy hearts over the last few days, as beloved knuckleball pitcher Tim Wakefield passed away on Sunday at the age of 57.
Multiple tributes have poured in from Wakefield's ex-Red Sox teammates and other community leaders in the wake of his passing.
On Monday, Kennedy and Cora both reflected on Wakefield and the legacy he left both on the field and outside of the game of baseball.
"Everyone in the clubhouse, we thought about Wake all day, all night, and I remember the first time I was privileged to spend a significant amount of time with him, on a team charter in 2002," Kennedy recalled. He asked me all about the Fathers' Day catch on the field, and he wanted to know what went into it, why we did it, how it happened … and it just struck me that, boy, is this just a regular guy.
"But we all know he was anything but regular. He was a Hall of Famer, that genuine curiosity about the ballpark, the baseball team, the business of baseball, the community work, what went into running this operation, was there right until the end."
"We always talk about Hall-of-Fame people throughout the years, right?" Cora added. "They're good on the field, but they're better off the field, and this guy, he represented us with dignity."
Kennedy did not have any details about a memorial service for Wakefield, but did acknowledge that the team hopes to try and honor Wakefield's life and legacy at some point moving forward.
"It's a massive responsibility to think through how you would honor someone like Tim Wakefield, but I think the right answer will come to us if we keep the premise that it will be as inclusive as possible and make sure that everyone whose life was touched by this guy, which is millions of people, can be a part of it," Kennedy said. "But we also want to respect the family, what they're going through, so we'll follow the lead from Stacy, the kids, and those who were closest to Tim, people like Jason Varitek and his family."
Search is on for Chaim Bloom's replacement
The Red Sox have plenty of work to do this offseason when it comes to retooling a roster that has now missed the playoffs four times in the last five seasons.
But before Boston can dive headfirst into the free-agent frenzy and swing deals at the Winter Meetings, the team is going to have to appoint a new baseball executive to replace Chaim Bloom, who was fired last month.
Kennedy acknowledged that the Red Sox have already started to reach out to teams for permission to interview candidates, although formal interviews have not started yet.
Boston plans on taking part in an extensive search for Bloom's replacement, which is a departure from the 2019 offseason — when Bloom was the only candidate interviewed before getting named as the team's Chief Baseball Officer.
"It's going to be a much different process than the last time we made a change in leadership," Kennedy said. "We plan to take our time, we plan to be very deliberate, we're going to have internal candidates, we're going to have external candidates, we're going to have a consistent, robust process that hopefully leads us to the right person or people. You'd love to have clarity as soon as possible, but we're not going to let any timeline put constraints on the process."
The Red Sox have a couple of internal candidates for the job, including assistant general managers Eddie Romero and Raquel Ferreira. But Boston has been linked to other baseball executives like Phillies GM Sam Fuld and Diamondbacks GM Mike Hazen.
"We're looking for someone who shares the organizational values that I think we've come to be known for in our time here," Kennedy said. "And at the end of the day, that's understanding that the standards here are incredibly high. Winning games at the major league level and putting yourself in a position to be busy in October is the goal.
"We think that the right leadership will emerge. That's not taking any anything away from people that have been here. The organization, as I said a couple weeks ago, is actually in a really good spot as it relates to the future. We don't have a predetermined set of qualifications, necessarily, that we're looking for. But we do have a targeted list of individuals that we think we'll be able to help get us back where we belong in the American League East."
Starting pitching needed
It should come as little surprise what Kennedy stressed as being one of Boston's top priorities this offseason.
"Obviously this game is about pitching at the end of the day, so we need to improve in that area," Kennedy acknowledged. "That certainly does come to mind and that's a fair criticism to point out. But we'll attack it all in the offseason."
Even though Cora stressed that the Red Sox pitching rotation did stabilize in some capacity over the final weeks of the regular season, the damage was done to a beleaguered bullpen that was running on fumes over these last few months.
Beyond high-end pitching talent at the top of the rotation, the Red Sox are in desperate need of innings eaters. Bryan Bello was the lone Red Sox pitcher to record at least 150 innings pitched during the 2023 season.
"We made some strides in the last month, Kutter [Crawford] threw the ball well, you saw what happened yesterday with Tanner [Houck], Chris [Sale] is healthy, he made strides toward the end. … I agree with Sam and I agree with the group. To win championships, you have to pitch, and we haven't been able to get to that point. I think the last time we had a healthy rotation was in '21, you saw what happened …. and the other time we were healthy was 2018.
"So that's something the group knows, maybe we have to make adjustments as far as the things we do preparing them, their offseason work and some of that, but for now, you see the talent. Whoever's running the organization is going to decide which route we're going to go, but we have to pitch better."
Cora stresses that he's not going to the front office
As the Red Sox begin their search for Bloom's replacement, Cora stressed once again that he has no interest in taking a page out of Brad Stevens' book and shifting into a role as a team executive following a successful coaching career.
"I'm not prepared to do that," Cora said. "I feel like the impact that I can make here in this organization in the coming years, it'll be in the dugout. That's the way I see it. They know. It's not an easy job, just because you know baseball and how to talk baseball doesn't mean that you're prepared to run an organization. There's more than that."
Kennedy doesn't believe GM candidates will be wary of front-office turnover
Following Bloom's firing, the Red Sox are on the prowl for their fifth baseball executive since the 2011 season.
Despite the prestige of the Red Sox organization and the success that has been achieved since 2011 (two World Series titles), Boston has not exactly given its top execs a long shelf life when the results don't present themselves.
After Theo Epstein left the organization following the 2011 season, Ben Cherington, Dave Dombrowski and Bloom did not hold their titles in Boston for at least four full seasons.
Given that turnover and the pressure that comes with the gig, does Kennedy think that might make some interested candidates wary of joining Boston?
"I understand that, and that's a fair question, but at the end of the day, this is the Boston Red Sox. If you want to run a baseball organization, this is where you want to be. You want to be in Boston. Why? Because it matters here more than anywhere else. If you're not up for that challenge? Thanks, but no thanks."
Are the Red Sox set to spend?
Of course, the easiest way for the Red Sox to immediately bolster their roster is by signing a proven stater (or two) to anchor at the top of their rotation.
Boston ranked 13th in payroll this season at just over $181 million, with the competitive balance tax threshold set at $233 million.
Even though Kennedy did not outright say that Boston will break out the checkbook this winter, he did offer this up.
"We've had years where we've been over the CBT threshold," Kennedy said. "We've had years where we've been under. The resources have been there. Where we have fallen short sometimes is in the allocation of those resources, and that's on us to fix. But the resources for us to spend have been there since 2002."
As for the chances of the Red Sox being in the running for Shohei Ohtani?
"We're not gonna get into specific player moves or anything that could get us in trouble," Kennedy said. "But I'll tell you, there's an amazing group of men, women, individuals in our baseball operations department that are throwing every idea out there that you could possibly imagine, turning over every rock. That's when the Red Sox have been at their best, is sort of the "no bad ideas" zone that we operate in. So we'll consider anything and everything to improve for the short term and for the long term.
"I want to make that clear. There's a desire to compete. You've heard us say it and sometimes those words ring hollow when you've had two very disappointing seasons. But there's just nothing like winning in Boston. And we need to get that back. We want to get back."
Any changes to the coaching staff?
After a season where the Red Sox committed the second-most errors in baseball (102), the case could be made that the rest of Cora's coaching staff is due for an overhaul this winter.
But Cora seemed to note on Monday that changes are not coming for his staff, with meetings set to take place this week between him, his fellow coaches and Boston's top brass.
" Ws as a coaching staff, we got to get better," Cora said. "We got to push these guys to be a lot better and it's on us to do this in the offseason. Do that in spring training and do it throughout the season next year. That's my challenge this year. Me and the coaching staff, we have to be better."
Red Sox attendance update
According to Major League Baseball, regular-season attendance during the 2023 campaign saw a 9.6 percent increase from last year — with paid attendance reaching the 70 million mark for the first time since 2017.
But the Red Sox — in the midst of a last-place finish — only saw slight gains in fan turnout during the 2023 season.
The Red Sox' overall attendance in 2023 was 2,672,130, a small bump from last year's 2,625,089. Still, Kennedy viewed those returns as a positive result, given Boston's struggles in the standings.
"We actually are incredibly appreciative of the fan support that we have this year," Kennedy said. "Our attendance was slightly up, which is somewhat remarkable if you consider coming off of a last-place finish in 2022, and obviously, we know where we are in 2023."
A return to relevancy and contention stands as the easiest avenue for the Red Sox to avoid seeing attendance numbers stagnate in 2024.
"Entertaining baseball is winning baseball," Kennedy said. "I don't care what anybody says. … If you win, somehow magically people say 'This team is likable' or 'this team's entertaining.' I think that's nonsense. Winning baseball is what matters. That's what entertains people. We know that."
Kennedy also acknowledged that the Red Sox will raise ticket prices at Fenway Park for the new season.
"We've had a very modest and low-single-digit increase on season-ticket prices," Kennedy said.
Sign up for Red Sox updates⚾
Get breaking news and analysis delivered to your inbox during baseball season.