Red Sox
Here's the list of former Red Sox players in the 2023 Division Series
The Boston Red Sox may not be playing in this year's Division Series, but several players who once wore their colors will participate.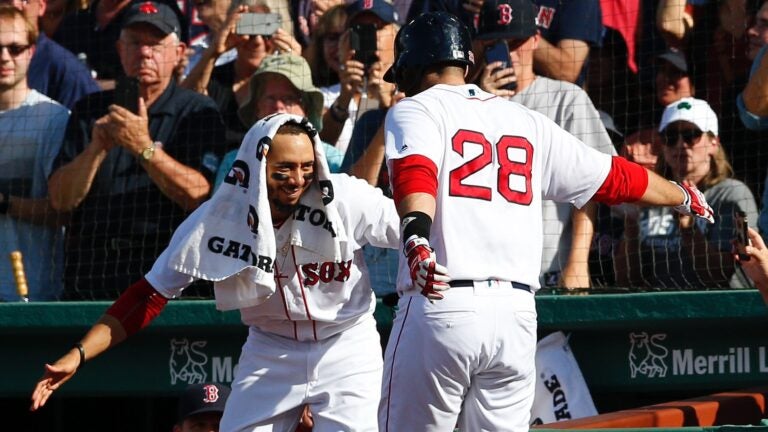 The MLB postseason is officially in full swing, and the Boston Red Sox are not playing in it. But that doesn't mean Red Sox fans won't have anyone to root for in October.
Several players who once played home games at Fenway Park are playing in this year's division series, including some who wore Red Sox jerseys just last season. Seven of the eight teams still standing contain players who played in the Red Sox organization at one point, from relievers who never reached the big leagues with Boston to former Red Sox stars that are already legends on Jersey Street.
If you're struggling who to root for in this year's division series but resonate with the phrase, "Once a Red Sox, always a Red Sox," then choose any of these eight teams. Each of them rosters at least one player who played in Boston before this season.
Minnesota Twins
Vazquez is the only former Red Sox on the Minnesota Twins' 26-man roster, but he's one that Boston fans still have love for. Ever since he made his MLB debut in 2014, six years after the Red Sox selected him in the ninth round, he's had his fair share of memorable moments. He caught the final out of the 2018 World Series and hit a walk-off home run in Game 3 of the 2021 ALDS, two of the most memorable series in recent Red Sox history.
The Red Sox traded Vazquez to the Houston Astros in exchange for second baseman Enmanuel Valdez and outfielder Wilyer Abreu, both of whom were prospects at the time. Upon leaving Boston, Vazquez seemed to take his skill as a postseason hero to Houston by catching the first combined no-hitter in World Series history and helping the Astros win that year's championship, which was his second ring. Vazquez signed with Minnesota a month later and currently backs up Ryan Jeffers at catcher.
Houston Astros
Ryan Pressly (RP), Mauricio Dubón (INF)
Before he became a two-time All-Star with the Astros, Pressly got his start in the Red Sox organization. Boston selected him in the 11th round of the 2007 MLB Draft and began working him as a starting pitcher before turning him to a reliever. He made it to Double-A Portland before he was selected in the 2012 Rule 5 Draft by the Twins. Pressly played in Minnesota until he was traded to Houston in 2018.
Like Pressly, Dubón started his professional career with the Red Sox despite never playing for Boston. He was taken by the Red Sox in the 26th round of the 2013 MLB Draft and made it to Double-A Portland after becoming a Carolina League All-Star. Dubón was traded to the Milwaukee Brewers in 2016 alongside corner infielder Travis Shaw and pitcher Josh Pennington in exchange for pitcher Tyler Thornburg. He played for Milwaukee and San Francisco for a few years before landing in Houston.
Texas Rangers
Nathan Eovaldi (SP) and Martín Pérez (SP)
The Red Sox acquired Eovaldi in a trade with the Tampa Bay Rays in 2018, and he quickly made his presence in Boston known. He won the hearts of Red Sox fans in that year's playoffs by dominating the Yankees in the ALDS and pitching six relief innings in Game 3 of the World Series after pitching shutout eighth innings in Games 1 and 2. After that, he became a staple in the Red Sox rotation. He started three straight Opening Day games, finished 4th in AL Cy Young voting in his All-Star 2021 season and started that year's electric Wild Card victory against the Yankees. He pitched one more season in Boston before leaving to sign with Texas.
Pérez signed with Boston in 2019 and had a somewhat pedestrian tenure with the Red Sox. He started most of the games he pitched in, registering a 4.50 ERA in his first season with the Red Sox and a 4.74 ERA the following year. He left for Texas at the end of 2021 season and had the season of his life, starting every game and registering a 2.89 ERA en route to his first-ever All-Star game. But that wasn't meant to last. He has spent 20 games in the Rangers' injury-prone rotation, but has since reverted back to a 4.45 ERA and is now a reliever.
Philadelphia Phillies
Craig Kimbrel (RP), Kyle Schwarber (OF), Matt Strahm (RP)
Kimbrel was acquired from the Padres in 2015 and would soon become the Red Sox' next great closer. He was an All-Star for all three years he spent in Boston, even coming in sixth place in AL Cy Young voting in 2017 after he registered a microscopic 1.46 ERA. Kimbrel won 12 total games and saved 155 games for the Red Sox and culminated his time in Boston with a World Series ring in 2018. He went unsigned before joining the Chicago Cubs in June 2019 and later the White Sox, Dodgers and Phillies.
The Red Sox dealt pitching prospect Aldo Ramirez to the Washington Nationals at the 2021 MLB Trade Deadline in return for Schwarber, who was dealing with a hamstring injury at the time. Upon being activated, Schwarber became one of Boston's deadliest players at the plate, hitting .291/.435/.522 with seven home runs, 18 RBIs and a 155 OPS+ in the 41 games he played in Boston. He continued his hitting dominance in the playoffs, including a home run off of Yankees ace Gerrit Cole in the Wild Card game and a grand slam in Game 3 of the ALCS. Schwarber left Boston that offseason to sign with Philadelphia, the team he hit a NL-leading 46 home runs for and made his second All-Star game with that season.
Strahm was signed shortly after the 2021 season ended and became one of the Red Sox' most important left-handed relievers in 2022. He finished the year with a 3.83 ERA and won just as many games as he lost (4). That winter, Strahm left to join the Phillies, who have started him in 10 of the 56 games he played this season.
Atlanta Braves
Kevin Pillar (OF)
Pillar signed a one-year contract with the Red Sox in 2020, and batted .274/.325/.470 with four home runs and 13 RBIs in one half of the pandemic-shortened season. His time in Boston wouldn't last for too long though, as he was traded at the deadline that year for pitcher Jacob Wallace. Afterward, Pillar bounced around a few National League teams before signing with the Braves this past offseason.
Arizona Diamondbacks
Tommy Pham (OF)
The Red Sox acquired Pham at the 2022 MLB Trade Deadline for a player to be named later (Nick Northcut). Pham played in 53 games with the Red Sox and batted .234/.298/.374 with 6 home runs and 24 RBIs, most of which were at left field. He's actually the reason why Alex Verdugo now plays right field.
Pham left for the New York Mets that winter and was traded to the Diamondbacks at the 2023 deadline.
Los Angeles Dodgers
Mookie Betts (OF), JD Martinez (DH), Kiké Hernández (UTIL), Ryan Brasier (RP), Joe Kelly (RP)
Betts needs no introduction to Red Sox fans. He began his Red Sox career as a Top-10 prospect in their organization and left it as one of the greatest homegrown players they've ever had. He was an All-Star with the Red Sox in four straight seasons, the owner of both at least one Silver Slugger and Gold Glove award, the 2018 American League MVP and a leader on the 2018 Red Sox team that won the World Series. He was traded to the Los Angeles Dodgers in 2020 for outfielder Alex Verdugo, shortstop Jeter Downs and catcher Connor Wong, and he's continued his dominance in Los Angeles with three All-Star games and a possible NL MVP Award this season.
The Red Sox signed Martinez in the 2018 offseason and he left Boston as one of the most important offseason signings in club history. He finished fourth place in AL MVP voting in 2018 — his first season in Boston — and made four All-Star games while wearing a Red Sox uniform. He signed with the Dodgers this past winter and made another All-Star game in Los Angeles.
Hernández signed with the Red Sox in 2020 and made a lasting impression in his first season. He was the hottest hitter on the planet during the 2021 ALDS, and his Game 4 sacrifice fly to send the Red Sox to the ALCS has been endlessly replayed at Fenway Park for as long as he was there. He emerged as a true leader on the team as well, and helped recruit designated hitter Justin Turner and closer Kenley Jansen to Boston. His time in Boston did not end ceremoniously however. After the departure of shortstop Xander Bogaerts and injury to middle infielder Trevor Story, Hernández was tasked with playing shortstop and ended up leading the league in errors. He was traded near the deadline in August to the Dodgers in exchange for relievers Nick Robertson and Justin Hagenman.
Brasier signed a minor-league contract with the Red Sox in 2018 and was promoted to the majors that same year. He allowed only one run in nine appearances in the postseason that year, but his time in Boston has been a rollercoaster ever since. He was designated for assignment in May and became one of the Dodgers' best relievers a month later.
Kelly was traded to the Red Sox in 2014 as a starter before eventually being converted into a reliever. Injuries and struggles plagued his first few seasons in Boston, but by 2017 became one of Boston's most important bullpen arms with a 2.79 ERA. He pitched 11.1 innings in the 2018 postseason, allowing just one run, and was the winning pitcher in Game 4 of the World Series. He left Boston to join the Dodgers after winning his ring, and signed with the White Sox in 2022 before he was traded to Los Angeles again.
Sign up for Red Sox updates⚾
Get breaking news and analysis delivered to your inbox during baseball season.