Red Sox
How much are the Red Sox really behind Alex Cora, and other October thoughts
The Red Sox have made it clear that they're sticking with Cora for 2024, but he still only has one year left on his contract.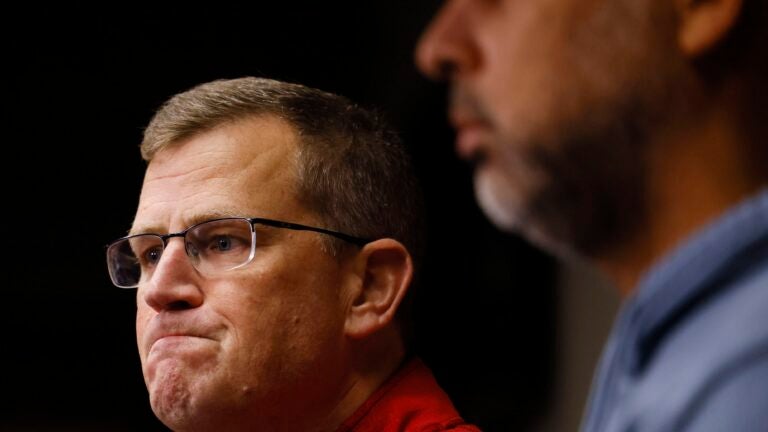 COMMENTARY
Three thoughts after a brief quartet of Wild Card Series, and a coming set of Division Series that will hopefully offer a little more heft.
Meek ousters
The nature of baseball is that we spend six months watching a team establish what exactly it is, then a couple of days invalidate most of our research. When stuff doesn't work in October, it's not the sort of bad few games even the best have every season. It's a fatal flaw that forces introspection.
This was crazy in the pre-Wild Card era, when it took two seven-game series to be the World Series champion. It's downright negligent now, when 40 percent of teams make the playoffs and even the best need to win 11 out of 19 games to claim a title.
We then further stress how much more valuable postseason games are by . . . ignoring their stats when we cite players' career numbers. Most people will tell you David Ortiz hit 541 home runs during his career. I will tell you he hit 558, including postseason, and I am right.
To that end, the powerful American League East hits the weekend yet to win a playoff game in 2023 with both the Blue Jays and Rays going quietly in their Wild Card Series. Both have lost seven playoff games in a row, dating to the 2021 Division Series (against the Red Sox) for the Rays and the 2016 ALCS for the Jays.
There are deeper thoughts to be had about both. Tampa is turning these October busts into a habit, its tentpole player Wander Franco remains under investigation, and those crowds do not speak to a healthy franchise. (Committing to a new 30,000-seat stadium in the same place as the old one is definitely a choice.) The Jays are another year deeper into waiting for their young core to become the unstoppable force many expected.
I was struck in the moment, however, by something all too familiar in the way both went out this week.
Tampa made four errors in its Game 1 loss to Texas, which doesn't count Tyler Glasnow's run-scoring wild pitch, then a fifth in Game 2. Toronto's Bo Bichette blew threw a stop sign and was thrown out at the plate in Game 1 in Minnesota, and Vlad Guerrero Jr. was picked off second base to kill a rally in Game 2.
Bad defense? Baserunning issues?
And here we thought we weren't going to see the Red Sox in the playoffs this year.
Behind their man?
There may be extenuating circumstances in Billy Eppler's quitting as New York Mets general manager on Thursday, given the New York Post report he is under investigation for questionable use of the injured list.
"I wanted David to have a clean slate and that meant me stepping down," Eppler said in a statement released Thursday by the Mets.
That took on a different tone after news of the investigation broke, but it remains another reminder of the different way the Red Sox are handling their vacant baseball operations job.
Those same Mets gave field manager Buck Showalter a quit-or-be-fired ultimatum before bringing in new baseball operations boss David Stearns, owner Steve Cohen declaring "when you bring in a president of baseball operations, they're entitled to bring in their own people." The Giants, running on a similar track to the Red Sox, opted to fire field manager Gabe Kapler after a second straight disappointing season.
Here? Team president Sam Kennedy, after mentioning a "consistent, robust process" without a deadline or timeline, scoffed at a question that mentioned Alex Cora's established place as manager, but focused more on the job's general desirability.
"This is the Boston Red Sox. If you want to run a baseball organization, this is where you want to be. You want to be in Boston," he said. "Why? Because it matters here more than anywhere else. If you're not up for that challenge, thanks, but no thanks.
"There's no better spot than Boston in baseball. None. . . . We have all the ingredients necessary to be a World Series championship caliber club, and that's something I think anyone would look forward to being a part of."
Publicly, I mean, what else is a spokesman supposed to say? Team ownership is firmly behind Cora, and view his cementing in place as a feature, not a bug, for his new boss. That is well established.
Cora, however, is only under contract through next season. And when asked about making a move to lock in Cora for a longer term, Kennedy demurred, saying "those will be discussions for the appropriate time . . . the priority right now is to get the new baseball operations leadership structure settled."
Again, a reasonable approach for a public forum, though it helps the mind wander. Should the Red Sox underperform again in 2024, that'll be three straight seasons of it and four in Cora's last five as manager. In a city that goes through baseball ops bosses in four years, that's a recipe for a change.
One that the new guy can make without much grounds for question, giving him or her the opportunity to bring in their own people just a year into their tenure.
Remembering when
MLB's social media noted on Thursday it was the 16th anniversary of "one of the most electric baseball pics of all time."
Manny Ramirez's walkoff in Game 2 of the 2007 ALDS was part of one of the more bonkers stat lines in recent memory, as he and David Ortiz went 8 for 15 with four home runs and more RBIs themselves than the Angels scored.
Given the current state of the Angels, even they're probably looking back on it wistfully.
The Red Sox still fancy themselves as the primo home for electric postseason baseball, and to be fair, the crowds in 2021 held up. But it's hard not to look at that above photo of Fenway rising as one and think how much it looks like a current-day Citizens Bank Park.
There is a connection between the two, albeit small. When Kyle Schwarber left Boston for a massive free-agent deal with Philadelphia after the 2021 season, the (finger quotes) "Waltham native" brought with him Calum Scott's "Dancing on My Own," which the Red Sox regularly played after victories that postseason.
It's now their anthem, and Scott is making plans to come to Philly and play it at a World Series celebration.
How quickly times can change.
Sign up for Red Sox updates⚾
Get breaking news and analysis delivered to your inbox during baseball season.