Red Sox
'Hopefully I stay here with the Red Sox': Here's what Alex Verdugo said about the 2023 season and his future
Verdugo was benched twice by manager Alex Cora in 2023.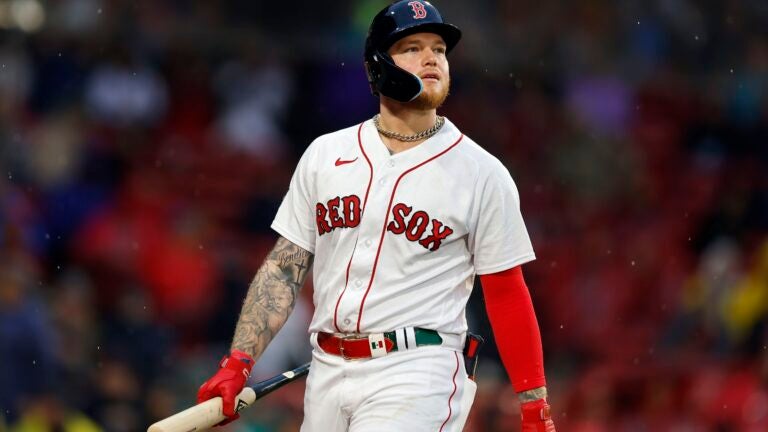 Four full seasons into his Red Sox tenure, outfielder Alex Verdugo has yet to become the guy in Boston.
As the main piece in Boston's return of the Mookie Betts-Los Angeles Dodgers trade in 2020, Verdugo was probably never going to fill Betts's massive shoes. Betts was a homegrown talent, 2018 World Series champion and American League MVP who became beloved at Fenway Park since his debut in 2014.
Nonetheless, Verdugo has been one of the team's better overall players since being traded to New England. However, he has not consistently performed to the standards set as a member of the Red Sox. Over four years, he has slashed .281/.338/.424 with 43 home runs and 206 RBIs. His defense in right field has been more than serviceable, possessing a .990 fielding percentage in 2023.
With the 27-year-old, this past season was about more than his statistics. He was benched twice, once in June and once in August. Boston's manager Alex Cora sat Verdugo in early June for a lack of hustle and again in early August for allegedly showing up to the ballpark late.
Verdugo spoke to The Athletic's Jen McCaffrey about his up-and-down 2023 season and the way discipline toward him was dealt with.
"I don't feel any hard feelings. I don't feel bad about it," Verdugo said. "I think for me there were certain things that could have maybe handled a little bit differently. But at the end of the day, I kind of have been the frontrunner in a lot of categories where I kind of get aired out or I get a little bit of discipline that gets heard about.
"At the same time I like to think I have thick skin and it just motivates me," he continued. "For me, I have no hard feelings against anybody. The staff. AC. The front office. I love all those guys. They have all been great for me, treated me really, really good. Maybe once in a while they have some tough love and are hard on me but it's because they really care about me and want the best for me."
Verdugo's second benching of 2023 was a rather public affair and caused a drama-filled day at the park on Aug. 5 against the Toronto Blue Jays. Cora said postgame that "this is probably one of my worst days here in this organization" when asked about his decision to sit Verdugo. A couple of hours later, MLB.com's Ian Browne reported on Verdugo's tardiness that day.
The seven-year MLB veteran spoke of personal and family experiences that made 2023 a difficult year for him off of the diamond.
"This is definitely one of the hardest years that I've ever had, and that's outside of baseball," he said. "I've had a lot of family stuff, family issues going on and just personal life things that have happened. I'm not here to paint a sad picture. I'm not here to read out my sob story, but at the end of the day, I am still a human. I'm still a person. When your family is affected, when your family's not doing the best, it weighs on you."
The outfielder continued, speaking more generally about his year at the plate and how the Red Sox fell short of the playoffs for the second season in a row.
"It was an OK year. I think it was just OK," Verdugo said. "The way I see it is just, the second half wasn't the way I wanted it to go. When I go into the offseason, I'm not gonna be the happiest. I think there's kind of two looks to the year. There's a really good side and there's a really bad side. I'll probably be focused more on the struggles and the downside of it, and just kind of use that to train a little bit differently … the way I finished and the way we kind of finished was just a little bad taste in the mouth."
Verdugo is under contract in Boston through the 2024 season. The Red Sox are also on the hunt for a new president of baseball operations heading into this offseason. ESPN's Jeff Passan has Verdugo on his 'trade candidates' list, he recently told DraftKings' 'Baseball is Dead' podcast.
Verdugo says he is hopeful to remain a Red Sox, but at the same time acknowledges uncertainty surrounding his future with the club.
"Hopefully I stay here with the Red Sox," he said. "I love this organization. I have made it clear to them. Obviously, getting a new GM we're not too sure where we're going with it. I do know at the end of the day you just have to work hard, play hard. If it's not this team, there are 29 other teams."
Sign up for Red Sox updates⚾
Get breaking news and analysis delivered to your inbox during baseball season.